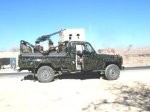 almotamar.net
- Official efforts led by commander of Coast Guard regiment in Abyan governorate succeeded Wednesday in releasing three hostages working for the UNHCR in Yemen just hours after they were kidnapped by gunmen in Marafisha area, Abyan governorate.
General Mohammed al-Hamza al-Hawtari clarified to almotamar.net that some of officials working for his regiment succeeded in convincing the kidnappers of releasing the hostages working for the UNHCR. The three kidnapped persons were held since the early hours of Wednesday on the road of Shaqra. He added that negotiations were still going on for the release of the car that was carrying the hostages.
Local sources had told almotamar.net this morning that on holding of two African nationality; Somalis, employees of he UNHCR and one Yemeni in the governorate of Abyan while they were on duty and pointed out that demands of the kidnappers were not legal.
The kidnapping incident is the third of its kind since the beginning of this year.
.