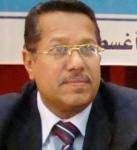 almotamar.net
- Assistant Secretary General of the General People's Congress GPC for Information and Culture sector Ahmed Ubaid bin Daghr reiterated confirmation that the upcoming parliamentary elections in Yemen would be held in the scheduled date, denying reports on the existence of crisis in Yemen precluding holding them on time, whether that was with or without participation of the alliance of the Joint Meeting Parties JMP. He accused the JMP of putting forward impracticable conditions in order to evade participation in them "because they feel hat their chances in those elections would be weak and that the GPC's status would be enhanced.
In an interview to Kuwaiti newspaper Al-Siyasa for Wednesday, Bin Daghr added the GPC is with free, honest and transparent elections and to be held under local and international observation at all levels.
On the other hand Bin Daghr ruled out possibility of the outbreak of a sixth war in Saada saying that factors of a return to a war have diminished completely.
He has also reviewed conditions of the JMP concerning the formation of the Election Commission during the past period and then their denial of what was agreed on with the GPC. He said it is not the JMP that demands the holding of free, honest and transparent elections. It is rather the demand of the GPC.
Bin Daghr said there is much exaggeration about the talk concerning the southern governorates conditions, confirming that the rights and professional problems related to the military men who were pensioned after the war of 1994 have been solved and despite their solution they were changed into a political issue and began to be submitted under the title tyrannized south. There are some trends seeking to destroy the republican system and the unity.
Bin Daghr called the attention of the media in Yemen and Kuwait against what sometimes is published of untrue reports accusing Kuwait of supporting secessionist element abroad and he deemed the goal is to arouse problems around the Yemeni Kuwaiti relations.