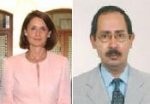 Almotamar.net, Saba
- Minister of Planning and International Cooperation Abdul-Karim al-Arhabi and US delegation of Prince Town University headed by Barbara Bodine discussed Wednesday development cooperation between the two countries.
In the meeting, al-Arhabi reviewed challenges facing Yemen's development represented by population intensity, reflections of climate changes resulted by global warming and efforts of the country, despite its humble capabilities, for reducing sufferings of Somali refugees. The meeting dealt with measures and solutions taken by the government for facing reflections of increasing food prices and drops of oil prices.
He informed the US official and researchers on the Social Development Fund are leading experience and its active contributions in enhancing development inclusive development in Yemen. He noted the government's efforts aiming at reducing poverty.
For her part, Bodine highlighted development achievements Yemen has realized and the unique performance of the fund in enhancing and improving development in the country.
Saba