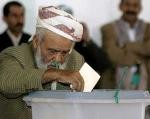 Almotamar.net
- Risalla Centre for Democratic Studies & Development in Yemen has on Sunday declared the launching of an independent people's committee given the name of 'The People's Committee for Protection & Development of Yemeni Democracy' PCPYD. .
Setting up the committee comes as a gesture receiving large people's interest for defending constitutional rights and holding them in their defined dates, defeating all attempts calling for postponement and emphasizing the necessity of full rallying for the achievement of practicing those constitutional rights away from political wrangles.
The PCPYD has held it first meeting on Saturday where representatives of political parties and organisations have attended as well as representatives of civil society organisations, political activists, academicians, intellectuals and jurists. The meeting was also attended by social, religious and tribal personalities.
The meeting discussed most important developments ongoing inside the national action arena in the light of the closeness of the date for holding the upcoming parliamentary elections in Yemen and dealt with the aspects of the expected process and its relation to democratic development and pushing it towards the realization in its time.