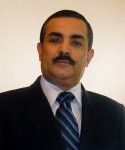 almotamar.net
- Yemen's ambassador to Malaysia Abdullah al-Muntasir discussed in Malaysia Saturday ways of developing bilateral relations between Yemen and Malaysia with the Malaysian foreign undersecretary for Middle East and North Africa Badrudiun Abdulrahman. The Yemeni ambassador welcomed the Malaysian government initiative and the private sector with regard to encouragement of joint investment between the private sector of both countries.
Ambassador al-Muntasir has stressed the importance of activating programs of the joint committees and the visits by concerned ministers in areas of trade, higher education,, technical education and academic cooperation between the two countries' universities for coming out with results , aspired for , on the ground very soon.
For his part the Malaysian official thanked the Yemeni government for giving Malaysian investment in Yemen special care by offering all facilities and privileges included in the Yemeni investment law.
The Malaysian foreign undersecretary added that the visit made by 40 Malaysian businessmen to Hadramout, Yemen by the end of last December was the best indication that Yemen is an environment attractive to foreign investment.