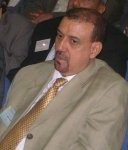 Almotamar.net
- Head of the General People's Congress GPC parliamentary bloc Sultan al-Barakani revealed Thursday that the parliament is gong to vote on draft amendments of the election and referendum law next Saturday. The draft amendments was agreed on between the GPC and the opposition Joint Meeting Parties JMP coalition as well as in line with recommendations of the European Union team that observed the presidential and local elections in 2006.
Al-Barakani mentioned that the draft was supposed to be discussed and voted on at the parliament session on 16-17 of last August. But its postponement was came in response to demand of the Islah party parliamentary bloc who swore then that the JMP would present its representatives to the Elections Commission as well as commitment made by the head of to the Nasserite Organisation bloc to the President of the republic to present representatives of their parties at the Elections Commission. However they did not fulfill their commitments and the swearing. They were in fact planning to postponing the elections and not to hold them on their date so that to reach a full vacuum of both the legislative and executive powers.
In a statement to almotamar.net, al-Barakani said the final voting of parliament on the draft amendments of the elections law comes after dialogue with the JMP reached a deadlock especially that the GPC gas offered many concessions with any avail.
The GPC Assistant Secretary General revealed rejection of the JMP of all proposals, the latest of which were those of the National Democratic Institute three days ago.