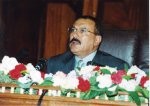 Almotamar.net, Saba
- The Military Engineering Academy will be opened next year to be one of the most important colleges in Yemen and may be in the Middle East, said President Ali Abdullah Saleh.
In a speech he delivered in a ceremony of graduation new batches of officers who studied in the Military Supreme Academy on Sunday, Saleh said the college would cover all specializations and scientific and military researches serving development and the national security of the Republic of Yemen.
"No doubt that these researches are useful and contribute in enhancing potentials of the military forces and the special security besides we need such researches that focuses in serving the national security of the Republic of Yemen," he said.
"We have achieved during the past period unique and excellent development in the military institution through graduates from different colleges of the Military Academy," he reiterated.
He asserted on importance of having brains and loyal and qualified men to serve this homeland, "such men are more important than great numbers of machines and equipment."
President Saleh added, "Our people were deprived for a long time and drowned in ignorance, illness and backwardness. The Yemen 26 September and 14 October revolution came as salvage of this homeland from that tyranny of the backward imamate rule and the British colonization. Many great accomplishments have been achieved for the homeland under its revolution and those achievements were enhanced in the past years after reunification of the homeland. "
The President pointed out that by virtue of the people awakening and cohesion of the military establishment with the people it would be impossible to destabilize security and stability of the homeland.
He added that the time of hugger-mugger has vanished and the time now is of knowledge and modern sciences "this time is of following up of any developments in military sciences."
"We no more depend only on the national security and the political security, but also we depend on our homeland's sons and they are the owners of the real interests in keeping security, stability and development," he added.
He further said that there is no development without security and stability and there are no education, universities and academies unless there is modern, developed and loyal military institution to this nation.
Earlier, the president had inaugurated the 14th show of the academy where he affirmed on making use of results of these researches and studies the show includes. He affirmed on making use of them for serving the development and updating the military forces and security.
Saba