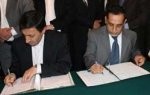 Almotamar.net, Saba
- Yemen and Iran signed five executive cooperation programs on Sunday in fields of culture, tourism, higher education, vocational training and endowments.
The signing came after concluding of 8th meeting for Yemeni-Iranian ministerial committee co-chaired by Minister of Trade and Industry Yahya al-Mutawakel and Iranian Minister of Energy Parviz Fattah.
In the closing session of the meeting, the two sides affirmed importance of enhancing mutual cooperation between the two countries to serve common interests of both peoples.
They agreed to form a committee to follow up trade agreement signed between the two countries in 2003.
The Yemeni side expressed desire to benefit from the Iranian experiment in filed of small and medium enterprises
The two sides also agreed on activating agreement of encouraging investments in the two countries which was signed between the two nations in 1998.
In the session, several Iranian companies voiced desire to set up different investment projects in domains of electricity, banking sector and fisheries wealth.
Al-Mutawakel highlighted outcomes of the meeting to improve ties between the two countries in different fields.
He pointed out to the concern of the leaderships of both countries to boost the relationship and cooperation to serve common interests of both peoples.
For his part, the Iranian minister welcomed the signed programs wishing to be done on the ground to develop ties between the two countries.
The next meeting of the committee is scheduled to be held in Tehran capital of Iran by 2010.
Saba