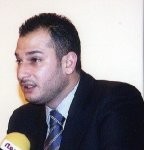 Almotamar.net
- Chairman of the Investment Authority in Yemen Salah al-Attar said Sunday the amendments in investment law in Yemen include customs exempts, income tax reduction for the companies by 15% for investment projects and modification in the formation of the investment Authority Board of Directors by 50% of the public sector and 50% of the private sector.
Al-Attar clarified that legislations in the investment law come in response to the investment environment. In a press conference organized by the Investment Authority Sunday he said the investment draft law would be send in a short time to the ministerial committee in charge of revising investment laws then to the cabinet and then to the parliament. He added that engagement of the private sector in the Authority's Board of Directors is an embodiment of the election platform of the President of the republic and in implementation of the government programme.
Al-Attar aid any projects no implemented within ten years will be cancelled and the Investment authority does not believe in quantity of projects but rather the quality.
Al-Attar denied as incorrect that allowing foreigners will harm the national sovereignty because it is safeguarded by the political leadership, adding "we are at present at the globalization age and Yemen engagement in countries' economies is necessary and our laws believe in openness and partnership."