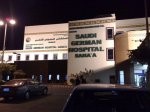 Almotamar.net
- A visiting delegation representing the Islamic Foundation for Private Sector Development in the Kingdom of Saudi Arabia on Thursday got acquainted with progress of work at the Saudi German Hospital in Sana'a. The delegation got informed on the level of performance in offering medical services to the Yemeni patients in this regard.
The Saudi delegation composed of Dr Jaafar Kartaj, Chairman of Namaa Bank Abdulmuhsin al-Faris, Chairman of Zakat Foundation Ibrahim al-Muflih and Director of Investment Saeed Ahmed, expressed interest of the Islamic Foundation for Developments I increasing its investments in Yemen. The delegation said their visit to Yemen came in the frame of this purpose after the close acquaintance with results of the Foundation contribution to de3velop the Saudi German Hospital and other private projects in Yemen.
The Saudi delegation made a tour of the hospital departments and stages of its building. The delegation also listened to explanation on offering treatment services at the hospital.