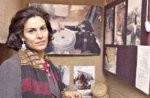 Almotamar.net
- The participants in the seminar on the World Heritage Day have on Wednesday called on the concerned authorities to issue laws protecting the Yemeni heritage and history against oblivion. They have also called on for taking care of qualifying scientific cadres in higher studies for paying attention to the Yemeni heritage and history.
The participants praised the initiative of the capital mayoralty for allocation of a new headquarters for the Folkloric Heritage House and asked speeding up transfer of the contents of the old house before it crumbles and the highly important contents are exposed to destruction, in addition to providing ample financial support for the House so that to be able to play its role fully.
The seminar organised by Yemeni Centre for Studies and Research and the Folkloric Heritage House recommended an opening of a department for folklore at Sana'a University , the rest of Yemeni universities and at the Yemeni centres for studies and research in addition to compiling a subject of heritage to be taught at the preparatory and secondary schools.
The participants also called to consider the 18th of April every year as a day for celebrating the diversity heritage in Yemen.