no comments in "International"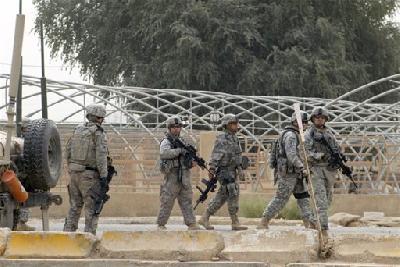 US-Iraqi force raids alleged Qaeda hideout
Google news - SAMARRA, Iraq (AFP) — US and Iraqi forces swept into a suspected Al-Qaeda hideout north of Baghdad on Sunday, killing at least seven fighters in a gun battle, Iraqi officials said.
The fighting erupted in a densely wooded area where Al-Qaeda had been regrouping, according to Lieutenant Colonel Mohammed Khalaf, the police chief in the nearby town of Dhuluiyah.
"Seven members of Al-Qaeda were killed in the fighting, including a suicide bomber who blew himself up during the clashes, and another nine were arrested including a prominent terrorist called Uthman Tariq Ismail," he said.
He said some of those killed were from other Arab countries, without naming them, and that the bodies had been sent to the main hospital in the northern city of Tikrit for identification.
US and Iraqi forces have allied with local tribes and former insurgents over the past two years to drive Al-Qaeda out of most of its former strongholds.
But attacks against security forces and civilians bearing the hallmarks of the terror group are still common in some parts of the country, including the capital.
At least 150 people were killed in attacks in Iraq over the past week, including 65 people who died in a twin suicide bombing on Friday outside Baghdad's most holy Shiite shrine.
Mullah Nadhem al-Juburi, the head of a US-allied Sunni militia in Dhuluiyah targeted by a suicide bomber who struck a mosque last week, said security forces had not previously operated in the area of Sunday's assault.
"This whole area had been taken over by the Sahwa, but Al-Qaeda had recently started reorganising there," he said, referring to the Sahwa "Awakening" movement of tribes and former insurgents who have turned on Al-Qaeda.
He said the operation followed US aerial bombing and the dropping of paratroopers over the area.
Under a security pact signed with Washington in November, US troops are to withdraw from all Iraqi cities and major towns by June 30 and from the rest of the country by the end of 2011.


More from "International"
---

Army missile unites target mercenaries in Sourwah
The missile units of the army and popular force targeted on Friday gatherings of Saudi-paid mercenaries in Sourwah district of Marib province, a military official said.
Dozens of mercenaries were killed and wounded, Including Colonel Saleh Al-Kahli Al-Bukhaiti, commander of a battalion of mercenaries with a number of his companions, the official added.


Mercenaries launch artillery attacks on citizens' houses in Serwah
The Saudi-paid mercenaries launched on Friday intensively artillery and missile attacks on houses and farms of citizens in Serwah district of Mareb province.
A local official said that and artillery bombardment of the mercenaries targeted the areas of the airport, al-Haglan, Wadi Nawa and Souk Serwah, and caused great damage to the houses and farms of citizens.


49 Yemeni civilians killed in 212 Saudi aggression airstrikes in six days
At least 49 civilians were killed, Including thirteen children and six women, and 16 others wounded including a woman and child in 212 airstrikes launched by US-backed Saudi aggression warplanes on several Yemeni provinces over the past six days, officials and residents said.
In Sanaa province, the aggression warplanes launched 55 air strikes on the districts of Nehm, Hamdan, Sanhan, Belad Alroos.