no comments in "International"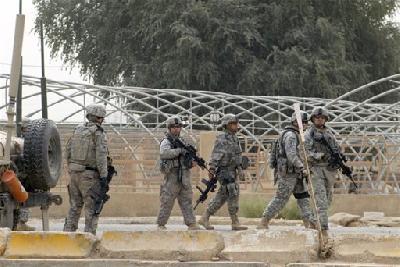 US-Iraqi force raids alleged Qaeda hideout
Google news - SAMARRA, Iraq (AFP) — US and Iraqi forces swept into a suspected Al-Qaeda hideout north of Baghdad on Sunday, killing at least seven fighters in a gun battle, Iraqi officials said.
The fighting erupted in a densely wooded area where Al-Qaeda had been regrouping, according to Lieutenant Colonel Mohammed Khalaf, the police chief in the nearby town of Dhuluiyah.
"Seven members of Al-Qaeda were killed in the fighting, including a suicide bomber who blew himself up during the clashes, and another nine were arrested including a prominent terrorist called Uthman Tariq Ismail," he said.
He said some of those killed were from other Arab countries, without naming them, and that the bodies had been sent to the main hospital in the northern city of Tikrit for identification.
US and Iraqi forces have allied with local tribes and former insurgents over the past two years to drive Al-Qaeda out of most of its former strongholds.
But attacks against security forces and civilians bearing the hallmarks of the terror group are still common in some parts of the country, including the capital.
At least 150 people were killed in attacks in Iraq over the past week, including 65 people who died in a twin suicide bombing on Friday outside Baghdad's most holy Shiite shrine.
Mullah Nadhem al-Juburi, the head of a US-allied Sunni militia in Dhuluiyah targeted by a suicide bomber who struck a mosque last week, said security forces had not previously operated in the area of Sunday's assault.
"This whole area had been taken over by the Sahwa, but Al-Qaeda had recently started reorganising there," he said, referring to the Sahwa "Awakening" movement of tribes and former insurgents who have turned on Al-Qaeda.
He said the operation followed US aerial bombing and the dropping of paratroopers over the area.
Under a security pact signed with Washington in November, US troops are to withdraw from all Iraqi cities and major towns by June 30 and from the rest of the country by the end of 2011.


More from "International"
---

Schools of Sana'a province condemn Saudi aggression's massacres against students
Schools of Sana'a province organized a protest rally to condemn the Saudi aggression air strikes the primary al-Falah school in Nehm district of Sana'a province last Tuesday.
The air strikes killed eight students and injured 15 others early morning of Tuesdasy.
The protesters expressed deep indignation against the Saudi aggression air strikes, considering it a new war crime against the Yemeni people and calling for the international community to move to stop Saudi massacres against Yemenis.


Saudi airstrikes kill 7 in Taiz
Saudi aggression airstrikes killed at least seven citizens in Taiz province, a locally official said on Sunday.
The seven citizens were killed by Saudi aggression airstrikes on a car, in- in al-Jahfah village of Maoza'a district. Many people were wounded.
The Saudi warplanes also hit al-Madeen area in the same district, the official said, number of causalities has not been identified yet until the moment.


Army recaptures new military bases from enemy Saudi troops
The army and poplar forces recaptured and secured military bases from the enemies in Najran governorate, an army official said on Sunday.
Enemy Saudi soldiers tried to restore the bases under intense air cover from the enemy warplanes, but they failed.
Dozens of Saudi troops were killed and more others wounded in the national military operations that took place on Saturday, the official added.
Moreover, the artillery of the national army and popular forces fired at a gathering of military vehicles of the enemy Saudi soldiers, destroying three of them and killed their crew members.


President meets sheikhs, notables of Nehm district
President of the Supreme Political Council Saleh al-Sammad met on Saturday at the Republican Palace in Sana'a with sheikhs and notables from Nehm district of Sana'a province.
In the meeting, al-Sammad hailed the national positions of Nehm sons, expressing condolences in his name and on behalf of the political leadership to the district's sheikhs over victims of the heinous massacre that targeted al


Saudi fighter jets continue brutal strikes against citizens in provinces
The Saudi aggression continued strikes against citizens in several province overnight, targeting private and public properties, a military official said on Saturday.
In Taiz province, Saudi war planes waged six strikes on al-Omari Junction in Thubab district and five raids hit citizens' house in al-Mocha district, leaving several dead and wounded among citizens, as well as dropping two sound bombs on al-Wazaiah district.
In Sa'ada province, al-Takhaih, Al-Majda areas


Army foils mercenaries' attempt to progress in Jawf
The army and popular forces repulsed the Saudi-paid mercenaries' attempt to advance toward Souk al-Ethnein in al-Maton district of Jawf province, a military official said on Saturday.
The official confirmed that 18 Saudi-paid mercenaries, including a mercenary leader called Yahya al-Haser, were killed and dozens were wounded, as well as the destruction of three armored and two military vehicles during the confrontations.


FM meets UN Resident Coordinator for Yemen
Foreign Minister Hisham Sharaf met here on Saturday with the Resident Coordinator / Humanitarian Coordinator for Yemen, Jamie McGoldrick.
The meeting dealt with a number of issues relating to the activities of the UN offices working in the country and ways of enhancing them and facilitating their performance to enable them to provide their services to Yemeni citizens.


GPC condemns Saudi aggression massacres in Taiz
General People's Congress (GPC) condemned massacres committed by the Saudi aggression against Rubaie and Mokha areas of Taiz province.
The massacres claimed the lives of 18 people and wounded 16 others.
GPC demanded the United Nations and the Security Council to bear its legal and humanity responsibility to protect civilians and stop the Saudi aggression's crimes against the Yemeni people.


Security raids medical-outfitted house to treat terrorists in Hodaida
Security services and popular committees raided a house outfitted with medical equipments to treat criminals and terrorists in Hodaida province, a security official said on Saturday.
The raid was carried out on Friday after the police was tipped off about the house.
Investigations are underway to pursue the other involved suspects.