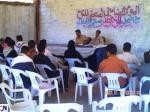 Almotamar.net
- Journalists taking part in activities of the open day for solidarity with the kidnapped journalist Salah al-Jalal , editor in chief of 17 July newspaper have expressed their condemnation of the uncivilized act against the journalist al-Jalal , an act contradicting all religious, human values and traditions.
In a statement, almotamar.net obtained a copy of it, the journalists appealed for the wise persons in the tribes all over Yemen to condemn that behaviour that offended the tribe and gave it a bad image representing all forms backwardness and ignorance.
Meanwhile thy demanded security authorities and judiciary to undertake their legal duty in protecting all citizens against such acts. They have also held all state institutions responsible for securing the life of their kidnapped colleague who was kidnapped in the capital Sana'a by persons that allowed themselves, in addition to kidnapping; assuming the identity of security man and forging arrest warrant s against others.
On the other hand the journalists expressed their regret for the journalists syndicate continued weak stand of which they said it has not taken any action towards the kidnapping of journalist al-Jalal whose life is still at risk.
Activities of the journalist open day for solidarity with the kidnapped journalist began in a solidarity gathering at the headquarters of the Yemen Journalists Syndicate on Thursday morning while all members of the syndicate council were absent from that activity.