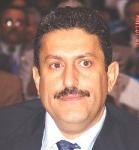 Almotamar.net
- The Ministry of Public Health and Population in Yemen announced Tuesday the discovery of the first case of infection of swine flu, known as H1N1 virus, of a Yemeni student, 16 who has come from the United States of America and the case was identified last Saturday.
Yemen Health Minister Dr Abdul-Karim Rase has confirmed discovery of the case last Saturday in Aden following submitting the patient necessary examinations, indicating the patient was presently under quarantine and completion of treatment measures and his separation from those around him of his family to avoid their infection.
The minister indicated that the infected student was among a group of students receiving a training program in the US and that group returned home last week.
In his press conference attended by correspondents of Arab news channels the minister said the ministry has declared an emergency state at all its hospitals to tackle any agency that may occur.
The health ministry statement affirmed that the discovered case was light and the patient was subjected to treatment and he is at present under quarantine in his house, in accordance with international instructions adopted by the World Health Organisation.