no comments in "Sci-Tech"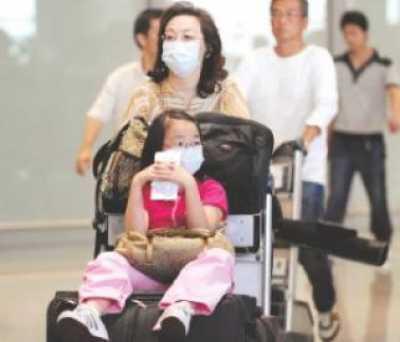 Yemen swine flu 5 cases, recovering
Almotamar.net - Anti-epidemic diseases Director General at the Ministry of Public Health and Populating Dr Abdul Hakim al-Kuhlani has on Saturday affirmed recovery of the rest case of swine flu H1N1 discovered in Yemen of a Yemeni student returning fro the US has recovered completely , expecting the recovery of the other four cases in next days.

In a short statement to almotamar.net, Dr al-Kuhlani has said the 4 other cases of the disease have recovered by 90% and expected that on Sunday the cases would have completed the decided course of treatment and would be recovered completely. This has also been confirmed by director general of Health Bureau in Aden dr al-Khidr Laour who made it clear the possibility of the three cases of the swine flu in Aden of leaving their houses to lead their normal life.

In response to a question by almotamar.net on condition of the rest 32 of the students team returning from the US, Dr al-Kuhlani clarified that 4 health teams have been set up in the capital and Aden governorate and those teams visited the returnee students in their houses and took necessary precautionary measures. He also pointed to conducting necessary medical check ups of those students and that results of examinations will be announced at a later time.


---

Army missile unites target mercenaries in Sourwah
The missile units of the army and popular force targeted on Friday gatherings of Saudi-paid mercenaries in Sourwah district of Marib province, a military official said.
Dozens of mercenaries were killed and wounded, Including Colonel Saleh Al-Kahli Al-Bukhaiti, commander of a battalion of mercenaries with a number of his companions, the official added.


Mercenaries launch artillery attacks on citizens' houses in Serwah
The Saudi-paid mercenaries launched on Friday intensively artillery and missile attacks on houses and farms of citizens in Serwah district of Mareb province.
A local official said that and artillery bombardment of the mercenaries targeted the areas of the airport, al-Haglan, Wadi Nawa and Souk Serwah, and caused great damage to the houses and farms of citizens.


49 Yemeni civilians killed in 212 Saudi aggression airstrikes in six days
At least 49 civilians were killed, Including thirteen children and six women, and 16 others wounded including a woman and child in 212 airstrikes launched by US-backed Saudi aggression warplanes on several Yemeni provinces over the past six days, officials and residents said.
In Sanaa province, the aggression warplanes launched 55 air strikes on the districts of Nehm, Hamdan, Sanhan, Belad Alroos.