no comments in "Sci-Tech"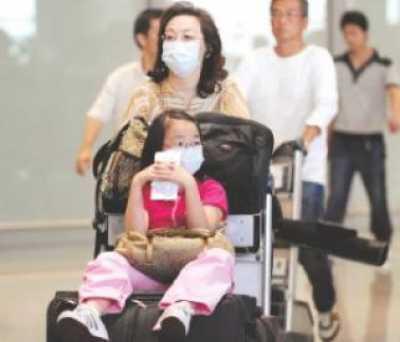 Yemen swine flu 5 cases, recovering
Almotamar.net - Anti-epidemic diseases Director General at the Ministry of Public Health and Populating Dr Abdul Hakim al-Kuhlani has on Saturday affirmed recovery of the rest case of swine flu H1N1 discovered in Yemen of a Yemeni student returning fro the US has recovered completely , expecting the recovery of the other four cases in next days.

In a short statement to almotamar.net, Dr al-Kuhlani has said the 4 other cases of the disease have recovered by 90% and expected that on Sunday the cases would have completed the decided course of treatment and would be recovered completely. This has also been confirmed by director general of Health Bureau in Aden dr al-Khidr Laour who made it clear the possibility of the three cases of the swine flu in Aden of leaving their houses to lead their normal life.

In response to a question by almotamar.net on condition of the rest 32 of the students team returning from the US, Dr al-Kuhlani clarified that 4 health teams have been set up in the capital and Aden governorate and those teams visited the returnee students in their houses and took necessary precautionary measures. He also pointed to conducting necessary medical check ups of those students and that results of examinations will be announced at a later time.


---

Court executes man for rape, murder girl
The court of Appeal and judicial authorities in the capital Sanaa on Monday executed Hussein Abdullah al- Saket after convicted him of raping and killing five-year-old girl Safa Mohamed Taher al-Matari.
The execution of the 22-year-old al-Saket was carried out in a public place in Tahrir Square in central Sanaa where thousands of people witnessed the scene


Saudi air strikes continues its criminal attack on Yemen
Saudi aggression warplanes continued criminal air strikes on several provinces, targeting public and private properties over the past hours, officials said on Monday.
The warplanes launched three raids on Dawar area in Mastaba directorate of Hajah provinces and four raids on Hardh and Medi directorates.


Civil Aviation denies Saudi lies, confirms Sanaa Airport is secure, safe
The General Authority for Civil Aviation and Meteorology denied false claims by the Saudi-led aggression coalition about the Sanaa international airport, in a statement.
It said the airport is safe, secure and completely prepared to receive incoming flights in according to the international aviation standards.