no comments in "Sci-Tech"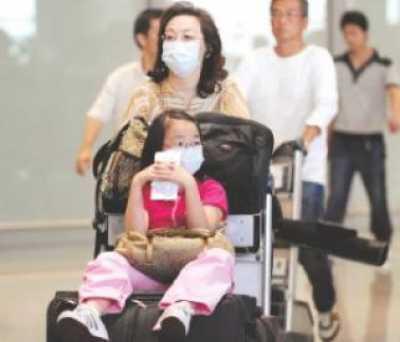 Yemen swine flu 5 cases, recovering
Almotamar.net - Anti-epidemic diseases Director General at the Ministry of Public Health and Populating Dr Abdul Hakim al-Kuhlani has on Saturday affirmed recovery of the rest case of swine flu H1N1 discovered in Yemen of a Yemeni student returning fro the US has recovered completely , expecting the recovery of the other four cases in next days.

In a short statement to almotamar.net, Dr al-Kuhlani has said the 4 other cases of the disease have recovered by 90% and expected that on Sunday the cases would have completed the decided course of treatment and would be recovered completely. This has also been confirmed by director general of Health Bureau in Aden dr al-Khidr Laour who made it clear the possibility of the three cases of the swine flu in Aden of leaving their houses to lead their normal life.

In response to a question by almotamar.net on condition of the rest 32 of the students team returning from the US, Dr al-Kuhlani clarified that 4 health teams have been set up in the capital and Aden governorate and those teams visited the returnee students in their houses and took necessary precautionary measures. He also pointed to conducting necessary medical check ups of those students and that results of examinations will be announced at a later time.


---

Saudi helicopter shot down in Mareb
An Apache helicopter of the Saudi-led coalition was shot down in Ber al-Maraziq area located between Mareb and Jawf provinces, a military official said Monday.
The official explained that the air defenses of the army and popular committees managed to target the hostile helicopter, which led to its downfall.


Aggression continues to breach ceasefire
The Saudi aggression and its hirelings continued to breach the UN-sponsored ceasefire in some provinces, a military official on Sunday.
The Saudi war jets and hirelings have bombed Haradh border outlet with missiles and artillery shells, the official said.
The hirelings in Taiz province pounded al-Serary village with different kinds of weapons.


Saudi raid kills 10 in Mocha
At least ten people were killed on Sunday in a Saudi airstrike on the coastal district of Mocha in Taiz province, a local official said.
The airstrike targeted a house, which was completely destroyed, the official said, adding the killed, including women and children, were of one family and others also were wounded in the airstrike.


Saudi warplanes wage raids on Sa'ada
The Saudi warplanes launched on Sunday two air raids on different areas in Sahr district of Sa'ada province, a military official said.
The official added the raids targeted two cold storage chambers for vegetables and fruits in Ahma-al-Talah and al-Saifi areas in Sahr district.
The official mentioned no further details about casualties.