no comments in "Sci-Tech"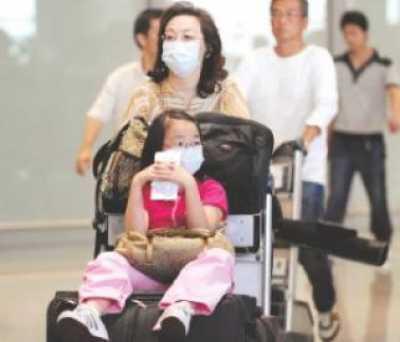 Yemen swine flu 5 cases, recovering
Almotamar.net - Anti-epidemic diseases Director General at the Ministry of Public Health and Populating Dr Abdul Hakim al-Kuhlani has on Saturday affirmed recovery of the rest case of swine flu H1N1 discovered in Yemen of a Yemeni student returning fro the US has recovered completely , expecting the recovery of the other four cases in next days.

In a short statement to almotamar.net, Dr al-Kuhlani has said the 4 other cases of the disease have recovered by 90% and expected that on Sunday the cases would have completed the decided course of treatment and would be recovered completely. This has also been confirmed by director general of Health Bureau in Aden dr al-Khidr Laour who made it clear the possibility of the three cases of the swine flu in Aden of leaving their houses to lead their normal life.

In response to a question by almotamar.net on condition of the rest 32 of the students team returning from the US, Dr al-Kuhlani clarified that 4 health teams have been set up in the capital and Aden governorate and those teams visited the returnee students in their houses and took necessary precautionary measures. He also pointed to conducting necessary medical check ups of those students and that results of examinations will be announced at a later time.


---

Police, popular forces arrest 81 suspects
A total of 81 persons have been arrested on charges of various crimes in several governorates over the past two days, a police official said on Monday.
The official said that 58 of the accused were arrested for serious crimes, while 23 charged with petty crimes, and 19 others have been referred to the public


Saudi warplanes targets home in Bani Hashish
A Saudi aggression warplane destroyed a citizen's home in Bani Hashish district of Sanaa province in an air strike overnight, an official said on Monday.
The strike flattened the home and badly damaged the nearby houses.
The Saudi aggression fighter jets also waged other raids on al-Jmima Mount, caused huge damage to public property and telecommunications towers, said the official.


President calls UN to end Saudi barbaric aggression, blockade on Yemen
President Saleh al-Sammad called the United Nations security council to stop Saudi-led barbaric aggression and blockade on Yemen, in a letter sent to the UN late on Saturday.
In the letter, the president detailed brutal and inhumane crimes committed by the Saudi-led barbaric coalition during 18 months of aggression against the