no comments in "Entertainment"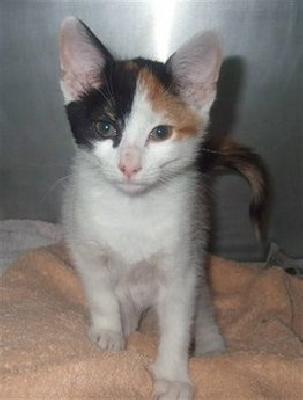 Kitten dropped, discovered in Boston city mailbox
Yahoo news - BOSTON – Officials said a two-pound, eight-week-old kitten was dropped in a public mailbox in Boston and later found unharmed among envelopes and packages. According to the MSPCA Animal Care and Adoption Center, the kitten they're calling "Postina" likely was stuffed Friday through a small opening of the mailbox and dropped several feet below.
A U.S. Postal Service letter carrier discovered Postina on Saturday during a scheduled afternoon pick-up.
The MSPCA is offering Postina for adoption after several days of nourishment and a round of vaccinations.
Animal abandonment in Massachusetts is punishable by up to a $2,500 fine and 5 years in prison.
The MSPCA said there has been a 48 percent increase in pet owners citing financial reasons for surrendering their pets.

More from "Entertainment"
---

Cabinet urges quick formation of new government
The Cabinet on Wednesday urged all the concerned political parties to accelerate the formation of a new government.
In its meeting, which was chaired by Acting Prime Minister and Minister of Electricity Abdullah al-Akwa, the cabinet pointed to the importance of the new government formation in stabilizing the political, economic and security situation and overcoming the current problems.
The cabinet's meeting touched on a number of topics, especially the issues related to the service and development aspects.
The cabinet stressed the need to keep the different educational institutions away from any conflicts and the importance of commitment of all parties to maintain the safety of employees and students in these education institutions.


President Hadi chairs meeting of his advisors panel
President Abd-Rabbu Mansour Hadi chaired on Monday a meeting of the panel of presidential advisors along with Prime Minister-designate Khalid Bahah.
They reviewed the latest developments in the local arena, besides procedures to form a new government and distribution of the ministerial portfolios in accordance with criteria agreed upon by all components.


Ibb University suspends study for security reasons
Ibb University Council approved Sunday the halt of study in different colleges for a week due to security reasons in the governorate.
The council formed a committee to communicate with the local authority and concerned political forces to withdraw their militants from near the university for it is an educational institution to the governorate's sons.


President urges PM-designate to accelerate forming new gov't
President Abd-Rabbu Mansour Hadi stressed on Sunday the importance of accelerating the formation of the new government based on the peace and national partnership agreement.
During the meeting, Hadi urged Khalid Bahah, the Prime Minister-designate, to meet with all political powers and components in order to form a new government based on the standards of integrity, competence and experience.
He also emphasized the importance of combining efforts of all political and societal components to face economic and security challenges in the country.


Bahah calls the international community to honor pledges to Yemen
The newly appointed Prime Minister Khaled Bahah has called the International Community to speed up honor their pledges they announced about during Yemen Friends' Meetings held in Riyadh, New York and London.
During a formal ceremony held at the UN Premises on Friday on the occasion of ending duties as Yemen's Permanent Representative to the UN, Bahah talked about providing suitable environment to enhance Yemen's economy to help improving humanitarian and political situation in Yemen, as well as providing protection to weak social categories.
He reviewed a series of political, security, economic, humanitarian and social challenges that will face the expected national partnership government he will form after his arrival to the country.


Yemen calls for int'l efforts to combat human trafficking
Yemen has called for gathering regional and international efforts to confront and combat the crime of human trafficking.
At the Regional Conference on combating human trafficking hosted by Sudan's capital Khartoum during October 13-16, Yemen stressed in its speech, which was delivered by the ambassador Abdulelah Hajar, the importance of seeking to eliminate the main causes of the growing phenomenon of asylum and illegal immigration, represented in poverty, illiteracy, unemployment ,oppression ,armed conflicts and natural disasters


Government discusses security, economic situations
The Cabinet discussed in its meeting held Thursday security and economic situations in the country, as well as the performance of the government's institutions.
Presided over by Deputy Prime Minister, Minister of Electricity Abdullah al-Akwa', the government studied measures must be adopted by all ministries and government bodies to deal with present challenges and the implementation of Peace and Partnership Agreement signed by political parties


Japan strongly condemns recent attacks in Yemen
Japan expressed on Wednesday deep concern and strong condemnation of the terrorist attacks taken place in Sana'a and Hadramout last week.
At least 66 people were killed on October 9 in a suicide bombing in the capital Sana'a and a car bomb attack on an army checkpoint in eastern Hadramout governorate.
"Japan expresses its absolute condemnation of these terrorist acts, and offers sincere condolences to the families of the victims and wishes a speedy recovery to the injured," the Japanese Foreign Ministry spokesman said in a statement posted on the Ministry's