no comments in "Entertainment"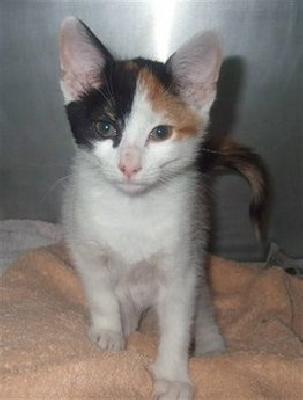 Kitten dropped, discovered in Boston city mailbox
Yahoo news - BOSTON – Officials said a two-pound, eight-week-old kitten was dropped in a public mailbox in Boston and later found unharmed among envelopes and packages. According to the MSPCA Animal Care and Adoption Center, the kitten they're calling "Postina" likely was stuffed Friday through a small opening of the mailbox and dropped several feet below.
A U.S. Postal Service letter carrier discovered Postina on Saturday during a scheduled afternoon pick-up.
The MSPCA is offering Postina for adoption after several days of nourishment and a round of vaccinations.
Animal abandonment in Massachusetts is punishable by up to a $2,500 fine and 5 years in prison.
The MSPCA said there has been a 48 percent increase in pet owners citing financial reasons for surrendering their pets.

More from "Entertainment"
---

GPC , Ansarullah delegation heads to Muscat
The delegation of General People's Congress (GPC),and Ansarullah, which will participate in Geneva consultations, headed on Saturday to the Omani capital, Muscat.
The delegation will meet in Muscat with the United Nations Special Envoy for Yemen Ismail Ould Cheikh Ahmed to discuss the dialogue draft proposed by the United Nations as a


UN warns of increasing collapse of basic services in Yemen
The United Nations has warned of the accelerating collapse of basic services in Yemen due to the aggression, siege and fighting which was described as "devastating."
The UN Humanitarian Coordinator for Yemen Johannes van der Klaauw said in a press conference in Cairo that the current estimations indicate that more than 14 million people in Yemen cannot get sufficient health care.
He noted that 20 governorates, out of 22 governorates, are affected and that about 2.3 million people were forced to leave their homes which created a deteriorating and desperate humanitarian situation over the past seven months, stressing the importance of promptly finding out a political solution before it is over.
The UN official said that 3 million children and women are in need for medication because of malnutrition while 1.8 million children are deprived of schooling since March.
Klaauw pointed out the increasing deterioration of the basic services as a direct result of the dispute and the lack of necessary supplies to pay salaries or to cover maintenance costs.


Oxfam welcomes alteration of UK attitude on selling weapons to KSA
Oxfam welcomed on Friday the changing of the British policy on exporting weapons to Saudi Arabia which is used in its aggression against Yemen.
The Oxfam emphasized citizens are in the fire line not only because of weapons, but also of the siege imposed on Yemen which affected its main services and economy.
Josephine Hatton, director of the Middle East program at Oxfam, said in a statement the organization welcomed the alteration of the British attitude towards the denial of Saudi Arabia in targeting citizens in its airstrikes against Yemen, and insisting to conduct serious investigations in that regard.


UK calls to conduct investigations over Saudi airstrikes on Yemen
Secretary of State for Foreign and Commonwealth Affairs Philip Hammond called on Thursday to carry out a serious investigation on the Saudi air raids against Yemen.
In an interview with the BBC, Hammond said the denial of Saudi in targeting citizens by its airstrikes against Yemen since March is not enough, serious investigations must been conducted in that regard.


Suicide bomber blows himself up in Ibb
A suicide bomber blew himself up on Tuesday in front of the Faculty of Agriculture in Ibb University, a security source said.
"The explosion did not cause any casualties," the source said, noting that the suicide bomber detonated himself before he was arrested by the security men, who noticed he was wearing an explosive belt.


MSF: thousands of Yemenis incapable to receive medical care
The Médecins Sans Frontiers (MSF) organization said on Monday that thousands of Yemeni people still incapable to receive medical care because of the absence of transportation means and closing the health facilities.
In its statement, the MSF said many of health facilities have totally or partly been destroyed as a result of the airstrikes and war in the country.


Russia supports Ould Sheikh efforts to hold Yemeni talks
MOSCOW– Russia affirmed on Saturday its support to the exerted efforts to hold a new talks' round on the Yemeni crisis and with the participation of the various sides.
The Ministry of Foreign Affairs of the Russian Federation said, in its statement issued Saturday, it is important to do all the possible efforts in order to end violence in Yemen and reach peace all over the country via implementing dialogue gathering all the Yemeni political powers.