no comments in "Entertainment"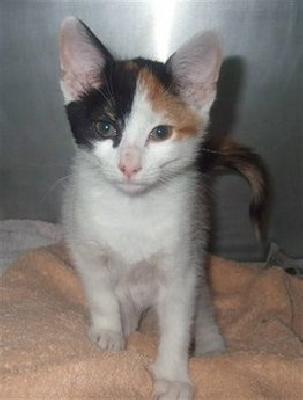 Kitten dropped, discovered in Boston city mailbox
Yahoo news - BOSTON – Officials said a two-pound, eight-week-old kitten was dropped in a public mailbox in Boston and later found unharmed among envelopes and packages. According to the MSPCA Animal Care and Adoption Center, the kitten they're calling "Postina" likely was stuffed Friday through a small opening of the mailbox and dropped several feet below.
A U.S. Postal Service letter carrier discovered Postina on Saturday during a scheduled afternoon pick-up.
The MSPCA is offering Postina for adoption after several days of nourishment and a round of vaccinations.
Animal abandonment in Massachusetts is punishable by up to a $2,500 fine and 5 years in prison.
The MSPCA said there has been a 48 percent increase in pet owners citing financial reasons for surrendering their pets.

More from "Entertainment"
---

Saudi fighter jets launch 3 air strikes on Mareb
Saudi aggression fighter jets on Monday waged three air strikes on citizens' houses in Serwah district of Mareb province, a local official said.
The air strikes hit the house of Ali Mohammed al-Hussaini and a number of neighboring houses in Habab valley area three times, causing heavy damage to the houses, the official said.


Rocketry ballistic technology beats Saudi defense system
The army says third generation of modern Yemeni Rocketry ballistic missiles cannot be intercepted provided enemy Saudi anti-missile system, in a statement on Sunday.
The army said the new Yemeni ballistic technology is another war against US -Saudi anti-missiles system in which the Yemeni technology of the third generation of ballistic missiles beats enemy system and always hit the targets directly and accurately.
The army confirmed that the missile forces have managed in a short time and in very difficult conditions to change the military equation into their favor.


PM meets UN official in Yemen
Prime Minister Dr. Abdul Aziz Saleh Bin Habtoor, met on Sunday in the capital Sana'a, the UN Resident Humanitarian Coordinator in Yemen, Jamie McGoldrick.
At the meeting, they stressed on the importance to exert all efforts to alleviate suffering of the Yemeni people due to the Saudi aggression and its all-out siege that have hit the humanitarian, health and economic sectors.
The premier stressed on the importance of the


Civilians targeted by Saudi air strikes on Yemeni provinces
Saudi aggression fighter jets and their mercenaries continued strikes on citizens and their properties in several provinces over the past hours, a military official said on Sunday.
In Sa'ada province, The Saudi aggression missiles fired on citizens' houses in Talan area of Haydan
district, killing a citizen and wounding others


Saleh: Aggression financed by Saudi, backed by Israel
Former President and head of the General People Congress (GPC) Ali Abdullah Saleh said the aggression on Yemen is financed by Saudi and Gulf money and backed by the US, Britain and Israel.
In a speech delivered on Saturday night, Saleh said the so called "decisive storm" has achieved nothing but more bloodshed, destruction and attempts


FM calls on friendly countries to help establish peace in Yemen
Minister of Foreign Affairs, Hisham Sharaf, expressed Saturday his surprise at remarks made by some ambassadors of friendly countries, calling them to instead seek the interest of the Yemeni people and help establish peace in the region.
In a statement, the minister said that some of these countries only seek to serve the objectives and interests of their own, but not the interests of the Yemeni people.
He Said those countries, or the so called Quarter countries


Ballistic missile hits Saudi-paid mercenaries in Mareb
The army and popular forces on Saturday fired Zilzal 2, the ballistic missile, on gatherings of Saudi-paid mercenaries in al-Jadan district in the west of Mareb province, a military official said.
The missile hit the target accurately, killing and wounding dozens of the mercenaries, and destroying a number of their military vehicles, the official added.


Yemen's parliament condemns Saudi massacre on Arhab women funeral house
Yemeni parliament strongly condemned on Saturday the Saudi aggression air strikes on the funeral house in Arhab district of Sana'a province that left at least ten women and children died, in a press statement said.
The Saudi air attack on the women funeral house was the Saudi latest war crime against the Yemeni civilians that killed eight women and children and injured ten other women on Wednesday afternoon.
The parliament said that this new horrific, brutal Saudi war crime against Yemeni civilians reveals that the Saudi aggression is a beast lacks all religious