no comments in "Entertainment"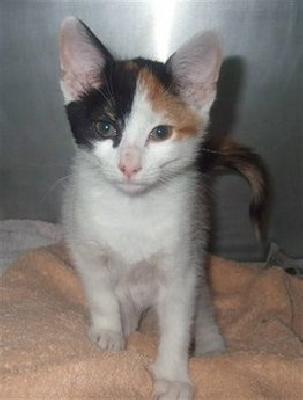 Kitten dropped, discovered in Boston city mailbox
Yahoo news - BOSTON – Officials said a two-pound, eight-week-old kitten was dropped in a public mailbox in Boston and later found unharmed among envelopes and packages. According to the MSPCA Animal Care and Adoption Center, the kitten they're calling "Postina" likely was stuffed Friday through a small opening of the mailbox and dropped several feet below.
A U.S. Postal Service letter carrier discovered Postina on Saturday during a scheduled afternoon pick-up.
The MSPCA is offering Postina for adoption after several days of nourishment and a round of vaccinations.
Animal abandonment in Massachusetts is punishable by up to a $2,500 fine and 5 years in prison.
The MSPCA said there has been a 48 percent increase in pet owners citing financial reasons for surrendering their pets.

More from "Entertainment"
---

Death Stole Them But Their Work Immortalized Them
Yemen has lost many women who have struggled in highlighting the role that women have played in social advancement. Death took these bright minds from Yemen, however, they have left a huge impact in Yemenis hearts and minds that cannot be erased.
In this special issue, National Yemen highlighted stories and achievements of three great women who passed away, though their achievements are still discussed. We are especially pleased to showcase that disabled Yemeni women also have much to contribute


Yemeni-Omani relations discussed in Cairo
Foreign Minister Abo Baker al-Qirbi discussed Sunday with Yousuf Bin Alawi Bin Abdullah, Minister Responsible for Foreign Affairs of Sultanate of Oman, aspects of the Yemeni-Omani distinctive relations and means to enhance them.


Yemeni, Saudi FM discuss issues of common concern
Foreign Minister Abo Baker al-Qirbi met Sunday with Saudi Arabia's Foreign Minister Prince Saud al-Faisal, in the meeting's sidelines of the 141st regular session of the Arab foreign ministers in Cairo.


Decrees identify, form Constitution Drafting Committee actions, members
The Presidential decrees Nos.(26& 27) for 2014 were issued Saturday determining the work mechanism of the Constitution Drafting Committee and forming the committee's members.
The first decree includes six chapters containing objectives and principles, constitution drafting committee and its general secretariat, the committee's mechanism of action, the preparation and publication of the constitution's draft, consultations and amendments, and finally the last chapter is on the final provisions.


FM partakes in Arab FMs meeting in Cairo
Foreign Minister Abu Bakr al-Qirbi headed on Saturday for Cairo, Egypt, to participate in the meeting of the 141st regular session of the Arab foreign ministers.
The meeting to kick off on Sunday at the Arab League's headquarters would discuss many important files, topped by the preparations for the upcoming Arab summit to be held in Kuwait on 25-26 of this month, al-Qirbi said.


Four terrorists, including Saudi, killed in attack in Abyan
Terrorist militants attacked on Saturday a checkpoint of the 115th Brigade in Lawder town in Abyan province, a military official said.
They were equipped with explosive belts, grenades and heavy machineguns, he said, adding that four of the attackers, including a Saudi national, were killed.
Two soldiers were killed and one other injured in the attack, the official said.


GPC delegation meets Prime Minister of Djibouti
General People's Congress (GPC) delegation met Prime Minister of Djibouti, Abdualqader Kamel in their visit to the country. During the meeting, both sides discussed bilateral relations and ways of developing them as well as discussing a number of issues of common interest between the two countries.
The occasion of the GPC delegation visit was to attend the 35 Conference of the ruling Party in Djibouti, which took place during the period from 3 until 4 March.


Statement Of GPC and its Allies on Security Council Resolution 2140
The General Congress Committee of the General People's Congress and the Higher Council of the National Democratic Coalition held an extraordinary meeting presided by Ali Abdullah Saleh , the president of the GPC ,during which they examined The Security Council Resolution 2140 on Yemen .
The General Congress Committee and the Coalition parties appreciated the resolution's reaffirmation of strong commitment to the unity , sovereignty , independence and territorial integrity of Yemen , its welcoming the outcomes of the comprehensive National Dialogue Conference which