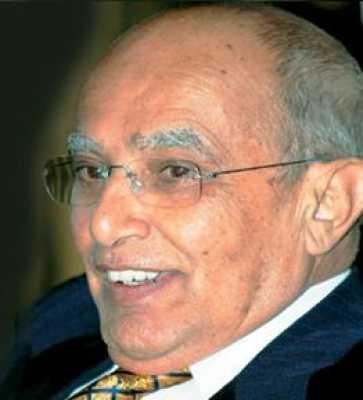 Demands of the JMP for resuming dialogue, orders accepted only by a stupid: al-Eryany
Almotamar.net - Dr Abdulkarim al-Eryany, the Political Advisor to President Ali Abdullah Saleh said the political scene in Yemen is witnessing different arguments and opinions that might not be in this extent but before the events of 1994.
In an interview published in the Emirates Al-Khallej newspaper on Friday, al-Eryany added that the political scene in Yemen is dynamic and dynamism is not a source of badness, saying the dealing with this dynamism is the yardstick. In Saada, for instance, there is a crisis with the Houthis and they seem that day by day they try to expand the area of their presence and no doubt they receive unlimited support. There is news on outside support. He added," But those who say they are on their way to govern Yemen in the imamate style, I am not with them, not in defence of them or loving them but because they are too incapable of returning the history backwards. "

Al-Eryany said what happens in the south has begun with a ceiling which there is no ceiling basically and it has blocked the way to opportunities for dialogue and discussion of mistakes committed here and there. He indicated that the President of the republic in his speech on 22 May had said that mistakes had happened and it is inevitable to correct them. That indication was not picked up by the so-called the Movement they went further and cut the way to any dialogue or discussion on who would sit for dialogue, whether from the state or any citizen.

Al-Eryany wondered if there is any person sincere to his homeland ready to sit with a person saying he wants secession. He said further that continuation in that is not in their favour or in favour of Yemen, "Yemen is not going to be as we know it if they continue and the south will not be as we used to know it or the north as we know it to be. What happens in the south at present is not less dangerous than what happened in 1994 but maybe more dangerous than the war of 1994."

Al-Eryany said ," there are some who say let them destroy and kill this is a peaceful movement but I say such talk would not be deceiving anybody , the reasonable have to open doors not for submission but doors for correcting any mistake that might have occurred here or there."

On the relation between the ruling party and the opposition , which he described as unpleasing scene , such as the events in Saada and the movement in the south , as the Joint Meeting Parties JMP adopts excuses for different issues , al-Eryany said, " I told them one day if you want not to begin the dialogue but after we have finished the problem of Saada and the movement in the south as well as the economic and political problems , I assure you I would be dead before we begin the dialogue."
Al-Eryany considered that connecting the dialogue with existing undeniable vital issues is an unacceptable matter especially after the signing on February 2009 agreement and the extension of the parliament tenure fore two years . That has opened hopes for achieving security, stability, reconciliation and reaching solutions satisfactory for all. After signing the agreement the opposition got a role object of appreciation and admiration even on part of the international community. But al-Eryany said the situation was no longer as that; a situation has no relation to the agreement signed by the two parties; the authority and the opposition.

Dr al-Eryany affirmed there are issues that must be tackled and they should not be connected to an event in Saada or a demonstration in Lahj or a problem in Zanjibar. he said, " In fact I don't find this as an evidence of seriousness and I previously mentioned to the brothers in the opposition and we always remind them of that , that the elections of 2011 have definite timetables that must not exceeded; the amendments have to be presented to the parliament and the parliament has to wait for 60 days during which it can begin sounding out opinions of the people about them then to begin discussing them and while in the process of discussion the parliament can listen to opinions of political parties that have no representation in the parliament in addition to opinions of civil society organizations interested in the political and legal matters. "

He said, "If the procrastination by the opposition continues in thee way we see it at present, the constitutional bodies have executive and legislative duties they must implement and they cannot miss for one moment general elections which some see that they can impede once again, they are very mistaken." He added there is no objection in going in parallel lines in the dialogue; the first for carrying out the February agreement and the second for discussing the existing problems, or future problems. But they should not tell us we have stopped the dialogue until you finish and implement what we have demanded , this is not dialogue but rather orders that we cannot accept and would not be accepted but by a stupid one."

"The opposition parties suspended the dialogue and we are preparing thee reply to them and we call on them to return to the dialogue and on our side we have not closed and would not close the door of the dialogue until the 27 of April 2011, (the date of the upcoming legislative elections" but to continue in dialogue until missing the elections of 27 April, it must be clear for all that this is not possible, " Dr al-Eryany added.

On the calls for federal system within the unity, al-Eryany said," I say it begins with federation and ends up with secession therefore I am against the federation and I am with the local rule but federation is something else. There would be almost two constitutions and two armies, thus the matter begins with federation and ends with secession and those who call for federation should not expect we are fools, at least I I."


---

ICRC concerned about situation in Yemen's Taiz
The International Committee of the Red Cross (ICRC) is seriously concerned about an increase in fighting in the city of Taiz.
In a press release issued on Friday, the ICRC said that there has been indiscriminate shelling of civilian areas, and essential infrastructure is being destroyed.
"We call on the parties on the ground in Taiz to allow the safe passage of ambulances, medical workers and aid workers so that lives can be saved and the delivery of urgently needed humanitarian assistance can be made possible," said the head of the ICRC in Taiz, Olivier Chassot.
The ICRC indicated that the health situation in the governorate is particularly dire. The handful of hospitals still functioning are having to deal with large numbers of wounded people as well as severe shortage of supplies. The ICRC has had serious difficulties in delivering lifesaving medical and surgical supplies to a number of hospitals in Taiz.


Saudi airstrike kills five in Sa'ada
Around five people were killed and two others injured in a Saudi-led coalition attack on a number of densely populated areas in Razih district in Sa'ada province.
A local source said the Saudi-led coalition launched hundreds of air raids during the past few days on various parts of Sa'ada, including Razih, Ghamer, Shatha, al-Dhaher, Haidan and Ketaf.


EU: Airstrikes against Hodeida port create immediate obstacle to imports
The European Union (EU) has affirmed that the recent airstrikes on Hodeida port imposed an immediate hindrance to imports food, fuel, medicines and other supplies.
A joint Statement by the Spokespersons of the High Representative / Vice-President Federica Mogherini and Commissioner for Humanitarian Aid and Crisis Management Christos Stylianides on the bombings in Yemen of port facilities in Hodeida said:
"The current conflict in Yemen is having a dramatic impact on the civilian population whose needs have reached alarming proportions. Access for the delivery of humanitarian aid and essential supplies, including fuel, food and basic commodities to ordinary Yemenis remains extremely difficult.


ICRC Chief: Humanitarian situation in Yemen is catastrophic
The head of the International Committee of the Red Cross (ICRC) has described the humanitarian situation in Yemen as catastrophic.
"The humanitarian situation is nothing short of catastrophic. Every family in Yemen has been affected by this conflict. The people are facing immense hardship. And it is getting worse by the day. The world needs to wake up to what is going on," said Peter Maurer, who just ended a three-day visit to Yemen on Tuesday.
"The compounded effects of intense fighting and import restrictions are having a dramatic impact on health care," Maurer said. "Health facilities have been massively attacked as well as suffering collateral damage."


ICRC President: We'll expand our activities in Yemen due to the disastrous situation
President of the International Committee of the Red Cross (ICRC) Peter Maurer has said that the ICRC will expand its activities in Yemen.
In a press conference in Sana'a on Sunday, Maurer affirmed that his visit will achieve positive and prompt results with regards to the humanitarian response in Yemen.
He said that he is optimistic that the visit will result in doubling the ICRC efforts to face this "disastrous" situation as what the ICRC and its partners currently provide cannot cover all the humanitarian aspects, specially that the country is under siege.


Saudi aggression continues bombing several governorates
The Saudi aggression continued on Sunday to launch airstrikes on several governorates in the country.
A security source said Saudi war jets launched a number of raids on different parts of Hajjah governorate, destroying the building of the Roads and Bridges Authority in Haradh town in addition to many air raids carried out by drones in the town.
The Saudi warplanes also launched many raids on al-Hamara area of Lahj governorate, which led to numerous fatalities, including women and children. More than 16 sorties were carried out against areas of Muthalath al-Anad, al-Anad Air Base, Abain and Karesh, the source said.
In Dhamar governorate, the Saudi warplanes launched an airstrike targeted the Yemeni Economic Corporation building in Ma'abar city.


UN: Yemeni IDPs number doubled
The United Nations has announced that the number of Yemeni internally displaced persons (IDPs) due the military aggression had doubled in less than two weeks.
In a statement issued on Wednesday, the United Nations Office for the Coordination of Humanitarian Affairs (OCHA) said that the number of Yemeni IDPs had increased twice in 19 governorates since 17 April 2015 when 150 thousand Yemeni IDPs were registered.
It warned of the gravity of situations in Yemen because of the aggression.
The statement pointed out that the big number of IDPs are from the northern Hajjah governorate, in addition to southern Al-Dhalea and Abyan governorates.


AI calls for probing into Yemen's civilian deaths by Saudi-led airstrikes
Amnesty International has called for investigating the killing of hundreds of civilians, including scores of children, by the Saudi Arabian-led airstrikes across Yemen.
"The month-long campaign of air strikes carried out by Saudi Arabia and its allies has transformed many parts of Yemen into a dangerous place for civilians," said Said Boumedouha, Deputy Director of Amnesty International's Middle East and North Africa Programme.
"Millions of people have been forced to live in a state of utter terror, afraid of being killed at home. Many feel they are left with no choice but to move away from their destroyed villages to an uncertain future."
The UN has stated that more than 550 civilians have been killed including more than 100 children since the military campaign began on 25 March.
Amnesty International said it has documented eight strikes in five densely populated areas, which are Sa'ada, Sana'a, Hodeida, Hajjah and Ibb, noting that several of these strikes raised concerns about compliance with the rules of international humanitarian law.
According its research, Amnesty International said at least 139 people, including at least 97 civilians, 33 of whom were children were killed during the strikes, and 460 individuals were injured, at least 157 whom are civilians.