no comments in "International"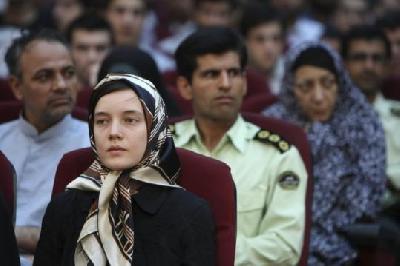 Iran puts British embassy 'spy' on trial
Almotamar.net, Google - An employee of the British embassy in Tehran went on trial Saturday, accused of being a spy in a move the foreign secretary David Miliband said "brings further discredit" to Iran's regime. A tired-looking Hossein Rassam, chief political analyst at the embassy and an Iranian citizen, "confessed" in court that he had recruited a network of 50 agents on behalf of the embassy in the past year and attended pro-democracy demonstrations to gather information and foment unrest.
The dramatic appearance of Rassam came at the second mass trial of Iranians who had protested following the disputed June elections, which returned President Mahmoud Ahmadinejad by an unexpectedly high margin.
The British government says that Iran had given assurances that Rassam would not be tried. Rassam, 44, was one of nine locally employed British embassy employees arrested but was the only one to be charged – with damaging the country's national security.
Miliband last night said: "I am deeply concerned by the unjustified charges laid against Hossein Rassam in Tehran. Hossein is a member of our embassy staff going about his legitimate duties. Iranian action against him only brings further discredit on the Iranian regime."
According to the official IRNA news agency, Rassam confessed at the trial to handing over information about the protests to "Washington" and had apologised and asked for clemency. The semi-official Fars news agency said Rassam had admitted acting as liaison for senior British officials in the embassy, including Tom Burn, the second secretary, who was expelled, and had accompanied him to meetings with opposition leader Mir Hossein Mousavi. He had also confessed that the embassy had used "bursaries" and an English-language examinations scheme as a cover for contacts with members of the Iranian elites.
Rassam's trial comes just days after Britain's ambassador to Iran, Simon Gass, attended Ahmadinejad's inauguration ceremony.
Last month, the release of Rassam on $100,000 bail was applauded by the foreign secretary who suggested strongly that the issue had been resolved.
Also appearing at yesterday's hearing was language teacher Clotilde Reiss, who had been arrested at Tehran airport on 1 July on charges of espionage. She was leaving the country after spending five months working as a teacher in Isfahan and had also been an employee of the French embassy. Miliband said European nations were united in their opposition to the trial. He said he was in close contact with members of the EU and had spoken to French foreign minister Bernard Kouchner and Swedish foreign minister Carl Bildt, the current EU president. "We have reaffirmed our solidarity in the face of this latest Iranian provocation," he added.
During the court session, a prosecutor read out an indictment outlining what he said were plans by the US and Britain to foment unrest in Iran with the aim of toppling the ruling Islamic system, the IRNA news agency reported. The vague indictment also accused the two powers of providing financial assistance to Iran's reformists to undermine hard-line clerics within the ruling system.
Iranian defendants included Ali Tajernia, a former reformist lawmaker, Shahaboddin Tabatabaei, a prominent leader of the Islamic Iran Participation Front, Iran's largest reformist political party, and Ahmad Zeidabadi, an outspoken journalist opposing hardliners.
Iran's reformist and moderate parties have denounced the mass trial. The first session held last Saturday featured confessions that many human rights groups say were obtained under duress. One of the most high-profile defendants was a former vice-president, Mohammad Ali Abtahi, who served under former reformist President Mohammad Khatami.


More from "International"
---

GPC chairman receives the ICRC delegation of the Red Cross
Ali Abdullah Saleh, chairman of the General People's Congress (GPC), received Mr. Sidrek Shafaizer, Chief of the International Committee Mission of the Red Cross. The meeting discussed the ICRC humanitarian activities in Yemen in order to provide services in the areas affected by conflict armed.
Shafaizer confirmed that International Committee almost has 250 activist disrupted among many Yemeni governorate like Sana'a, Aden, Taiz, Sa'ada, and Dalea.


124 children kidnapped in Yemen in 2013
The number of kidnapped children in Yemen during the last year reached 124, including 105 males and 19 females, Head of Seyaj Organization for childhood protection Ahmed Al-Qershi has said.
Al-Qershi added that most of the abducted children were victims of human trafficking .
In a press conference organized in Sana'a by the Monitoring and Advocating Center in Seyaj on the occasion of launching the first annual report on kidnapping children in Yemen 2013
al-Qershi confirmed that only 19 of children kidnapping cases were reported by their parents.


Yemeni Female Prisoners: Between Bitterness And Social Rejection
Safi did not commit any crime that deserved imprisonment. She was only friends with a man in a society that did not believe in that. Since her childhood, she used to have her friend drive her places because she trusted him, and never thought about it. One night, though, his car stalled and he went to repair it. A group of men demanded money from them, otherwise they would call the police and imprison them for immorality. The two friends did not listen, and as a result, Safi found herself in jail.
Safi didn't face as many problems in prison as she did with society and her family. Once they found out, they left her to face things alone. One year passed, and when she was released, her eyes were filled with tears.


AL-Qirbi meets GCC office director
Foreign Minister Abu Bakr al-Qirbi met here on Tuesday with director of the GCC office in Sana'a Saad al-Arifi.
During the meeting, they reviewed the ongoing arrangements for the Friends of Yemen next meeting to be held in London on 29 April, as well as the latest developments in the local and international arenas.


Yemen, US discuss cooperation in information technology
Yemen and the US reviewed here on Tuesday aspects of joint cooperation in the telecommunication and information technology fields.
During their meeting, Minister of Telecommunication and Information Technology Ahmed bin Daghr and Chargé d'affaires of the US embassy Karen Sasahara discussed the possible means of Yemen to benefit from the US telecommunication experiences and technologies.


President Hadi congratulates Marie-Louise Coleiro for being elected as new President
President Abdu Rabbu Mansour Hadi sent a cable of congratulations to new President of Malta, Marie-Louise Coleiro Preca.
Hadi in his cable congratulated Coleiro for being elected by Malta's parliament as a new President of the Republic of Malta, wishing her all success in carrying out her new tasks.
Last week, Marie-Louise Coleiro Preca was elected President of the Republic of Malta. A Parliamentary resolution on 1st April 2014, approved her nomination as the ninth President of Malta.


Poverty And Early Marriage Two Sides For The Same Problem
Anxiety is affecting many Yemeni girls who are groaning under the burden of economic problems, which is one of the primary motivations for child marriage in the country. Mohammed Ali, a father of five daughters, said that he was fired from his job three years ago, and lost the income needed to provide them with a good education and comfortable life.
"I really feel guilty when I accept a marriage proposal for one of my daughters while she is still a child, but nothing is in my hands. Poverty leaves no way in front of me."
Academic studies say that 52% of Yemeni girls accept marriage in their early years to escape poverty. The study also said that boys are also affected by the phenomenon.


Yemen, UK review arrangements for Friends' meeting
Yemen and Britain reviewed on Monday the current arrangements for the Friends of Yemen meeting scheduled to be held in London on 29 April 2014.
This came during a meeting gathered in London Yemen's ambassador to Britain Abdullah al-Radhi and the British Minister of State for International Development Alan Duncan .
Al-Radhi underlined the importance of activating the Group of Friends through the new mechanism to be adopted in the London meeting.
In the meeting, Duncan praised the role and steps made by President Abd Rabbo Mansour Hadi during the transitional phase.


Friends of Yemen meeting in London 29 April
The governments of the UK, Saudi Arabia and Yemen will co-chair the next Friends of Yemen meeting in London on 29 April, the UK Foreign & Commonwealth Office said in a press release on Monday.
The Friends of Yemen was established in 2010 to co-ordinate international support for Yemen and comprises 39 countries and organisations.
"With the conclusion of the National Dialogue Conference (NDC) earlier this year, Yemen has entered a new stage in its transition towards a constitutional referendum and elections", the UK Foreign & Commonwealth Office added.


President Hadi receives sheiks and dignitaries from al-Mahra and Socotra Archipelago
President Abdu Rabbu Mansour Hadi received on Sunday at the Presidential Palace sheiks and dignitaries of al-Mahra and Socotra Archipelago provinces.
At the meeting, Hadi indicated to the critical situation Yemen has been experiencing nowadays, which needs as he said all national efforts in order to translate the NDC outcomes on the ground. "Yemen has got out of its crisis fairly and honorable,'' the President said.
He confirmed that the cooperation by the international community averted Yemen from dragging into several risks and dangers based on the expending the responsibility, wealth, and power under a new federal system which would achieve justice and fair.