no comments in "Entertainment"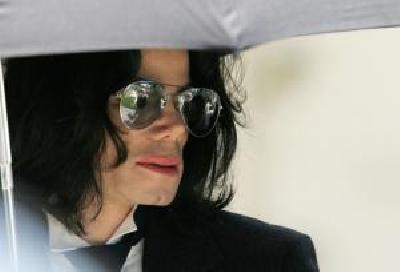 I'm the father of Jacko's daughter, says Oliver! star Mark Lester
Almotamar.net, Google - 'Michael Jackson asked me in a private conversation if I'd be willing to donate sperm on his behalf,' says Lester. One of Michael Jackson's closest friends, the former child star Mark Lester, has claimed he is the real father of the singer's daughter and would willingly take a paternity test to prove it.
Lester, who is godfather to all three of the Jackson children, has told how Michael approached him with a request that he act as a sperm donor so he could have children.
He also claims he has concerns about the welfare of Jackson's children and hopes his confession will ensure he is able to maintain contact with them.
Lester shot to fame in the lead role of Lionel Bart's 1968 musical film Oliver! and met Jackson in 1982 after the singer's manager rang him out of the blue.
He said he was "heartbroken" at losing contact with the three children, Michael Jnr, 12, Paris Michael Katherine, 11, and six-year-old Prince Michael II, known as Blanket.
Lester, 50, also points to a close physical resemblance between his 15-year-old daughter Harriet and Paris.
He said: "I'm godfather to Michael Jackson's children. I believe that Paris could be my daughter. I would be willing to take a paternity test.
"Michael Jackson asked me in a private conversation if I'd be willing to donate sperm on his behalf. I was phoned up by a London clinic and I was asked what would be a convenient time for me to attend," he told the News of the World.
"I made an appointment to go along. Michael was married to Debbie Rowe at the time. She's the birth mother of the children so I naturally assumed that sperm donation would have gone into Debbie and Debbie would have both the children.
"Of all Michael Jackson's children I'd assume that the one that looks most like me is Paris. In pictures of Harriet and Paris there is a strong resemblance between the two of them.
"Paris has blue eyes and a pale complexion and high cheekbones. My girls all have very similar features. It's been commented (upon) many times how similar Harriet and Paris are.
"I've come forward now because I have concerns about the welfare and upbringing of the children. There is a contact issue. I really want to remain in contact with those kids and I feel now that this is the only way I can ensure that.
"It's very, very upsetting not being able to see all those children. They are my godchildren and I love them deeply."
Jackson died of a heart attack at his Beverley Hills home on June 25. He was aged 50. A court has awarded permanent custody of the children to Jackson's mother Katherine, with closely-monitored visiting rights for their mother, Jackson's ex-wife Debbie Rowe.
Last month Lester gave an interview to Hello magazine. In what now, with hindsight, appears to be a telling part of the interview, he spoke movingly about Paris' tribute to Jackson at the memorial service at the Staples Center last month. He said: "It wasn't planned, it was spontaneous and a decision taken by Paris."I sat directly behind the children at the service and know Paris decided to get up on the stage there and then, because she wanted to do something, by herself, for her dad."At Jackson's memorial service, Paris had taken the microphone and told the audience: "Ever since I was born, Daddy has been the best father you could ever imagine. And I just wanted to say I love him so much."
Sunday, 9 August 2009


More from "Entertainment"
---

President Hadi performs Eid prayer at Al-Saleh Mosque
President Abdu Rabbu Mansour Hadi along with former President Ali Abdullah Saleh performed on Monday the prayer of Eid al-Fitr at Al-Saleh Mosque in the capital Sana'a.
The Eid prayer was also attended by parliament Speaker, Yahya al-Raei his deputy Hamir al-Ahmer, President Hadi's advisors, and Prime Minister's deputies, Ahmed Obaid Bin Daghr and Abdullah Mohssen al-Akwa'a, besides a number of ministers, military and security leaders, the heads of the political parties, civil society organizations, and social, political and cultural figures.


GPC leader congratulates President Hadi and the Lead Saleh by Eid al-Fitr
Assistant General Secretaries and head of the GPC regulatory agency sent telegrams of congratulations on the occasion of Eid al-Fitr on behalf of all the leaders of their regulators sectors to the leader Ali Abdullah Saleh, GPC Chairman, and to Abed Rabbo Mansour Hadi - President of Yemen and First Deputy Chairman of the Conference GPC, on the occasion of Eid al-Fitr.


4 soldiers killed, 2 injured in terrorist attack in Baydha
Militants likely to be members of al-Qaeda attacked on Friday evening a security checkpoint in Azza area in Baydha province, killing 4 soldiers and wounding 2 others, a security source said.
The source explained that the terrorist elements after they carried out the coward attack burned a security vehicle and then fled.


Saba Board Chairman meets Russian ambassador
Saba Board Chairman and Editor- in-Chief Tariq al-Shami met here on Thursday with Russian ambassador to Yemen Vladimir Didohchin.
During the meeting, the two sides discussed aspects of cooperation between Yemen News Agency (SABA) and the Russian news agency and the different Russian media in exchanging news services, expertise and experiences in press areas.


GPC Leader issued a regulatory decision of new appointments
Ali Abdullah Saleh, the General People's Congress (GPC) Leader, issued a regulatory decision of new appointments the specializing heads of departments in the General Secretariat of the GPC.
Decision Text:
The decision of the GPC Leader number (9) for the year 2014 on the appointment of heads of departments of the GPC Secretariat:
Chairman of the General People's Congress:
After reviewing the rules of procedure of the General People's Congress and it regulations that based on the presentation of Secretaries-General Assistant and the approval of the General Committee at its meeting held on 18- 7-2014, decided the following:


GPC and its allies have strongly condemned the brutal Israeli aggression on Palestini
General People's Congress (GPC) condemned the Israeli brutal and cowardly attack on the Palestinian struggling in Gaza.
GPC expressed their disapproval of the international situation which monitors this brutal attack calling the international community for urgent action to stop this barbaric and brutal aggression and provides ways to help and provide emergency aid to mitigate the effects of the aggression on the humanitarian situation caused by the military operations on the citizens.


Yemen, Saudi Arabia discuss cooperation in higher education field
Minister of Higher Education and Scientific Research Hisham Sharaf met on Monday with Charge d'Affaires of Saudi Embassy in Yemen Bandar al-Otaibi.
Sharaf and al-Otaibi discussed the bilateral cooperation aspects in the field of higher education and scientific research.
The meeting touched on a request made by Yemen for increasing the scholarships for Yemenis to study in the Saudi universities and the possibility of supporting the scientific research in Yemen.


GPC Leader Support the Reconciliation But Not to Be With One Party against Another
General People's Congress (GPC) leader confirmed that they will continue to lead the GPC party in the Yemeni arena, and will remain steadfast in front of all the challenges.
"We are ready for reconciliation and tolerance, but GPC would not ally with party against party and will not give up the blood of the martyrs who died in the terrorist attacks on the presidency house and the youth in the dignity Friday or the martyrs of armed and security forces who were killed during the attacks on the camps and government installations," GPC leader said.


Presidential decrees appointing officials at COCA and HATC issued
The Presidential decree No. 43 for 2014 was issued on Sunday on the regulation of the Supreme Judicial Council (SJC).
Also the Presidential decree No. 44 for 2014 was issued appointing officials at the Central Organization for Control and Auditing, (COCA) as follows;
- Ameen Mohamed Qassem al-Sherai, Undersecretary of Administrative Units & Subsidized Entities of Sector;
- Fahmi Mohamed Mansour Mohamed, Undersecretary of Audit Sector of Administrative Units & Subsidized Entities;