no comments in "Entertainment"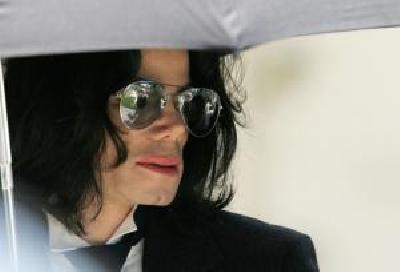 I'm the father of Jacko's daughter, says Oliver! star Mark Lester
Almotamar.net, Google - 'Michael Jackson asked me in a private conversation if I'd be willing to donate sperm on his behalf,' says Lester. One of Michael Jackson's closest friends, the former child star Mark Lester, has claimed he is the real father of the singer's daughter and would willingly take a paternity test to prove it.
Lester, who is godfather to all three of the Jackson children, has told how Michael approached him with a request that he act as a sperm donor so he could have children.
He also claims he has concerns about the welfare of Jackson's children and hopes his confession will ensure he is able to maintain contact with them.
Lester shot to fame in the lead role of Lionel Bart's 1968 musical film Oliver! and met Jackson in 1982 after the singer's manager rang him out of the blue.
He said he was "heartbroken" at losing contact with the three children, Michael Jnr, 12, Paris Michael Katherine, 11, and six-year-old Prince Michael II, known as Blanket.
Lester, 50, also points to a close physical resemblance between his 15-year-old daughter Harriet and Paris.
He said: "I'm godfather to Michael Jackson's children. I believe that Paris could be my daughter. I would be willing to take a paternity test.
"Michael Jackson asked me in a private conversation if I'd be willing to donate sperm on his behalf. I was phoned up by a London clinic and I was asked what would be a convenient time for me to attend," he told the News of the World.
"I made an appointment to go along. Michael was married to Debbie Rowe at the time. She's the birth mother of the children so I naturally assumed that sperm donation would have gone into Debbie and Debbie would have both the children.
"Of all Michael Jackson's children I'd assume that the one that looks most like me is Paris. In pictures of Harriet and Paris there is a strong resemblance between the two of them.
"Paris has blue eyes and a pale complexion and high cheekbones. My girls all have very similar features. It's been commented (upon) many times how similar Harriet and Paris are.
"I've come forward now because I have concerns about the welfare and upbringing of the children. There is a contact issue. I really want to remain in contact with those kids and I feel now that this is the only way I can ensure that.
"It's very, very upsetting not being able to see all those children. They are my godchildren and I love them deeply."
Jackson died of a heart attack at his Beverley Hills home on June 25. He was aged 50. A court has awarded permanent custody of the children to Jackson's mother Katherine, with closely-monitored visiting rights for their mother, Jackson's ex-wife Debbie Rowe.
Last month Lester gave an interview to Hello magazine. In what now, with hindsight, appears to be a telling part of the interview, he spoke movingly about Paris' tribute to Jackson at the memorial service at the Staples Center last month. He said: "It wasn't planned, it was spontaneous and a decision taken by Paris."I sat directly behind the children at the service and know Paris decided to get up on the stage there and then, because she wanted to do something, by herself, for her dad."At Jackson's memorial service, Paris had taken the microphone and told the audience: "Ever since I was born, Daddy has been the best father you could ever imagine. And I just wanted to say I love him so much."
Sunday, 9 August 2009


More from "Entertainment"
---

Yemen still facing immense challenges: UN envoy Benomar
The United Nations special envoy for Yemen Jamal Benomar said on Thursday that Yemen was still facing daunting political, economic and security challenges.
He made the remarks after briefing the UN Security Council on the developments in Yemen.
He said he briefed the council on "the enormous challenges Yemen is facing on the political, economic and security fields," Benomar told reporters after the meeting.
He also focused in his briefing on the "tardy implementation of National Peace and Partnership Agreement (NPPA)."


Yemen denounces Israel killing Palestinian minister
The Republic of Yemen has strongly denounced the Israeli aggression which led to the killing of the Palestinian Minister and Head of Popular Committee Against the Settlement and Apartheid Ziad Abu Ain.
"While the Republic of Yemen denounces this brutal assault, it shoulders Israel the responsibility of this atrocious act that contradicts humanitarian values," said the Ministry of Foreign Affairs in a release issued on Wednesday.


IFAD holds workshop on Yemen's projects executive mechanism
The International Fund for Agricultural Development (IFAD) has held in Amman, Jordan, a four-day workshop on the implementation of Yemen's project portfolio.
The workshop, which started on Monday, also intends to review the general conditions and adopted procedures for all IFAD projects and financing agreements.
Representatives of at least 30 relevant bodies take part in the workshop, including Economic Opportunities Fund (EOF), and Ministries of Planning and International Cooperation, Finance, Agriculture and Fisheries.
At the opening session of the workshop, Yemen's project portfolio Director Mohammed Abdul-Qader talked about the importance of applying the IFAD-adopted procedures and regulations of the financing agreement and the general conditions to implement projects, stressing that IFAD's all projects aim to eradicate poverty in rural areas.


Army foils al-Qaeda attack in Hadramout
Army troops thwarted on Tuesday an al-Qaeda suicide attack by two bomb cars targeted the First Military Region in Sayoun city, Hadramout, a military official said.
Defense Ministry's website quoted the military official as saying "Two bomb cars were destroyed, after terrorists tried to enter the region by them."


GCC official: Yemen on the prim of catastrophe due to foreign influence
Secretary General of the Gulf Cooperation Council Abdul Latif bin Rashid al-Zayani has warned that Yemen is on the prim of a looming catastrophe because of foreign influence and private interests of some parties in the crisis Yemen has witnessed.
This was mentioned in his speech at the 10th round of the Manama Dialogue which is taking place during 5 – 7 December in the Bahraini capital, Manama.
"I believe that the Gulf initiative to settle the Yemeni crisis has included most, if not all, the related aspects to improve a general and active approach to solve security and strategic issues which primarily requires participation of the most effective bodies," GCC Secretary General al-Zayani said.
"Despite all the support given to Yemen by the regional and international community, this country is at the edge of an impending disaster due to foreign influence and private interests of some influential parties in the crisis," he added.


US, South African hostages killed during rescue bid
A US journalist and a South African citizen held by al-Qaeda in Yemen were killed during a rescue attempt by US and Yemeni forces, the Supreme Security Committee (SSC) said on Saturday.
A security crackdown was carried out by Yemeni Counter-terrorism forces in coordination with U.S. forces to free the two hostages who were held at the terrorist Saeed al-Daghari's house in Abadan village in Shabwa province, an official source at the SSC told Saba.
The security crackdown asked at first the terrorist elements to surrender themselves and release the hostages, but they refused to do so and immediately proceeded to shoot the hostages to kill them, the source explained.


GCC Secretary General condemns attack on Iranian diplomat residence in Sana'a
Secretary General of the Gulf Cooperation Council (GCC) Abdullatif al-Zayani has strongly condemned the bombing attack at the residence of the Iranian ambassador to Yemen.
In a press statement , al-Zayani said that the Yemeni political forces and all the Yemeni people components must stand against terrorists who want to destroy security and stability of Yemen.
He urged the political forces to support the political solution based on the GCC initiative which averted Yemen from entering into violence and instability.


US, France condemn attack on Iranian envoy's residence in Yemen
The U.S. denounced on Thursday the bomb attack on the Iranian ambassador's residence in Sana'a, calling for a "thorough" investigation.
"The United States condemns the bombing at the Iranian ambassador's residence in Sana'a earlier on Wednesday and expresses its condolences to the families of the victims," State Department spokeswoman Marie Harf was quoted as saying in a statement.
"Attacks on diplomatic facilities and against diplomats contravene all international norms and can never be justified or excused," Harf said, urging the Yemeni authorities to open a " thorough" investigation and "bring the perpetrators to justice".
On the other hand, France condemned on Thursday, in a statement issued by its Foreign Ministry, the bomb attack on the Iranian ambassador's residence in Sana'a, expressing its condolences to the families' victims.