no comments in "International"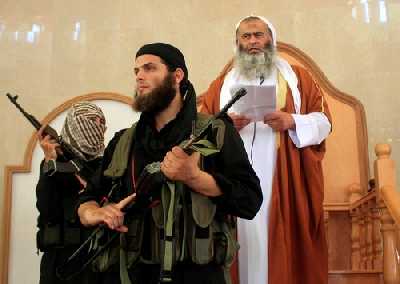 Hard-line imam's death ends bloody clash in Gaza Strip
Almotamar.net, Google - A two-day battle between the imam, who wanted to impose Islamic law and Hamas forces left 27 other people dead. The crackdown could allow Hamas to be seen as a bulwark against militancy by the West.

An imam who wanted to impose Islamic law in the Gaza Strip was killed today in an explosion at one of his hideouts, ending a two-day battle between his armed followers and Hamas government forces that left 27 other people dead.

The security crackdown could allow Hamas, which has tried to court favor with the West, to position itself as a moderate Islamic bulwark against militant forces inspired by Al Qaeda.

But the challenge by the imam, Abdel-Latif Moussa, also pointed to splits among Hamas' followers. Residents of the southern city of Rafah, where the clash occurred, said several former Hamas militants were killed while fighting for the imam's group, the Soldiers of the Companions of God.

Hamas Interior Ministry spokesman Ihab Ghussein said the imam had espoused "perverted ideas and considered all Gazans as unbelievers" and had allegedly orchestrated the bombings of Internet cafes and a wedding party.

The spokesman said Hamas appealed to scholars, clerics and parents to "educate the Palestinian people in correct and moderate Islam."

Moussa provoked the clash Friday by announcing a campaign to impose religious law by force of arms. He made the declaration during a midday sermon in Rafah surrounded by black-clad gunmen who then holed up with him in a mosque and fought off Hamas security forces who besieged the building.

The rebels eventually abandoned the mosque through an underground tunnel and continued the fight from nearby homes. After an overnight lull, a Hamas negotiator approached the imam's hideout in an attempt to talk him into surrendering. An explosion rocked the house, killing the imam, his aide and the negotiator, Ghussein said.

Ghussein said the aide, a Syrian national of Palestinian origin, set off the explosion by detonating a suicide belt. There was no confirmation of the account by the imam's surviving supporters.




More from "International"
---

President visits Arhab, offers condolences to families of funeral house
President of the Supreme Political Council Saleh al-Sammad visited on Thursday Arhab district in Sana'a governorate, offering condolences to victims of the massacre committed by Saudi criminal aggression warplanes on a the house in the district.
Saudi aggression warplanes pounded on Wednesday afternoon a funeral house in Arhab district of Sana'a province, killing eight women, including


Saudi warplanes kills three civilians in Sa'ada
Three citizens were killed in a Saudi airstrike in Baqam district of Sa'ada province overnight, a local official said on Tuesday.
The Saudi fighter jets struck their car in al-Demnah area, wounding four other people.
The airstrike hit Al Qarrad area, causing heavy damage to citizens' properties and farms.
Meanwhile, Saudi aggression intensively shelled Razah district of the same province, the official added.


Two citizens killed in Saudi airstrikes on Hodaida
Two people were killed in Saudi airstrikes on the telecommunications corporation office in Hodaida province overnight, an official said on Tuesday.
At least six people were wounded in the strikes that hit the office twice. The building was damaged seriously and several cars were crashed, the official added.


Saudi warplanes target Yemeni civilians in Mokha: UN Human Rights
Extremely worrying reports suggest that civilians and civilian objects have been targeted, in violation of international humanitarian law and international human rights law, over the past two weeks, in the southwestern port of Al Mokha in Taiz Governorate in Yemen, the United Nations human rights agency warned.
While the intense fighting – both ground fighting and airstrikes – made it impossible for UN Human Rights Office field monitors to access the area and


Fisherman killed in Saudi aggression airstrikes on Salif port
Saudi aggression warplanes launched an airstrike on al-Salif port off the Red sea in Hodaida province, killing one fisher man, an official said on Monday.
The Saudi aggression warplanes also launched five airstrikes on al-Dohaimh Island of Hodaida province, causing serious damage to fishermens' boats, the official added.