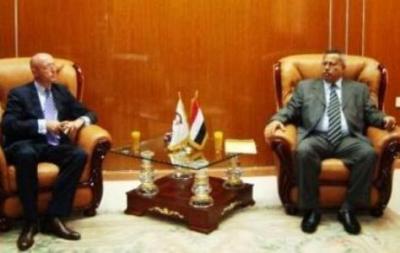 Bin Haptour discusses academic cooperation with the French ambassador
Almotamar.net - President of Aden University Dr Abdulaziz Bin Haptour has on Sunday clarified those academic cooperation relations between Aden University and the French higher education establishments would be enhanced in the next period after the agreement on holding dialogue on ways of developing areas of academic cooperation between the two sides.

During his meeting at Aden University on Sunday with the French ambassador to Yemen Joseph Silva and his accompanying cultural and academic delegation Dr Bin Haptour added that Aden University has old relations the French academic institutions, pointing to the correspondences ad agreements concluded by the two sides in the past years and for the presence of more than 80 Yemeni professors of graduates of French universities working at present members of the teaching staff in Aden University.

Dr Bin Haptour also talked on the existing areas of cooperation with the French scientific establishments in areas of archaeology and preservation of the traditional architectural engineering.

For his part the French ambassador Silva expressed his readiness to contribute to developing relations of scientific cooperation between Aden University and the French academic institutions, confirming that the dialogue to bee conducted in the next days would open spacious horizons for academic cooperation between the two sides.

The French ambassador also indicated the importance Aden University joining to the Francophone Academic University Agency which carries out coordination relations of scientific cooperation with many world universities.

---

Parliament debates National Salvation Government's new program
On Wednesday, Parliament took up debate on the new National Salvation Government's program ahead of a confidence vote expected to be very soon.
The session led by parliament speaker Yahya al-Raiee with the attendance of the parliament members and members of the new cabinet, including prime minister Abdulaziz bin Habtour.
The program was presented by bin Habtour and his cabinet


Saudi aggression launch 24 air strikes on Saada, dropping cluster bombs
Saudi aggression warplanes launched 24 air strikes on several areas of Bakim district in Saada province over the past hours, dropping in some raids cluster bombs, a security official said on Monday.
The official said the strikes targeted Menabih, Thaban, Al Maghram and Al Zamah areas of the border district, killing a mother and her two daughters, as


6 Pakistani sailors killed in Saudi airstrike off Mokha, others still missing
Six Pakistani sailors were killed overnight when American-Saudi aggression fighter jets hit directly their boat off the coast of Mokha in Taiz province, an official said on Monday.
The official said the boat was carrying 12 Pakistani nationals fishing on the Red Sea when it was air attacked, killing six Pakistani fishermen while the others were still missing.