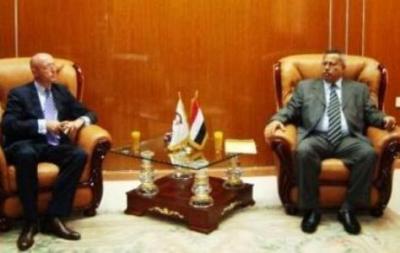 Bin Haptour discusses academic cooperation with the French ambassador
Almotamar.net - President of Aden University Dr Abdulaziz Bin Haptour has on Sunday clarified those academic cooperation relations between Aden University and the French higher education establishments would be enhanced in the next period after the agreement on holding dialogue on ways of developing areas of academic cooperation between the two sides.

During his meeting at Aden University on Sunday with the French ambassador to Yemen Joseph Silva and his accompanying cultural and academic delegation Dr Bin Haptour added that Aden University has old relations the French academic institutions, pointing to the correspondences ad agreements concluded by the two sides in the past years and for the presence of more than 80 Yemeni professors of graduates of French universities working at present members of the teaching staff in Aden University.

Dr Bin Haptour also talked on the existing areas of cooperation with the French scientific establishments in areas of archaeology and preservation of the traditional architectural engineering.

For his part the French ambassador Silva expressed his readiness to contribute to developing relations of scientific cooperation between Aden University and the French academic institutions, confirming that the dialogue to bee conducted in the next days would open spacious horizons for academic cooperation between the two sides.

The French ambassador also indicated the importance Aden University joining to the Francophone Academic University Agency which carries out coordination relations of scientific cooperation with many world universities.

---

Army missile unites target mercenaries in Sourwah
The missile units of the army and popular force targeted on Friday gatherings of Saudi-paid mercenaries in Sourwah district of Marib province, a military official said.
Dozens of mercenaries were killed and wounded, Including Colonel Saleh Al-Kahli Al-Bukhaiti, commander of a battalion of mercenaries with a number of his companions, the official added.


Mercenaries launch artillery attacks on citizens' houses in Serwah
The Saudi-paid mercenaries launched on Friday intensively artillery and missile attacks on houses and farms of citizens in Serwah district of Mareb province.
A local official said that and artillery bombardment of the mercenaries targeted the areas of the airport, al-Haglan, Wadi Nawa and Souk Serwah, and caused great damage to the houses and farms of citizens.


49 Yemeni civilians killed in 212 Saudi aggression airstrikes in six days
At least 49 civilians were killed, Including thirteen children and six women, and 16 others wounded including a woman and child in 212 airstrikes launched by US-backed Saudi aggression warplanes on several Yemeni provinces over the past six days, officials and residents said.
In Sanaa province, the aggression warplanes launched 55 air strikes on the districts of Nehm, Hamdan, Sanhan, Belad Alroos.