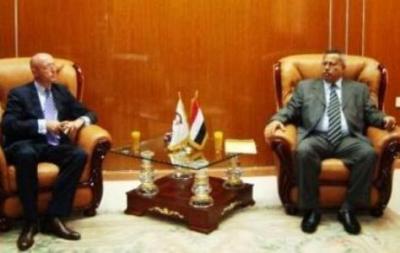 Bin Haptour discusses academic cooperation with the French ambassador
Almotamar.net - President of Aden University Dr Abdulaziz Bin Haptour has on Sunday clarified those academic cooperation relations between Aden University and the French higher education establishments would be enhanced in the next period after the agreement on holding dialogue on ways of developing areas of academic cooperation between the two sides.

During his meeting at Aden University on Sunday with the French ambassador to Yemen Joseph Silva and his accompanying cultural and academic delegation Dr Bin Haptour added that Aden University has old relations the French academic institutions, pointing to the correspondences ad agreements concluded by the two sides in the past years and for the presence of more than 80 Yemeni professors of graduates of French universities working at present members of the teaching staff in Aden University.

Dr Bin Haptour also talked on the existing areas of cooperation with the French scientific establishments in areas of archaeology and preservation of the traditional architectural engineering.

For his part the French ambassador Silva expressed his readiness to contribute to developing relations of scientific cooperation between Aden University and the French academic institutions, confirming that the dialogue to bee conducted in the next days would open spacious horizons for academic cooperation between the two sides.

The French ambassador also indicated the importance Aden University joining to the Francophone Academic University Agency which carries out coordination relations of scientific cooperation with many world universities.

---

Court executes man for rape, murder girl
The court of Appeal and judicial authorities in the capital Sanaa on Monday executed Hussein Abdullah al- Saket after convicted him of raping and killing five-year-old girl Safa Mohamed Taher al-Matari.
The execution of the 22-year-old al-Saket was carried out in a public place in Tahrir Square in central Sanaa where thousands of people witnessed the scene


Saudi air strikes continues its criminal attack on Yemen
Saudi aggression warplanes continued criminal air strikes on several provinces, targeting public and private properties over the past hours, officials said on Monday.
The warplanes launched three raids on Dawar area in Mastaba directorate of Hajah provinces and four raids on Hardh and Medi directorates.


Civil Aviation denies Saudi lies, confirms Sanaa Airport is secure, safe
The General Authority for Civil Aviation and Meteorology denied false claims by the Saudi-led aggression coalition about the Sanaa international airport, in a statement.
It said the airport is safe, secure and completely prepared to receive incoming flights in according to the international aviation standards.