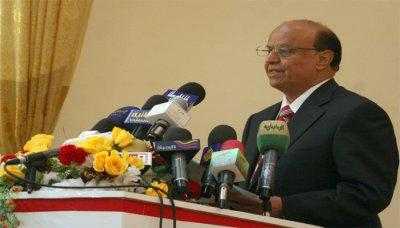 VP president launches activities of Tarim Islamic Culture Capital for 2010
Almotamar.net, Saba - Vice President Abduh Raboh Mansor Hadi launched on Sunday activities of Tarim as Islamic Culture Capital for 2010.

In the opening ceremony, the vice president pointed out to concern of the political leadership represented by President Ali Abdullah Saleh to enhance cultural aspects in the country, indicating to the historical status of Tarim city and its role to spread the Islam to different world parts.

All citizens of 22nd May are proud to choose the city by the Islamic Educational, Scientific and Cultural Organization (ISESCO) to be Islamic cultural capital for this year, Hadi said.

He said that such event reflected contributions of Yemeni to spread Islam that calls for moderation, justice, freedom and equality among human beings.

Hadi wished success for activities of this big event.

Tarim city was approved to be the Islamic Culture Capital 2010 by the Islamic Educational, Scientific and Cultural Organization (ISESCO).

The city is famous for its 365 mosques and prominent Islamic architecture. The most famous of these is the Mihdhar Mosque, with the distinctive architecture of its 150 meter-high mud minaret.



---

Mercenaries kill, abduct hundreds of al-Serari people
The Riyadh's mercenaries have killed and abducted hundreds and destroyed tens of houses of al-Serari village's citizens in Taiz province, a local report said on Wednesday.
The report showed that the mercenaries have abducted at least 125 civilians form al-Serari, al-Hyyar and Thi al-Brah villages in Saber-al


UN Coordinator calls for immediate truce in Taiz
The UN Humanitarian Coordinator for Yemen called on Wednesday for an immediate humanitarian truce in Taiz province.
"I call on all parties to agree immediately to a humanitarian pause," said Jamie McGoldrick in a statement issued yesterday by the UN Office for the Coordination of Humanitarian Affairs (OCHA).
James McGoldrick voiced an alarm at increasing bloodshed in the southwestern Taiz province, particularly al-Serari area.


Missile force bombards hirelings at 115th Brigade in Jawf
The missile force of the army and popular committees targeted on Tuesday the hirelings gatherings at the 115th Brigade Camp in al-Hazm city of Jawf province.
A military official told Saba that the army and popular committees fired barrages of Katyusha missiles on hirelings at the 115th Brigade Camp,


Hirelings burn over 50 houses in al-Sarari village
The Saudi aggression's hirelings burned more than 50 houses after looting them in al-Sarari village in Taiz province, a local official said on Tuesday.
The official pointed out that the burning of houses and detaining of people is still continuing in al-Sarari village, noting that over 38 citizens were detained from al-Sarari village and the neighboring village of Thi-al-Barh