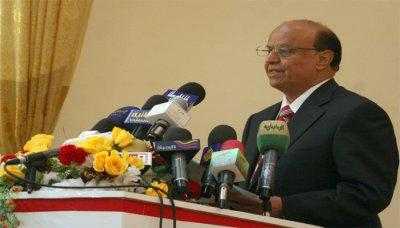 VP president launches activities of Tarim Islamic Culture Capital for 2010
Almotamar.net, Saba - Vice President Abduh Raboh Mansor Hadi launched on Sunday activities of Tarim as Islamic Culture Capital for 2010.

In the opening ceremony, the vice president pointed out to concern of the political leadership represented by President Ali Abdullah Saleh to enhance cultural aspects in the country, indicating to the historical status of Tarim city and its role to spread the Islam to different world parts.

All citizens of 22nd May are proud to choose the city by the Islamic Educational, Scientific and Cultural Organization (ISESCO) to be Islamic cultural capital for this year, Hadi said.

He said that such event reflected contributions of Yemeni to spread Islam that calls for moderation, justice, freedom and equality among human beings.

Hadi wished success for activities of this big event.

Tarim city was approved to be the Islamic Culture Capital 2010 by the Islamic Educational, Scientific and Cultural Organization (ISESCO).

The city is famous for its 365 mosques and prominent Islamic architecture. The most famous of these is the Mihdhar Mosque, with the distinctive architecture of its 150 meter-high mud minaret.



---

Yemen, Saudi Arabia discuss cooperation in higher education field
Minister of Higher Education and Scientific Research Hisham Sharaf met on Monday with Charge d'Affaires of Saudi Embassy in Yemen Bandar al-Otaibi.
Sharaf and al-Otaibi discussed the bilateral cooperation aspects in the field of higher education and scientific research.
The meeting touched on a request made by Yemen for increasing the scholarships for Yemenis to study in the Saudi universities and the possibility of supporting the scientific research in Yemen.


Presidential decrees appointing officials at COCA and HATC issued
The Presidential decree No. 43 for 2014 was issued on Sunday on the regulation of the Supreme Judicial Council (SJC).
Also the Presidential decree No. 44 for 2014 was issued appointing officials at the Central Organization for Control and Auditing, (COCA) as follows;
- Ameen Mohamed Qassem al-Sherai, Undersecretary of Administrative Units & Subsidized Entities of Sector;
- Fahmi Mohamed Mansour Mohamed, Undersecretary of Audit Sector of Administrative Units & Subsidized Entities;


Hadi expresses condolences over Malaysian Airlines flight crash
President Abdu Rabbu Mansour Hadi sent on Friday a cable of condolences to King Almu'tasimu Billahi Muhibbuddin Tuanku of Malaysia, following Thursday's crash of a Malaysia Airlines plane in Ukraine.
Hadi in the cable offered his deep condolences to the families and loved ones of the victims and people of Malaysia.


WFP allocates $ 500 mln to improve food security in Yemen
Yemen and the United Nations World Food Programme (WFP) signed on Thursday a memorandum of understanding included providing support worth $ 500 million to improve the food security in Yemen.
The memorandum of understanding signed by Minister of Planning and International Cooperation Dr. Mohammed al-Saadi and the WFP representative in Yemen Bishaw Parajuli stipulated the allocation of the support to help about six million Yemenis to face the challenges of food scarcity and food insecurity.


Gunmen kill policeman, loot 1.6 mln in Hadramout
Gunmen have attacked a post office in Hadramout province, killing a security man and looting over 1.6 million rials.
Director General of Post Office of Hadramut valley and desert ,Ibrahim Ba-shuaib, explained to Saba that 12 militants riding a car stormed on Tuesday evening the post office in Hura town after they fired at the office guard who died immediately.


UN Survey shows 10 million Yemenis still struggle for food
A UN survey shows over 40 % of the Yemeni population still struggle for food, UNICEF said on Tuesday.
The survey's preliminary findings indicated that over 10 million Yemenis don't know where their next meal will come from, while around five million people were found to be severely food insecure, suffering from levels of hunger where external food assistance is generally required.
The Comprehensive Food Security Survey also shows that the prevalence of chronic malnutrition among children under the age of five is beyond the international


President Hadi receives GCC Director in Sana'a
President Abdu Rabbu Mansour Hadi received on Monday the Director of the Gulf Cooperation Council (GCC) office in Sana'a Sa'ad al-Arifi.
The nature of bilateral relations between Yemen and the GCC at various levels were discussed at the meeting along with the latest developments on the ground.
Hadi at the meeting expressed his thanks and appreciation to the efforts of the GCC's Countries and their support to Yemen at various circumstances and at different arenas.


G10 ambassadors condemn violence in Amran
The Group of Ten Ambassadors condemned on Monday the violence that has occurred in Amran and its surrounding areas.
In a statement issued by the Group on Monday and handed over to President Abdo Rabbo Mansour Hadi by the U.S. and British ambassadors to Yemen, the Group of Ten Ambassadors condemned the violence that has occurred in Amran and surrounding areas in the north including the taking of the 310th Brigade with all its equipment and burning of the compound.
The Group called on all parties to cease armed conflict that has claimed and continues to claim Yemeni lives. The Group stressed that the Houthis, militias affiliated with political parties, and all armed groups and parties involved in the violence, must stop the fighting, respect all cease-fire agreements they all have committed to, especially that of June 22nd, withdraw from Amran, and turn over weapons to authorities loyal to the national government.


President Hadi chairs meeting on latest developments
President and Supreme Commander of the Armed Forces Abdu Rabbu Mansour Hadi has chaired a meeting with Defense Minister Major General Mohammed Nasser Ahmed, Chief of staff, Major General Ahmed Ali al-Ashwal along with a number of military leaders..
The meeting discussed the latest developments on the ground especially events occurred in Amran province. He gave his orders to put security and military forces on alert in the capital Sana'a and neighboring provinces, praising the role played by security and armed forces in consolidating security, stability and public tranquility in


Decrees appointing officials at Ministry of Telecommunications issued
The Republican decree No. 111 for 2014 was issued on Thursday appointing officials at Ministry of Telecommunications and Information Technology as follows:
- Omar Awad Obid, Undersecretary for Technical Affairs;
- Mohamed Qassim al-Asebahi, Undersecretary for Supervision, Following-up and Inspection Affairs;
- Musleh Mohssen Al-Aziz, Assistant Undersecretary for Administrative Affairs;