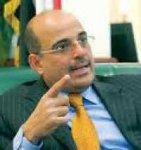 Almotamar.net, Saba
- Yemen is to offer 10 oil blocks for investment in the third oil, gas and minerals conference to be held on October 18 in Sana'a, the weekly 26 September said on Thursday.
Minister of Oil and Minerals Amir al-Aydarus said that the blocks are open for direct negotiation with the qualified companies according to a new agreement.
On the sidelines of the conference, the companies will to seize chances for more exploration are able to enter into direct negotiations with the ministry, al-Aydarus said.
The investment-open blocks are six land blocks and 10 chances to investment in gold, copper, zinc, nickel, and lead in addition to utilizing industrial rocks used for building and in cement industry.
The Minister said about 300 experts; officials and companies' heads will take part in the conference, besides to 70 companies, expecting that the number would be doubled in the coming week.
Yemen and Kuwait Energy Company signed in here on Wednesday a Memorandum of Understanding (MOU) to conduct a study on uses and reserves of gas in Yemen.
Under the MOU, the Kuwaiti company conducts a study on assessing available gas reserves and presents a plan to explore and develop natural gas resources, which has not been developed yet.
The company should present the study's final results to the ministry in six months. Then, the two sides will discuss the possibility to contract to carry out the study's executive stages.