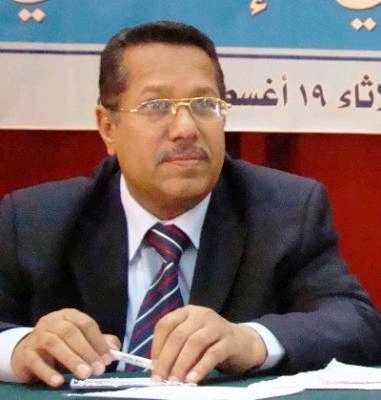 The unity is the greatest revolution in Yemen's contemporary history- Bin Daghr
Almotamar.net - The Assistant Secretary General of the General People's Congress (GPC) in Yemen Dr Ahmed Ubeid Bin Daghr has said the Yemeni unity is he greatest revolution in Yemen's contemporary history and must be preserved and handed over to the next generations however the forces of evil and aggression have attempted to undermine its republican regime in the north, its unity in the south and its national values in general.

In an editorial for the Al-Mithaq newspaper in its Monday issue, Dr Bin Daghr affirms the revolutionaries of October had never hesitated, after the triumph of the revolution over the colonialists and getting independence, from giving the state its Yemeni characteristic and identity and the 30 November was the first brick in the building of the Yemeni state. Without that great triumph of the Yemeni national movement, there would not have been possible to live in a unified Yemeni state.

Dr Bin Daghr has made it clear that loyalty to the martyr and heroes who made September, October, November and May events depends on "our ability to encounter the difficulties and challenges singled out by the movement of reality and time has thrown in front of us.

---

Parliament debates National Salvation Government's new program
On Wednesday, Parliament took up debate on the new National Salvation Government's program ahead of a confidence vote expected to be very soon.
The session led by parliament speaker Yahya al-Raiee with the attendance of the parliament members and members of the new cabinet, including prime minister Abdulaziz bin Habtour.
The program was presented by bin Habtour and his cabinet


Saudi aggression launch 24 air strikes on Saada, dropping cluster bombs
Saudi aggression warplanes launched 24 air strikes on several areas of Bakim district in Saada province over the past hours, dropping in some raids cluster bombs, a security official said on Monday.
The official said the strikes targeted Menabih, Thaban, Al Maghram and Al Zamah areas of the border district, killing a mother and her two daughters, as


6 Pakistani sailors killed in Saudi airstrike off Mokha, others still missing
Six Pakistani sailors were killed overnight when American-Saudi aggression fighter jets hit directly their boat off the coast of Mokha in Taiz province, an official said on Monday.
The official said the boat was carrying 12 Pakistani nationals fishing on the Red Sea when it was air attacked, killing six Pakistani fishermen while the others were still missing.