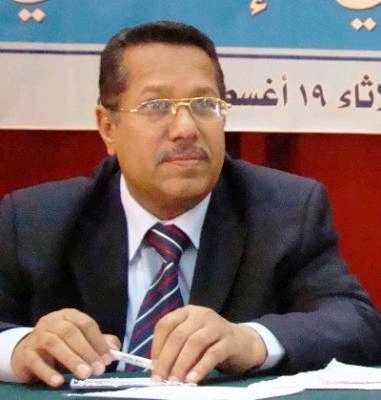 The unity is the greatest revolution in Yemen's contemporary history- Bin Daghr
Almotamar.net - The Assistant Secretary General of the General People's Congress (GPC) in Yemen Dr Ahmed Ubeid Bin Daghr has said the Yemeni unity is he greatest revolution in Yemen's contemporary history and must be preserved and handed over to the next generations however the forces of evil and aggression have attempted to undermine its republican regime in the north, its unity in the south and its national values in general.

In an editorial for the Al-Mithaq newspaper in its Monday issue, Dr Bin Daghr affirms the revolutionaries of October had never hesitated, after the triumph of the revolution over the colonialists and getting independence, from giving the state its Yemeni characteristic and identity and the 30 November was the first brick in the building of the Yemeni state. Without that great triumph of the Yemeni national movement, there would not have been possible to live in a unified Yemeni state.

Dr Bin Daghr has made it clear that loyalty to the martyr and heroes who made September, October, November and May events depends on "our ability to encounter the difficulties and challenges singled out by the movement of reality and time has thrown in front of us.

---

Prime Minister, ICRC discuss humanitarian cooperation
Prime Minister Abdulaziz Saleh bin Habtoor met with visiting director of operations for the International Committee of the Red Cross (ICRC) Dominik Stillhart.
The meeting discussed aspects of enhancing cooperation between Yemen and the ICRC in the humanitarian field and developing mechanisms for joint action to alleviate the repercussions of aggression war states and siege against the public health, water and environment sectors.
The meeting reviewing the growing role of the ICRC in


FM meets ICRC director of operations
Foreign Minister Hisham Sharaf met with Dominik Stillhart, Director of Operations for the International Committee of the Red Cross (ICRC).
The meeting dealt with efforts by the ICRC, reviewing violations carried out by the aggression states of Saudi and Emirates against the Yemeni people. It also discussed the file of war prisoners held by the aggression states and the blatant violations against them that openly breach the international laws and conventions.


Saudi warplanes continue strikes in different provinces
Saudi fighter jets continued fierce strikes on citizens' houses and properties over the past hours in several provinces, a military official said on Tuesday.
The Saudi-paid mercenaries shot bullets on a child in Al Maton district of Jawf province, wounding the child seriously, while the mercenaries also fired Katyusha missiles on the house of citizens in Serwah district of Marib province.