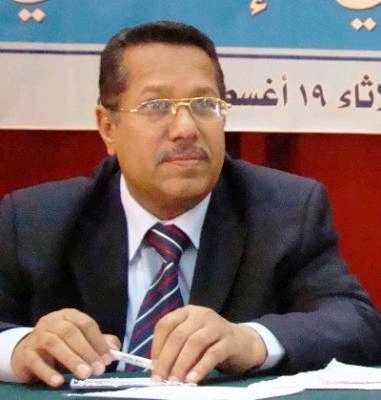 The unity is the greatest revolution in Yemen's contemporary history- Bin Daghr
Almotamar.net - The Assistant Secretary General of the General People's Congress (GPC) in Yemen Dr Ahmed Ubeid Bin Daghr has said the Yemeni unity is he greatest revolution in Yemen's contemporary history and must be preserved and handed over to the next generations however the forces of evil and aggression have attempted to undermine its republican regime in the north, its unity in the south and its national values in general.

In an editorial for the Al-Mithaq newspaper in its Monday issue, Dr Bin Daghr affirms the revolutionaries of October had never hesitated, after the triumph of the revolution over the colonialists and getting independence, from giving the state its Yemeni characteristic and identity and the 30 November was the first brick in the building of the Yemeni state. Without that great triumph of the Yemeni national movement, there would not have been possible to live in a unified Yemeni state.

Dr Bin Daghr has made it clear that loyalty to the martyr and heroes who made September, October, November and May events depends on "our ability to encounter the difficulties and challenges singled out by the movement of reality and time has thrown in front of us.

---

Court executes man for rape, murder girl
The court of Appeal and judicial authorities in the capital Sanaa on Monday executed Hussein Abdullah al- Saket after convicted him of raping and killing five-year-old girl Safa Mohamed Taher al-Matari.
The execution of the 22-year-old al-Saket was carried out in a public place in Tahrir Square in central Sanaa where thousands of people witnessed the scene


Saudi air strikes continues its criminal attack on Yemen
Saudi aggression warplanes continued criminal air strikes on several provinces, targeting public and private properties over the past hours, officials said on Monday.
The warplanes launched three raids on Dawar area in Mastaba directorate of Hajah provinces and four raids on Hardh and Medi directorates.


Civil Aviation denies Saudi lies, confirms Sanaa Airport is secure, safe
The General Authority for Civil Aviation and Meteorology denied false claims by the Saudi-led aggression coalition about the Sanaa international airport, in a statement.
It said the airport is safe, secure and completely prepared to receive incoming flights in according to the international aviation standards.