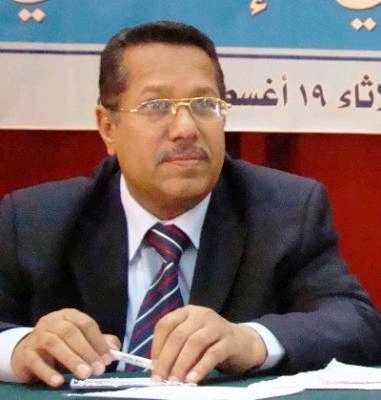 The unity is the greatest revolution in Yemen's contemporary history- Bin Daghr
Almotamar.net - The Assistant Secretary General of the General People's Congress (GPC) in Yemen Dr Ahmed Ubeid Bin Daghr has said the Yemeni unity is he greatest revolution in Yemen's contemporary history and must be preserved and handed over to the next generations however the forces of evil and aggression have attempted to undermine its republican regime in the north, its unity in the south and its national values in general.

In an editorial for the Al-Mithaq newspaper in its Monday issue, Dr Bin Daghr affirms the revolutionaries of October had never hesitated, after the triumph of the revolution over the colonialists and getting independence, from giving the state its Yemeni characteristic and identity and the 30 November was the first brick in the building of the Yemeni state. Without that great triumph of the Yemeni national movement, there would not have been possible to live in a unified Yemeni state.

Dr Bin Daghr has made it clear that loyalty to the martyr and heroes who made September, October, November and May events depends on "our ability to encounter the difficulties and challenges singled out by the movement of reality and time has thrown in front of us.

---

Saudi aggression's warplanes Hostile warplanes hit residents' houses, farms
The Saudi aggression continued on Tuesday targeting residents' houses and properties in a number of governorates.
A military source said that the aggression's warplanes launched a sortie against a nursery belonging to the Office of Agriculture and Irrigation in Al-Anad, another one in the middle of the city and three other sorties against Al-Shuhada cemetery in Razih area in Sa'ada governorate.
The source pointed out that two farmers were injured by a sortie against a farm in Sahar district, and a car was also targeted in Baqum district in Sa'ada governorate.


Saudi aggression's warplanes launches 7 raids on capital
Saudi aggression's warplanes waged seven raids against the capital Sana'a early on Sunday, an official said.
The strikes targeted Sarif area east of al-Rawda city, on the road linking the capital with neighboring province of Mareb, causing large damage to citizens' houses and farms, the official added.