no comments in "Sci-Tech"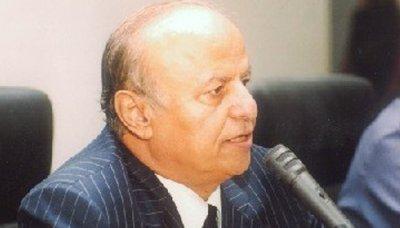 P directs opening health centers in Provinces districts, central hospitals
Almotamar.net, Saba - Vice President Abdu Rabo Mansour Hadi directed on Monday to open new health centers with a capacity of 50 beds in every district, and a central hospital in every province within the next five-year plan.

This came in his speech delivered at the inauguration of the National Week for Safe Motherhood, organized by Ministry of Public Health and Population during October 18-24.

At the inauguration, Hadi affirmed the importance of this activity which deals with the most important health interventions related to the development aspect represented in the health of the mother and newborn.

He pointed out that talking over the health requires reviewing the strategic vision towards the implementation of the referential standards to achieve the goals in accordance with the national trends.

Hadi noted the importance of focusing efforts in the area of maternal health, which is relevant to the fifth goal of the Millennium Development Goals for, especially in light of the national statistics and the relevant estimates of the UN organizations.

"Despite the indications of the available date on the reduction in the rate of maternal mortality in Yemen from 450 cases per 100 thousands live births in 1990 (base year) to 215 cases in 2008, we need more support to reduce the maternal mortality to 135 cases per 100 thousand live births by 2015 at least to keep up with the Millennium goals", Hadi said.

He indicated that this requires confirming the reports of the national demographic survey on health.

---

Parliament debates National Salvation Government's new program
On Wednesday, Parliament took up debate on the new National Salvation Government's program ahead of a confidence vote expected to be very soon.
The session led by parliament speaker Yahya al-Raiee with the attendance of the parliament members and members of the new cabinet, including prime minister Abdulaziz bin Habtour.
The program was presented by bin Habtour and his cabinet


Saudi aggression launch 24 air strikes on Saada, dropping cluster bombs
Saudi aggression warplanes launched 24 air strikes on several areas of Bakim district in Saada province over the past hours, dropping in some raids cluster bombs, a security official said on Monday.
The official said the strikes targeted Menabih, Thaban, Al Maghram and Al Zamah areas of the border district, killing a mother and her two daughters, as


6 Pakistani sailors killed in Saudi airstrike off Mokha, others still missing
Six Pakistani sailors were killed overnight when American-Saudi aggression fighter jets hit directly their boat off the coast of Mokha in Taiz province, an official said on Monday.
The official said the boat was carrying 12 Pakistani nationals fishing on the Red Sea when it was air attacked, killing six Pakistani fishermen while the others were still missing.