no comments in "Sci-Tech"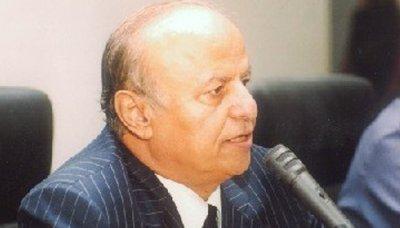 P directs opening health centers in Provinces districts, central hospitals
Almotamar.net, Saba - Vice President Abdu Rabo Mansour Hadi directed on Monday to open new health centers with a capacity of 50 beds in every district, and a central hospital in every province within the next five-year plan.

This came in his speech delivered at the inauguration of the National Week for Safe Motherhood, organized by Ministry of Public Health and Population during October 18-24.

At the inauguration, Hadi affirmed the importance of this activity which deals with the most important health interventions related to the development aspect represented in the health of the mother and newborn.

He pointed out that talking over the health requires reviewing the strategic vision towards the implementation of the referential standards to achieve the goals in accordance with the national trends.

Hadi noted the importance of focusing efforts in the area of maternal health, which is relevant to the fifth goal of the Millennium Development Goals for, especially in light of the national statistics and the relevant estimates of the UN organizations.

"Despite the indications of the available date on the reduction in the rate of maternal mortality in Yemen from 450 cases per 100 thousands live births in 1990 (base year) to 215 cases in 2008, we need more support to reduce the maternal mortality to 135 cases per 100 thousand live births by 2015 at least to keep up with the Millennium goals", Hadi said.

He indicated that this requires confirming the reports of the national demographic survey on health.

---

Prime Minister, ICRC discuss humanitarian cooperation
Prime Minister Abdulaziz Saleh bin Habtoor met with visiting director of operations for the International Committee of the Red Cross (ICRC) Dominik Stillhart.
The meeting discussed aspects of enhancing cooperation between Yemen and the ICRC in the humanitarian field and developing mechanisms for joint action to alleviate the repercussions of aggression war states and siege against the public health, water and environment sectors.
The meeting reviewing the growing role of the ICRC in


FM meets ICRC director of operations
Foreign Minister Hisham Sharaf met with Dominik Stillhart, Director of Operations for the International Committee of the Red Cross (ICRC).
The meeting dealt with efforts by the ICRC, reviewing violations carried out by the aggression states of Saudi and Emirates against the Yemeni people. It also discussed the file of war prisoners held by the aggression states and the blatant violations against them that openly breach the international laws and conventions.


Saudi warplanes continue strikes in different provinces
Saudi fighter jets continued fierce strikes on citizens' houses and properties over the past hours in several provinces, a military official said on Tuesday.
The Saudi-paid mercenaries shot bullets on a child in Al Maton district of Jawf province, wounding the child seriously, while the mercenaries also fired Katyusha missiles on the house of citizens in Serwah district of Marib province.