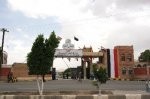 Almotamar.net
- A Yemeni security source on Friday mocked those false allegations reported by some media outlets on movement of leaderships of al-Qaeda organisation from Iran to Yemen.
The source said those news reports are groundless and arouse ridicule and come in the context an organized and iniquitous campaign aimed at offending Yemen.
The source queried about the way those lease leadership t Yemen and via what stations and countries those have passed and away from the sight of security bodies of those countries and their monitoring, especially Yemen is separated from Iran with states and long distances and here is no reasonable person that could be deceived by such misleading lies?
The source asked media outlets to seek accuracy and credibility away from the language of excitement that make them lose credibility and their recipients.