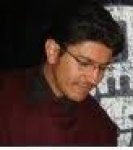 Almotamar.net
- The Specialized First Instance Court in Yemen has given Tuesday its directives to the general prosecution to write a letter to the Political Security prison for enabling Abdul Illah Hayder Shaei to entertain his civil rights in accordance with the operative laws and to present a report in this regard to the court next Sunday.
In the court sitting held Tuesday under chairmanship of Judge Radwan al-Nimr, Abdul Illah Hayder asked the court to order the Political Security to transfer him to the Central Prison so that he would be able to watch the games of Gulf 20 Championship.
The General Prosecution presented at the court evidence, it said proving the defendant involvement of cooperation and coordination with al-Qaeda organisation, among the evidence the laptop computer belonging to Hayder with which he was exchanging messages with the internationally-wanted, the American Yemeni Anwar al-Awlaqi.
The prosecution added that Hayder worked as media advisor to al-Awlaqi and conducted with him several interviews for American, British channels as well as Al-Jazeera and Qatari channels.
Representative of the prosecution presented video parts displaying security and foreign installations, described as very sensitive in Hada quarter, saying that Hayder pictured them for sending them to the terrorists.