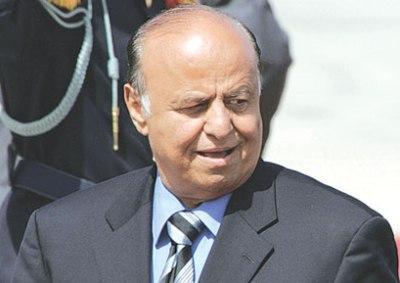 Unemployment is more dangerous to Yemen than al-Qaeda-VP
Almotamar.net - The Yemeni Vice President Abid Rabu Mansour Hadi has said that investigations were continuing in the case of the parcel bombs, affirming they were an extension of the terrorist act which started with fighting tourists and oil companies, in addition to other groups fighting security stability in the country in general. Tourism in Yemen was affected much as well as the Free Zone in Aden due to terror acts , in addition to the economic aspect especially investment and oil area.

The Vice President Hadi added that Yemen works with all means to overcome this crisis through cooperation with the international community and neighbourly Arab countries. It is an excellent cooperation for combating terror and it seems that two parcels were actually transferred from Yemen , as were discovered in Dubai and Britain, but there are parcels transported from other countries other than Yemen.

In an interview to the Lebanese Middle East newspaper lately, Hadi emphasized that Yemen suffers from the unemployment problem of which he said it is for Yemen more dangerous than al-Qaeda.

He said Yemen has a special circumstance, i.e. the large number of workforce that does not find any job opportunities and "we have youth under the age of 30 years, forming around 60% of the population suffering from unemployment, thus they are more dangerous from al-Qaeda with regard to Yemen. They form pressure on Yemen and employing them would help empty extremism and terror. "

The Vice President ha called on the international community and the Arab countries, particularly the Gulf States, to invest in Yemen and establish projects this large labour and build strategic projects.

"We shall not be able to solve this plans we put, especially under growth of population in Yemen. Each year there are 600 thousand pupils enroll in the primary school education and that forms a huge burden, "the Vice President said.

---

Army raids terrorist cell in Hadramout
Military units of the second Military Region raided on Monday a villa in 60 street in Mukala, which was used as a den by a terrorist cell to carry out terrorist acts.
A military source at the Military Region command said on Tuesday that the military forces surrounded the villa after receiving the information about the existence of a terrorist cell and clashed with the terrorists.


IFJ demands Yemeni authorities to increase media protection
The International Federation of Journalists (IFJ) demanded on Monday Yemeni authorities to immediately increase protection for media workers in the country.
IFJ's renewed appeal is following an escalation in attacks over the last few days, including the murder of a senior journalist.
According to the Yemeni Journalists' Syndicate (YJS), Abdul-Rahman Hameed Aldin, who worked for Sana'a Radio, was shot in the head last Friday [15 August] by an armed group in the capital Sana'a. He was taken to hospital where he passed away the following day.


GPC Leader delivered a speech in front of the leaders of CSOs
GPC Leader, Ali Abdullah Saleh, expressed his thanks and appreciation for the brotherly feelings the leaders and representatives of civil society organizations who have expressed strong disapproval and condemnation of the criminal and terrorist attempt that targeted his life through the tunnel, which was dug to his home.


Security Committee lifts night-time curfew in Hadramout
Hadramout Security Committee lifted on Saturday the night-time curfew throughout the governorate as of Saturday evening.
The curfew was imposed yesterday [Friday] as a part of mane other measures the committee has approved to hunt down al-Qaeda militants.
The security committee said that the decision on curfew lifting was taken to facilitate the work of the emergency sectors of water, electricity, health and other public services.


Security foils terrorist attack in Hadhramout
Security forces have destroyed three car bombs in the Sixty-Meter Street in Mukalla, Hadramout governorate before arriving their targets, a military source said on Thursday.
The source said that a number of terrorists were killed and three soldiers wounded during their clashes with the terrorist attackers.
The defense ministry announced to reinforce the armed forces after the militants have killed 14 soldiers near Shibam city, Hadramout governorate.


President Hadi performs Eid prayer at Al-Saleh Mosque
President Abdu Rabbu Mansour Hadi along with former President Ali Abdullah Saleh performed on Monday the prayer of Eid al-Fitr at Al-Saleh Mosque in the capital Sana'a.
The Eid prayer was also attended by parliament Speaker, Yahya al-Raei his deputy Hamir al-Ahmer, President Hadi's advisors, and Prime Minister's deputies, Ahmed Obaid Bin Daghr and Abdullah Mohssen al-Akwa'a, besides a number of ministers, military and security leaders, the heads of the political parties, civil society organizations, and social, political and cultural figures.


GPC leader congratulates President Hadi and the Lead Saleh by Eid al-Fitr
Assistant General Secretaries and head of the GPC regulatory agency sent telegrams of congratulations on the occasion of Eid al-Fitr on behalf of all the leaders of their regulators sectors to the leader Ali Abdullah Saleh, GPC Chairman, and to Abed Rabbo Mansour Hadi - President of Yemen and First Deputy Chairman of the Conference GPC, on the occasion of Eid al-Fitr.


4 soldiers killed, 2 injured in terrorist attack in Baydha
Militants likely to be members of al-Qaeda attacked on Friday evening a security checkpoint in Azza area in Baydha province, killing 4 soldiers and wounding 2 others, a security source said.
The source explained that the terrorist elements after they carried out the coward attack burned a security vehicle and then fled.


Saba Board Chairman meets Russian ambassador
Saba Board Chairman and Editor- in-Chief Tariq al-Shami met here on Thursday with Russian ambassador to Yemen Vladimir Didohchin.
During the meeting, the two sides discussed aspects of cooperation between Yemen News Agency (SABA) and the Russian news agency and the different Russian media in exchanging news services, expertise and experiences in press areas.