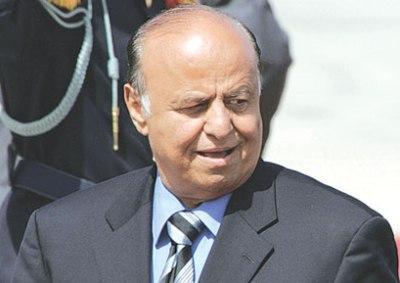 Unemployment is more dangerous to Yemen than al-Qaeda-VP
Almotamar.net - The Yemeni Vice President Abid Rabu Mansour Hadi has said that investigations were continuing in the case of the parcel bombs, affirming they were an extension of the terrorist act which started with fighting tourists and oil companies, in addition to other groups fighting security stability in the country in general. Tourism in Yemen was affected much as well as the Free Zone in Aden due to terror acts , in addition to the economic aspect especially investment and oil area.

The Vice President Hadi added that Yemen works with all means to overcome this crisis through cooperation with the international community and neighbourly Arab countries. It is an excellent cooperation for combating terror and it seems that two parcels were actually transferred from Yemen , as were discovered in Dubai and Britain, but there are parcels transported from other countries other than Yemen.

In an interview to the Lebanese Middle East newspaper lately, Hadi emphasized that Yemen suffers from the unemployment problem of which he said it is for Yemen more dangerous than al-Qaeda.

He said Yemen has a special circumstance, i.e. the large number of workforce that does not find any job opportunities and "we have youth under the age of 30 years, forming around 60% of the population suffering from unemployment, thus they are more dangerous from al-Qaeda with regard to Yemen. They form pressure on Yemen and employing them would help empty extremism and terror. "

The Vice President ha called on the international community and the Arab countries, particularly the Gulf States, to invest in Yemen and establish projects this large labour and build strategic projects.

"We shall not be able to solve this plans we put, especially under growth of population in Yemen. Each year there are 600 thousand pupils enroll in the primary school education and that forms a huge burden, "the Vice President said.

---

President chairs meeting of Defense Ministry's leadership
President of the Supreme Political Council Saleh Al-Sammad chaired an extended meeting here at the Defence Ministry headquarters with Acting Defense Minister Hussein Khiran and Deputy Chief of the General Staff, Maj. Gen. Zakaria al-Shami.
The meeting took place on Sunday at the presence of the Deputy of the Supreme of Political Council Kasim Labouza and Head of the Military and Security Committee, Maj. Gen. Mohammed Abdullah al-Kawsi.


Saudi aggression planes launch 9 air strikes on Saada
Saudi aggression fighter jets waged nine air strikes on Saada province overnight, a security official said on Monday.
The first raid targeted Ghamer area in Razah district and the other strike dropped cluster bombs on Takhiya area of Bakim district, injuring a citizen


Saudi aggression fighter jets strike Marib
Saudi aggression warplanes launched an air raid on Serwah district of Marib province overnight, an official said on Monday.
Meanwhile, the Saudi-paid mercenaries fired artillery shells on residents` houses and farms in the same district, causing damage to citizens` properties and farmlands, the official added.


Saudi air strikes kill 6 family members, drop intl-banned cluster bombs
Six civilians were martyred after the Saudi aggression warplanes struck a citizen's farm in the northern province of Saada, a security official said on Monday.
The two strikes were carried out late on Sunday night on Bakim district, killing the six civilians from relative families and causing the crop of the farm to explode in a ball of flame.
Meanwhile, the official said that another air strike hit Takhiya area in the same


UN envoy arrives in Sana'a
The UN special envoy to Yemen Ismail Ould Cheikh Ahmed arrived on Sunday in Sana'a for a two-day visit.
In a statement to the media, Ahmed said that "I am currently visiting Sana'a following a long period since my last visit. The fact is that this period is a difficult one for the Yemeni people as painful and hard events took place during