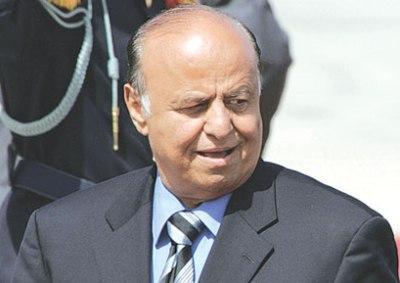 Unemployment is more dangerous to Yemen than al-Qaeda-VP
Almotamar.net - The Yemeni Vice President Abid Rabu Mansour Hadi has said that investigations were continuing in the case of the parcel bombs, affirming they were an extension of the terrorist act which started with fighting tourists and oil companies, in addition to other groups fighting security stability in the country in general. Tourism in Yemen was affected much as well as the Free Zone in Aden due to terror acts , in addition to the economic aspect especially investment and oil area.

The Vice President Hadi added that Yemen works with all means to overcome this crisis through cooperation with the international community and neighbourly Arab countries. It is an excellent cooperation for combating terror and it seems that two parcels were actually transferred from Yemen , as were discovered in Dubai and Britain, but there are parcels transported from other countries other than Yemen.

In an interview to the Lebanese Middle East newspaper lately, Hadi emphasized that Yemen suffers from the unemployment problem of which he said it is for Yemen more dangerous than al-Qaeda.

He said Yemen has a special circumstance, i.e. the large number of workforce that does not find any job opportunities and "we have youth under the age of 30 years, forming around 60% of the population suffering from unemployment, thus they are more dangerous from al-Qaeda with regard to Yemen. They form pressure on Yemen and employing them would help empty extremism and terror. "

The Vice President ha called on the international community and the Arab countries, particularly the Gulf States, to invest in Yemen and establish projects this large labour and build strategic projects.

"We shall not be able to solve this plans we put, especially under growth of population in Yemen. Each year there are 600 thousand pupils enroll in the primary school education and that forms a huge burden, "the Vice President said.

---

Saudi aggression's warplanes launches 7 raids on capital
Saudi aggression's warplanes waged seven raids against the capital Sana'a early on Sunday, an official said.
The strikes targeted Sarif area east of al-Rawda city, on the road linking the capital with neighboring province of Mareb, causing large damage to citizens' houses and farms, the official added.


Saudi aggression airstrikes kill 10 people in Ibb
Ten people were killed and nine injured in early Sunday morning Saudi aggression airstrikes on residential quarter in downtown Ibb city, an official said.
The hostile warplanes targeted residential buildings in Dar al-Sharf area of Mafrak Jibla neighborhood, he said.
The Saudi aggression also waged two raids on Bin Laden tourist complex few miles away city in central the city, said the official, adding that three other air raids hit Kah area in al-Sabrah district of Ibb province.


Saudi raid injures 16 people in Sa'ada
At least 16 people were injured on Saturday in a Saudi air raid on Magz district of Sa'ada province, a security official said.
The Saudi-led aggression targeted al-Gerbah bridge in the district, the official added.
Before two days, the Sauid warplanes targeted the bridge with two raids causing a cut off the road for some areas.


Saudi warplanes launches 12 raids on Radaa
Saudi aggression warplanes waged 12 air raids on
Radaa city and surroundings regions of Baidha province late on Friday ,a military official said.
The raids destroyed communication grid in Ihraam mount in the city.
The official added the fighter jets continued intensely flying over the sky of the city and broke the sound barrier.