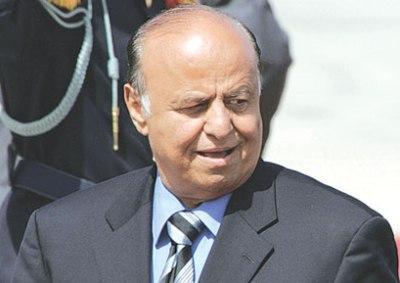 Unemployment is more dangerous to Yemen than al-Qaeda-VP
Almotamar.net - The Yemeni Vice President Abid Rabu Mansour Hadi has said that investigations were continuing in the case of the parcel bombs, affirming they were an extension of the terrorist act which started with fighting tourists and oil companies, in addition to other groups fighting security stability in the country in general. Tourism in Yemen was affected much as well as the Free Zone in Aden due to terror acts , in addition to the economic aspect especially investment and oil area.

The Vice President Hadi added that Yemen works with all means to overcome this crisis through cooperation with the international community and neighbourly Arab countries. It is an excellent cooperation for combating terror and it seems that two parcels were actually transferred from Yemen , as were discovered in Dubai and Britain, but there are parcels transported from other countries other than Yemen.

In an interview to the Lebanese Middle East newspaper lately, Hadi emphasized that Yemen suffers from the unemployment problem of which he said it is for Yemen more dangerous than al-Qaeda.

He said Yemen has a special circumstance, i.e. the large number of workforce that does not find any job opportunities and "we have youth under the age of 30 years, forming around 60% of the population suffering from unemployment, thus they are more dangerous from al-Qaeda with regard to Yemen. They form pressure on Yemen and employing them would help empty extremism and terror. "

The Vice President ha called on the international community and the Arab countries, particularly the Gulf States, to invest in Yemen and establish projects this large labour and build strategic projects.

"We shall not be able to solve this plans we put, especially under growth of population in Yemen. Each year there are 600 thousand pupils enroll in the primary school education and that forms a huge burden, "the Vice President said.

---

Army forces counterattack al-Qaeda elements in Shabwa
Soldiers of the 2nd Infantry Brigade managed on Sunday to foil an attack by al-Qaeda elements against Mafraq Al-Houtah and Al-Jasr in Azzan in Shabwa governorate.
During the attack, an explosive car blew off in Jawl Al-Raida area.
An informed military source said that terror elements leaked on Sunday at noon time through one of the valleys which stretch to Mayfa'ah area and carried out their terror attack against the soldiers while having their lunch


Gulf States support President Hadi's efforts: al-Zayani
The Gulf Cooperation Council's (GCC) Secretary General has stressed the GCC States' adherence to maintain Yemen's unity, security and stability.
The GCC States fully support the efforts of President Abd Rabbu Mansour Hadi to complete the transitional stage based on the GCC-initiative and its executive mechanism in order to achieve the Yemeni people's aspiration, Abdul Latif al-Zayani said in a joint press conference with Kuwait's First Deputy Prime Minister and Foreign Minister Sabah Khaled al-Sabah, the


One soldier, five al-Qaeda terrorists killed in clashes in Qatan
One soldier and five al-Qaeda terrorists were killed on Saturday in clashes between the army and al-Qaida militants in Qatan district of Hadramout province.
Intelligence information has been obtained on suspicious movements of terrorist groups towards Qatan district, a military source said, adding that a plan has been prepared to foil the attack led to blowing up two suicide car bombs near a camp of special security forces and killing all terrorists on the cars.


President Hadi receives board members of Popular Alignment Body
President Abdu-Rabbu Mansour Hadi received on Wednesday board members of the Popular Alignment Body for the Protection of National Gains, led by Yehia Hussein al-Arashi, member of Shura Council.
During the meeting, Hadi talked about a number of issues Yemen has been experiencing since the eruption of 2011's crisis, saying that the country has overcome various challenges and difficulties until holding the National Dialogue Conference, noting also steps and measures taken to handle that crisis.


Three terrorists killed in Hadramout
Troops of the First Military Region raided on Wednesday a den of terrorists in al-Aqad area in Sayoun town of Hadramout province, killing three al-Qaeda terrorists and injuring others.
A military source in the First Military Region's command said that the clashes with the terrorists resulted in injuring of a soldiers.


Presidential committee in Saada
- The presidential national committee headed by Deputy Prime Minister Dr. Ahmed Obaid bin Daghr has continued its meetings in Saada province with the leadership of Ansar Allah Abdul-Malik al-Houthi.
The official spokesman of the presidential committee, Abdul-Malik al-Mikhlafi, said that the committee presented during the meetings a comprehensive agreement draft.
Al-Mikhlafi pointed out that the committee discussed with the leadership of Ansar Allah


Army raids terrorist cell in Hadramout
Military units of the second Military Region raided on Monday a villa in 60 street in Mukala, which was used as a den by a terrorist cell to carry out terrorist acts.
A military source at the Military Region command said on Tuesday that the military forces surrounded the villa after receiving the information about the existence of a terrorist cell and clashed with the terrorists.