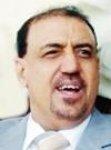 Almotamar.net
- Assistant Secretary General for the Political Affairs at the General People's Congress GPC Sultan Saeed al-Barakani has said the elections are a major issue demanding all the committed political forces preservation of democracy and to stop following the mirage of the Joint Meeting Parties (JMP).
Al-Barakani added, "It is not possible to leave our necks to parties leading us to an unknown fate." He has ridiculed the JMP's threat of moving the street, saying "If the JMP possesses the power of moving the street it would have done that after the presidential and local elections, when it had launched its threats."
In an interview to Al-Mithaq newspaper published today , al-Barakani expected that the upcoming parliamentary elections would witness a large participation of the woman in addition to the presence of new parties that were absent from the parliament because of the shortage of their financing and predominance of the big parties.
Al-Barakani also clarified that the GPC's present program is taking interest in urging its members and supporters towards stopping any crazy act or illogical behavior by the JMP and the full direction towards the elections.