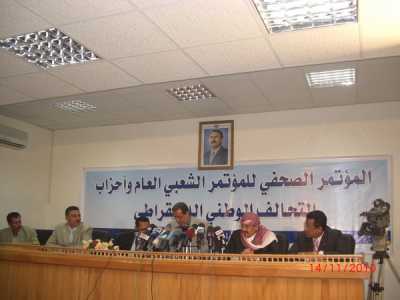 JMP rejected concessions, turned against agreements to hinder elections: NAP
Almotamar.net - The ruling General People's Congress (GPC) party in Yemen and parties of the National Alliance Parties (NAP) have affirmed on Tuesday going ahead in the endeavor for holding the parliamentary elections in their constitutional date in April 2011.

A statement by the NAP, obtained by the Almotamar.net, mentioned that the parties of the JMP have used the dialogue called for the GPC and the NAP as a card for impeding the elections and refused all of the initiatives, ideas and proposals presented by the GPC and the NAP and even the suggestions proposed by President Ali Abdullah Saleh, as he is sponsor of the dialogue and responsible for protection of the constitution and the law.

The statement added that the JMP refused proposals by the President of the republic , the GPC and the NAP containing the re-formation of the Supreme Commission for Elections and Referendum (SCER) in order to revising and amending elector records during the remaining period on the date of holding the parliamentary elections and preparation for them as well as guaranteeing the holding of elections on time and formation of a national unity government to undertake supervising the upcoming elections and formation of a committee from the parties represented in the parliament and that to agree on the constitutional amendments presented by the two sides , in addition to commitment to partnership in a government of national unity which would supervise the parliamentary elections during the remaining period for holding the elections as well as after the elections regardless of results of the elections.

The statement clarified that the final voting by the parliament on amending the elections law came after the exhaustion of all means and ways before the GPC and the AP to reach any understanding with parties of the JMP that sought for using the dialogue as a means for impeding the political life and an excuse for staging a coup against the democratic pursuit and altering the understandings as alternative of constitutional texts, and the parties instead of constitutional institutions.

The statement considered the voting on amendments of the elections law was but a final voting on amendments already discussed and approved article by article by al members of the parliament and its blocs, including the JMP's blocs, in August 2008. Then the final voting was postponed after the JMP turned against the agreement and refused presenting a list of the names of its representatives in the SCER. out of his keenness on finding understanding among parties of the dialogue , the President gave his directives to withdraw the draft law when it was put on the parliament agenda , so that to reach an understanding.

The statement added that the amendments contained in the elections law were most of them proposed by the JMP and remarks of the European Union team were taken into consideration, but just for the final voting the parties of the JMP turned against it completely.

The statement said the JMP rejection of forming the SCER from judges is another coup against their agreements with the GPC. That was their demand and was included in the principles agreement signed by the GPC and the JMP before the presidential and local elections in 2006. This step was taken after the use of all ways for finding understanding with the JMP to re-form the SCER.

The GPC and the NAP have also renewed the call on all political parties and organisations to take part in the elections and call on local and international civil society organisations to participate in monitoring the elections.

The GPC and the NAP emphasized that the Yemeni people are the first and last owners of the right to give legitimacy to who to govern them via the elections and choosing those representing them in the legislative power "we are confident that masses of the Yemeni people will be on the watch to any attempts for impeding the holding of the elections as constitutional and democratic right."

The GPC and the NAP refuse attempts of the JMP leading the country into constitutional vacuum and they consider talks of the JMP about the people as just part of the mechanism of deceit and misleading practiced by those parties. parties of the JMP are responsible of disasters to the people by fabricating crises , hindering the development process and encouraging acts violating the constitution and the law, whether in Saada province or in some districts in the south and the east and the terrorist acts , making practice of these parties as an image of political demagogy . The Yemeni people have decided adoption of democracy as pursuit and the elections as means for peaceful transfer of power and they would defend their right to select their representatives in the legislative power

---

Foreign, Agriculture Ministers meet FAO Resident Representative
Minister of Foreign Affairs Eng. Hisham Sharaf and Minister of Agriculture Ghazi Al-Ahwal met on Tuesday with the Resident Representative of the Food and Agriculture Organization of the United Nations (FAO) in Sana'a Dr. Salah El Hajj.
The meeting reviewed aspects of cooperation between Yemen and FAO, especially with regard to the food security situation in Yemen.


Minister of Agriculture meets International Committee of the Red Cross team
Minister of Agriculture and Irrigation Ghazi Mohsen met on Monday with the International Committee of the Red Cross team, headed by director of economic security in the Middle East Christophe Deris.
The meeting discussed the possibility of supporting agricultural activities, including improved seed production and combating plant pests and providing


Saudi warplanes wage 25 strikes on Taiz
Saudi aggression fighter jets launched 25 strikes on various areas of Taiz province, a local official said on Tuesday.
The warplanes hit al-Sadrah and al-Faqa'a Mountains in al-Waza'eih district six times and other six strikes on the north of al-Omeri area of Dhubab district, as well as a raid hit al-Barh area of Maqbanah district, the official said.