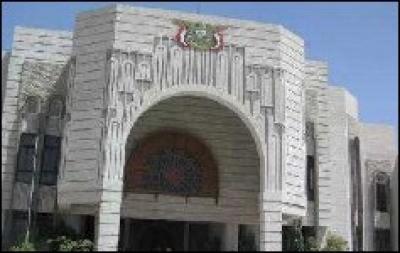 Establishment of two institutions in electricity sector approved
Almotamar.net, Saba - The Cabinet approved on Tuesday two draft resolutions on the establishment of the Public Institution for Electric Power Generation and Transmission, and the Public Institution for Electric Power Distribution.

In its meeting chaired by Prime Minister Ali Mujawar, the Cabinet directed to complete the necessary legal procedures for the issuance of the resolutions.

The resolutions comes within the process of restructuring and regulating the electricity sector, according to what came in the Electricity Law No. 1 for 2009, which emphasized the full functional separation of the sector's activities, including the generation, transmission and distribution.

The two resolutions are located in a number of articles, including naming, definitions, construction, goals, functions and terms of the institutions, and their capitals and sources of funding, and management of their activities, and closing provisions.

The Public Institution for Electric Power Generation and Transmission aims to contribute to the achievements of the State's plan for socioeconomic development through improving the quality of services in the area of electric power generation and transmission.

Whereas the Public Institution for Electric Power Distribution aims to ensure the distribution of the electric power with high quality and reliability at the lowest possible cost to meet the needs of energy in all parts of the country, as well as the establishment ,management, operation and maintenance of electrical networks and transmission stations.

---

Saudi helicopter shot down in Mareb
An Apache helicopter of the Saudi-led coalition was shot down in Ber al-Maraziq area located between Mareb and Jawf provinces, a military official said Monday.
The official explained that the air defenses of the army and popular committees managed to target the hostile helicopter, which led to its downfall.


Aggression continues to breach ceasefire
The Saudi aggression and its hirelings continued to breach the UN-sponsored ceasefire in some provinces, a military official on Sunday.
The Saudi war jets and hirelings have bombed Haradh border outlet with missiles and artillery shells, the official said.
The hirelings in Taiz province pounded al-Serary village with different kinds of weapons.


Saudi raid kills 10 in Mocha
At least ten people were killed on Sunday in a Saudi airstrike on the coastal district of Mocha in Taiz province, a local official said.
The airstrike targeted a house, which was completely destroyed, the official said, adding the killed, including women and children, were of one family and others also were wounded in the airstrike.


Saudi warplanes wage raids on Sa'ada
The Saudi warplanes launched on Sunday two air raids on different areas in Sahr district of Sa'ada province, a military official said.
The official added the raids targeted two cold storage chambers for vegetables and fruits in Ahma-al-Talah and al-Saifi areas in Sahr district.
The official mentioned no further details about casualties.