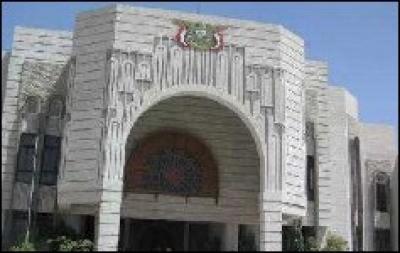 Establishment of two institutions in electricity sector approved
Almotamar.net, Saba - The Cabinet approved on Tuesday two draft resolutions on the establishment of the Public Institution for Electric Power Generation and Transmission, and the Public Institution for Electric Power Distribution.

In its meeting chaired by Prime Minister Ali Mujawar, the Cabinet directed to complete the necessary legal procedures for the issuance of the resolutions.

The resolutions comes within the process of restructuring and regulating the electricity sector, according to what came in the Electricity Law No. 1 for 2009, which emphasized the full functional separation of the sector's activities, including the generation, transmission and distribution.

The two resolutions are located in a number of articles, including naming, definitions, construction, goals, functions and terms of the institutions, and their capitals and sources of funding, and management of their activities, and closing provisions.

The Public Institution for Electric Power Generation and Transmission aims to contribute to the achievements of the State's plan for socioeconomic development through improving the quality of services in the area of electric power generation and transmission.

Whereas the Public Institution for Electric Power Distribution aims to ensure the distribution of the electric power with high quality and reliability at the lowest possible cost to meet the needs of energy in all parts of the country, as well as the establishment ,management, operation and maintenance of electrical networks and transmission stations.

---

GPC celebrates of the 35th founding anniversary
Hundreds of thousands of Yemenis descended Thursday (Aug 24) on Sanaa in a major show to celebrate of the 35th anniversary of the General People's Congress (GPC) founding anniversary.
The rally marking 35 years since the founding the General People's Congress (GPC).
The streets of the capital, waving the blue flag of the GPC and carrying pictures of Saleh the leader of GPC.


Saudi aggression warplanes launch seven raids on Saada
Saudi aggression warplanes launched seven air strikes on Saada province overnight, an official said on Wednesday.
The targeted places were the regular road in Al-Sheikh area of Monabah district, Alhbrah area of Razeh district, the directorate of Al-Taher and Shada directorate.
The strikes severely damaged civilian properties, said the official.


Ballistic missile hits mercenaries in Nehm
The missile units of the army and popular forces fired a ballistic missile, Zilzal 3, on gatherings of Saudi-paid mercenaries in Nehm district of Sanaa province, a military official said on Wednesday.
The missile hit the targets accurately, causing large losses upon the mercenaries , the official added.


Maintaining internal unity to defeat enemy: Army spokesman
Armed forces' spokesman Brigadier General, Sharaf Luqman said the army and popular forces have provided the greatest sacrifices to defend the homeland against Saudi-led aggression forces, stressing on maintaining the internal unity.
In a press statement on Monday, Luqman said that the historical steadfastness and the cohesion of the Yemeni people represent the first defense line against the aggression states.