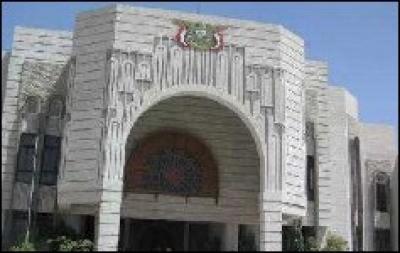 Establishment of two institutions in electricity sector approved
Almotamar.net, Saba - The Cabinet approved on Tuesday two draft resolutions on the establishment of the Public Institution for Electric Power Generation and Transmission, and the Public Institution for Electric Power Distribution.

In its meeting chaired by Prime Minister Ali Mujawar, the Cabinet directed to complete the necessary legal procedures for the issuance of the resolutions.

The resolutions comes within the process of restructuring and regulating the electricity sector, according to what came in the Electricity Law No. 1 for 2009, which emphasized the full functional separation of the sector's activities, including the generation, transmission and distribution.

The two resolutions are located in a number of articles, including naming, definitions, construction, goals, functions and terms of the institutions, and their capitals and sources of funding, and management of their activities, and closing provisions.

The Public Institution for Electric Power Generation and Transmission aims to contribute to the achievements of the State's plan for socioeconomic development through improving the quality of services in the area of electric power generation and transmission.

Whereas the Public Institution for Electric Power Distribution aims to ensure the distribution of the electric power with high quality and reliability at the lowest possible cost to meet the needs of energy in all parts of the country, as well as the establishment ,management, operation and maintenance of electrical networks and transmission stations.

---

Parliament debates National Salvation Government's new program
On Wednesday, Parliament took up debate on the new National Salvation Government's program ahead of a confidence vote expected to be very soon.
The session led by parliament speaker Yahya al-Raiee with the attendance of the parliament members and members of the new cabinet, including prime minister Abdulaziz bin Habtour.
The program was presented by bin Habtour and his cabinet


Saudi aggression launch 24 air strikes on Saada, dropping cluster bombs
Saudi aggression warplanes launched 24 air strikes on several areas of Bakim district in Saada province over the past hours, dropping in some raids cluster bombs, a security official said on Monday.
The official said the strikes targeted Menabih, Thaban, Al Maghram and Al Zamah areas of the border district, killing a mother and her two daughters, as


6 Pakistani sailors killed in Saudi airstrike off Mokha, others still missing
Six Pakistani sailors were killed overnight when American-Saudi aggression fighter jets hit directly their boat off the coast of Mokha in Taiz province, an official said on Monday.
The official said the boat was carrying 12 Pakistani nationals fishing on the Red Sea when it was air attacked, killing six Pakistani fishermen while the others were still missing.