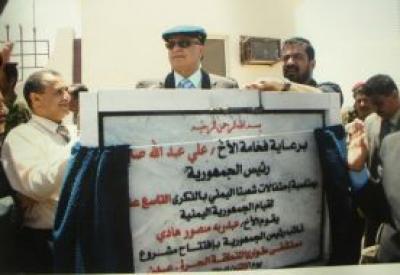 Vice President lays foundation stones for projects in Aden
Almotamar.net, Saba - Vice President Abdo Rabu Mansour Hadi paid on Sunday an inspection visit to Aden Refinery Company where he inaugurated and put foundation stones for a number of new projects.

He laid the foundation stone for the regional center to be tasked with carrying out different training courses at a cost of YR 1.6 billion.

He also launched work at the new electricity power plant with a production capacity of 3.5 MW in the first stage to ultimately reach 40 MW for the operation of the refineries.

Hadi expressed appreciation for the big efforts done by the Aden Refinery Company to achieve the required progress serving the economic and oil process.

Vice President also visited the Local Council headquarters of Al-Mansourah District and got acquainted with damages caused to the building by anarchists who infiltrated into the protests.

He affirmed the necessity of confronting those who implement such plots at the account of security and safety of Aden.


---

Court executes man for rape, murder girl
The court of Appeal and judicial authorities in the capital Sanaa on Monday executed Hussein Abdullah al- Saket after convicted him of raping and killing five-year-old girl Safa Mohamed Taher al-Matari.
The execution of the 22-year-old al-Saket was carried out in a public place in Tahrir Square in central Sanaa where thousands of people witnessed the scene


Saudi air strikes continues its criminal attack on Yemen
Saudi aggression warplanes continued criminal air strikes on several provinces, targeting public and private properties over the past hours, officials said on Monday.
The warplanes launched three raids on Dawar area in Mastaba directorate of Hajah provinces and four raids on Hardh and Medi directorates.


Civil Aviation denies Saudi lies, confirms Sanaa Airport is secure, safe
The General Authority for Civil Aviation and Meteorology denied false claims by the Saudi-led aggression coalition about the Sanaa international airport, in a statement.
It said the airport is safe, secure and completely prepared to receive incoming flights in according to the international aviation standards.