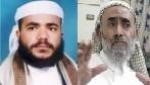 Almotamar.net
- Local sources and eyewitnesses affirmed leading members of the Yemeni Congregation for Reform (Islah) ' Muslim Brotherhood in Yemen' , Hamoud Hashim al-Tharihi and Mohammed al-Hazmi have erected a tent in front of the Political Security building in the capital Sana'a in protest to detaining persons involved in many crimes , among them others accused of committing terrorist acts.
The sources made it clear that the two leading members of the Muslim Brotherhood in Yemen are leading a group of elements that demanded on Sunday the release of prisoners affiliated to al-Qaeda organisation sentenced to judicial verdicts and others are still under trial.
The action of those two leading members of the Islah comes for putting pressure on the government to release persons condemned for different crimes through taking advantage what the political arena in Yemen witnesses of sit-ins opposing the government and others supporting it.
Official sources have earlier revealed of conditions made by the Joint Meeting Parties (JMP) to go to the dialogue table stipulating the release of prisoners from al-Qaeda organisation.