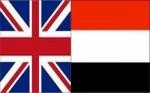 Almotamar.net, Saba
- Britain announced here on Wednesday raising its annual development aid ceiling offered for Yemen to 100 million euros (= $ 160 mln) by the beginning of 2011.
The decision came by the Department for International Development) DFID) and would be provided as a grant with a noticeable increase in comparison with the previous support.
During a meeting brought together Minister of Planning and International Cooperation Abdul-Karim al-Arhabi and Head of the DFID in Yemen Joanna Reid, the DFID head briefed the Premier on this decision and noted that the UK listed Yemen within the most-favored nation list.
For his part, the Premier expressed Yemen's appreciation for the British initiative to increase the ceiling of annual development aid for Yemen.
This initiative reflected the British concern of Yemen needs and to enhance partnership concept between the two countries, he added.
Al-Arhabi pointed out that signing a decimal partnership agreement, considered the first of its kind, between the UK and an Arab country reflects the progressed development in the joint cooperation between Yemen and the UK.