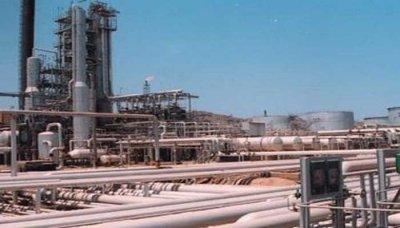 Crude oil sales for May 2011 approved
Almotamar.net, Saba - The Supreme Committee on Crude Oil Marketing, headed by Prime Minister Ali Mujawar, approved on Monday the crude oil sales for March 2011, at a total quantity of 6.3 barrels.

The committee decided to sell four million barrels of Masila crude oil, including 750 thousand barrels carried-over from April 2011, for the dated Brent minus USD 2.48 according to the best offered price.

Regarding Marib crude oil, the committee approved the selling of the total quantity amounting to 2.3 million barrels to Aden Refinery Company for the dated Brent without any premium or discount price.

The committee attributed the increase occurred in the May quantities to the change of oil prices in the second quarter of 2011, the higher world prices that led to increase the government's share and the quantity carried-over from last April, in addition to 500 thousand barrels settled with the production companies in the first quarter.

---

Army missile unites target mercenaries in Sourwah
The missile units of the army and popular force targeted on Friday gatherings of Saudi-paid mercenaries in Sourwah district of Marib province, a military official said.
Dozens of mercenaries were killed and wounded, Including Colonel Saleh Al-Kahli Al-Bukhaiti, commander of a battalion of mercenaries with a number of his companions, the official added.


Mercenaries launch artillery attacks on citizens' houses in Serwah
The Saudi-paid mercenaries launched on Friday intensively artillery and missile attacks on houses and farms of citizens in Serwah district of Mareb province.
A local official said that and artillery bombardment of the mercenaries targeted the areas of the airport, al-Haglan, Wadi Nawa and Souk Serwah, and caused great damage to the houses and farms of citizens.


49 Yemeni civilians killed in 212 Saudi aggression airstrikes in six days
At least 49 civilians were killed, Including thirteen children and six women, and 16 others wounded including a woman and child in 212 airstrikes launched by US-backed Saudi aggression warplanes on several Yemeni provinces over the past six days, officials and residents said.
In Sanaa province, the aggression warplanes launched 55 air strikes on the districts of Nehm, Hamdan, Sanhan, Belad Alroos.