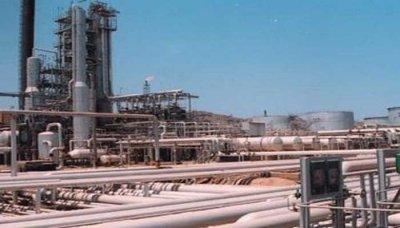 Crude oil sales for May 2011 approved
Almotamar.net, Saba - The Supreme Committee on Crude Oil Marketing, headed by Prime Minister Ali Mujawar, approved on Monday the crude oil sales for March 2011, at a total quantity of 6.3 barrels.

The committee decided to sell four million barrels of Masila crude oil, including 750 thousand barrels carried-over from April 2011, for the dated Brent minus USD 2.48 according to the best offered price.

Regarding Marib crude oil, the committee approved the selling of the total quantity amounting to 2.3 million barrels to Aden Refinery Company for the dated Brent without any premium or discount price.

The committee attributed the increase occurred in the May quantities to the change of oil prices in the second quarter of 2011, the higher world prices that led to increase the government's share and the quantity carried-over from last April, in addition to 500 thousand barrels settled with the production companies in the first quarter.

---

Saudi aggression injures two civilians in Baqem
Two civilians were injured on Wednesday in two Saudi air raids on Baqem district of Sa'ada province.
A security official said that the Saudi aggression warplanes targeted Wadi al-Jabal area in Baqem .
The official added that the aggression warplanes intensified hovering in the sky of many district in the province.


Saudi aggression warplanes wage raids on Serwah
Saudi aggression warplanes waged on Tuesday two air raids on Serwah district of Mareb province, a local official said.
The official added that the aggression warplanes targered al-Makhdrah in Serwah.
Meanwhile, Saudi mercenaries pounded houses and agricultural farms in several parts of Serwah, the official said.


Saudi aggression fighter jets kill 6 citizens in Sa'ada
Saudi aggression fighter jets killed on Tuesday six citizens and two wounded in Haydan district of Sa'ada province, a security official said.
The warplanes waged a strike on popular Souk in Maran area and left a number of the citizens died and wounded.
The official said the aggression war planes kept flying intensively over the area.


Saudi warships kill 6 family members in Taiz
A total of six citizens were killed from two families when Saudi aggression warships discriminately fired on coastal village of al-Moijr in Taiz province early Tuesday morning, an official said.
The shelling targeted citizen's houses in Shabat Hafeeth and Mahmod Hafeeth, destroying both houses and injuring five people.


Schools of Sana'a province condemn Saudi aggression's massacres against students
Schools of Sana'a province organized a protest rally to condemn the Saudi aggression air strikes the primary al-Falah school in Nehm district of Sana'a province last Tuesday.
The air strikes killed eight students and injured 15 others early morning of Tuesdasy.
The protesters expressed deep indignation against the Saudi aggression air strikes, considering it a new war crime against the Yemeni people and calling for the international community to move to stop Saudi massacres against Yemenis.