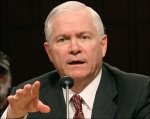 Almotamar.net, Saba
- US senior official voiced Tuesday its concern about the instable situation in Yemen that could sidetrack the government from encountering al-Qaeda.
During a trip to the Russian capital, Moscow, US Defence Secretary Robert Gates said that the instability in Yemen could divert attention from the country's fight against al-Qaeda, calling the situation in Yemen a concern.
"We are obviously concerned about instability in Yemen," Gates told reporters traveling with him on his trip, where he was due to meet Russian President Dmitry Medvedev.
"Instability and diversion of attention from dealing with al-Qaeda in the Arabian Peninsula (AQAP) is certainly my primary concern about the situation," he said.
Asked whether the United States still supported President Ali Abdullah Saleh, who was facing the threat of a military coup, Gates said he would not discuss "internal affairs in Yemen".