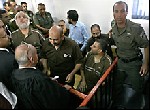 Christian Sceince Monitor
- West Bank: a government in jail
By Ilene R. Prusher | Staff writer of The Christian Science Monitor
RAMALLAH, WEST BANK – Mohammed Barghouthi was coming home from a late-night meeting when he found himself at a makeshift Israeli army checkpoint. The soldiers were stopping Palestinians, checking their IDs, and telling them to strip.
"I said no. I am a Palestinian government minister and I will not be treated like this," recalls Barghouthi, the Palestinian Authority's minister of labor. So began his arrest and detention on June 28, three days after Cpl. Gilad Shalit of the Israeli Defense Forces was kidnapped. With dozens of Palestinian officials held in Israeli jails and five cabinet ministers behind bars, the government is operating in absentia. Barely able to function, its problems are further exacerbated by severe travel restrictions and a financial crunch.
Barghouthi was one of scores of Palestinian officials arrested by Israel after Shalit's abduction, including 33 elected members of the Palestinian legislative council and five cabinet ministers. Most have been held without charges, as Israeli law permits when someone presents a security threat. Some, according to a request by the Monitor for information on their cases from the IDF, are accused of "membership in an illegal organization" - Hamas.
Barghouthi, an independent who is not a member of Hamas but was appointed to the Ministry of Labor because of his professional management credentials, was released more than six weeks later on Aug. 14. By then, he was so thin and disheveled, his family recalls, that when he came home his children cried and his mother collapsed.
Now, a few weeks after his release, he is back in his office here - an eerily empty place with no one on hand but a man doubling as receptionist and coffee runner. Barghouthi accepted the position of Labor Minister because he viewed it as an apolitical "service-oriented ministry," he says.
Few employees are around. Most have not been paid regularly in recent months, or have been paid a fraction of their usual salaries due to the Hamas-led government's financial troubles.
When it comes time to have a cabinet meeting, the challenges only grow. The work of the five cabinet members still being held by Israel must be picked up by others. The meetings are held by a video-conference due to the inaccessibility of travel for most cabinet members between the West Bank and Gaza. In Palestinian legislative council meetings, there are even bigger gaps, with at least one-quarter of the elected members held in Israeli jails, including members of parliament who were already in jail at the time of their election, such as Barghouthi's relative, West Bank Fatah leader Marwan Barghouthi.
An Israeli court ruled Tuesday that the men should be released. If Israeli military and security officials do not appeal the decision and ask for an extension, the jailed Palestinian officials could be released Friday.
In the meantime, this city, usually the West Bank capital of Palestinian politics, presents a portrait of a barely operational government. Pictures of the missing men hang above the city's central meeting point, Manara Square. The party headquarters of Hamas, which had been bustling during election time and in the months afterward, is a leadership ghost town. The only person available to talk to visitors is the party's 26-year-old spokesman.
"We participated in a democratic process and all we got in return was being arrested," says Sari Orabi, who is also editor of the local Hamas newspaper. "Being in jail is their job. I feel proud of them because they're fighting for our freedom."
But so far, he acknowledges, it would be difficult to consider this government a success. That point is driven home by the fact that there isn't a more senior person to speak for Hamas. And there are far graver indicators. The United Nations said Tuesday that the Palestinian economy was on the verge of collapse, with 2 out of 3 families living below the poverty line. If the trend continues, the UN study predicted, the economy could shrink next year to the size it was 15 years ago and drive unemployment up to more than 50 percent.
"On the social and human level, this is a disaster for sure. It's true that following the siege imposed on Hamas, the people have suffered more," Mr. Orabi says. But for that, he blames the international community, in particular the US, for withholding funds and causing the economic crisis.
"The citizens here know that America is the one keeping the funds from flowing in," he says, adding that he does not hold anti-American or Western views, pointing to his broken-in jeans and Tommy Hilfiger shirt. "If America believed in democracy in the truest sense, it wouldn't be biased against the Palestinian Authority."
Meanwhile, even as some offices continue to function on a basic level, the government's trials are pushing people to rely more on family and tribal ties than on legal institutions.
But the sense of the PA as a body losing its grip on governance has been building for several years. Its institutions were frequently targeted by Israel during the last intifada, and internal political rivalries between Fatah and Hamas have only fueled an encroachment of lawlessness to fill the power vacuum.
"The expectations from this government are minimal," says Said Zeedani, professor of political science at Al-Quds University in East Jerusalem. "If a government is not able to pay salaries, you don't expect much from it. The legislative council was never effective enough and there was security chaos, and there were complaints about that before this government was elected. Even if the government enacts laws, there is no one really enforcing them because the security forces have no power."
He adds: "The test of any government is providing services, and from that perspective, this government is hardly there."
Some Palestinians argue that's hardly Hamas's fault. The al-Wehwahs, a middle-aged couple from Hebron, believe the sole problem is that the world did not give Hamas a fighting chance. "I have to be tolerant and patient. Hamas wants to work but no one will let them," says Mousa al-Wehwah.
"They were put in jail before they did anything," says his wife, Muyassar al-Wehwah. Though the school year was to have started this week, her children are at home, she says. Public schools are closed due to the teachers' strike, and they cannot afford private school tuition.
Some people are starting to see a way forward. Palestinian President Mahmoud Abbas announced earlier this week that he had reached a deal for a national unity government with the ruling Hamas party. That could make room for the ousted Fatah faction of the PLO (Palestine Liberation Organization) to join the cabinet and direct negotiations with Israel.
Barghouthi, the Labor Minister, says he would be ready to leave his position to make room for others if it enabled the creation of a national unity government.