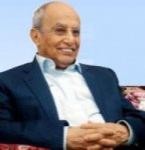 Almotamar.net
- Sources close to Dr Abdul Karim al-Eryany, second Vice-Chairman of the General Peopleís Congress (GPC) and Political Advisor to the President, have denied reports of the Kuwaiti Al-Watan newspaper concerning the ruling out of the Presidentís return home.
The sources said those reports lack credibility and come as part of the prejudiced and misleading campaign which some media outlets have been used to indulge in as an attempt of fishing in troubled waters.
On the other hand Dr al-Eryany last Thursday had visited President Ali Abdullah Saleh at the royal wing at the Military Hospital in Riyadh and confirmed that the Presidentís health is good and in continuous improvement.
Dr al-Eryany had also visited a number of the state officials who are receiving treatment at the Saudi hospitals.