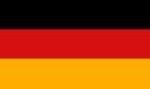 Almotamar.net
- Sana'a- Vice President Abed Rabou Mansour Hadi on Tuesday received the Charge d'Affaires of the German embassy in Yemen. During the meeting there was discussion of the current situations in Yemen in different aspects.
The Yemeni vice President has affirmed that the situations were in continuous improvement leading to the safe coming out of those circumstances which left very bad impact on all individuals in the society and unprecedented crisis in public life.
He has also referred to the meetings and consultations going on with various parties with the aim solving the crisis and providing fuels, gas and all needs of the people as soon as possible before matters get aggravated and potential deteriorated without coming out of these hard circumstances.
The Vice President has also reviewed the nature of meetings and consultations at national and regional levels and how to develop the Gulf initiative on basis of suggestions by the political advisor to the UN Secretary General Gamal bin Omar and under regional and international sponsorship for finding the convenient constitutional and natural outlet for making peace and harmony in Yemen.
The German diplomat has expressed appreciation of Germany for the efforts being exerted by the Vice President Hadi for keeping Yemen away from calamities of wars.
He indicated that the embassy would resume its activities and opening its gates by the end of next week and that the new ambassador would assume his job at the beginning of next August.
The German diplomat has pointed out that ambassadors of the European Union to Sana'a would hold a meeting on Tuesday to discuss developments in Yemen and the method of help in search of the solutions that help reach a solution for the current crisis.
The German Charge d'Affaires emphasised the Yemeni-German relations are excellent and old and for Germany , Yemen is a friendly country and it would offer the required assistance for full coming out from this crisis and entering into a stage where Yemen enjoys security, stability and safety.