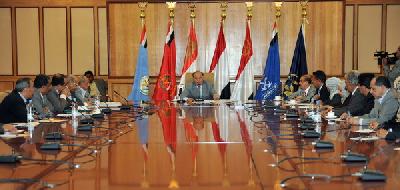 GPC discusses mechanism to carry out Gulf initiative
Almotamar.net - The General People Congress (GPC)'s general committee discussed on Wednesday several ideas pertaining to a mechanism in accord with the constitution to carry out the Gulf initiative.

In its extraordinary meeting chaired by Vice President Abdo Rabbo Mansour Hadi, the GPC's general committee asserted that the implementation of the Gulf initiative should assure achieving its goals, which are:
- The solution should lead to maintain the unity, security and stability of Yemen.
- It should meet with the ambitions of the Yemeni people of change and reform.
- The transfer of powers should be carried out in smooth and safe way via a national concord to keep Yemen away from anarchy and violence.
- All parts have to abide by eliminating all elements of political and security tension.
- All parts have to abide by stopping all forms of revenge and prosecution via guarantees.

After reaching an agreement on the mechanism, President Ali Abdullah Saleh will issue a decree to authorize the Vice President with requisite constitutional powers to conduct a dialogue with the parts singed the initiative on the timeframe and follow-up of the mechanism's implementation under a regional and international auspice and to assure holding an early presidential election.

The GPC general committee called on the Joint Meeting Parties (JMP) and its partners to take part in the dialogue as soon as possible and to end the division in the military establishments.

The committee also demanded the security bodies to declare the findings of the investigation of the presidential palace mosque attack, which is almost completed as Vice President said.

During the meeting, the Vice President indicated to the decisions adopted to enhance the political and security performance, reviewing the practical steps taken in some governorates to overcome the difficulties hindering the supplies access to the citizens.

Hadi stressed to avoid complexity or delay, saying they always lead to failure.

The meeting has touched on the essential requirements to end the ongoing crisis safely.

The general committee voted unanimously for the statement issued by the end of its two-day meetings
---

Prime Minister, ICRC discuss humanitarian cooperation
Prime Minister Abdulaziz Saleh bin Habtoor met with visiting director of operations for the International Committee of the Red Cross (ICRC) Dominik Stillhart.
The meeting discussed aspects of enhancing cooperation between Yemen and the ICRC in the humanitarian field and developing mechanisms for joint action to alleviate the repercussions of aggression war states and siege against the public health, water and environment sectors.
The meeting reviewing the growing role of the ICRC in


FM meets ICRC director of operations
Foreign Minister Hisham Sharaf met with Dominik Stillhart, Director of Operations for the International Committee of the Red Cross (ICRC).
The meeting dealt with efforts by the ICRC, reviewing violations carried out by the aggression states of Saudi and Emirates against the Yemeni people. It also discussed the file of war prisoners held by the aggression states and the blatant violations against them that openly breach the international laws and conventions.


Saudi warplanes continue strikes in different provinces
Saudi fighter jets continued fierce strikes on citizens' houses and properties over the past hours in several provinces, a military official said on Tuesday.
The Saudi-paid mercenaries shot bullets on a child in Al Maton district of Jawf province, wounding the child seriously, while the mercenaries also fired Katyusha missiles on the house of citizens in Serwah district of Marib province.