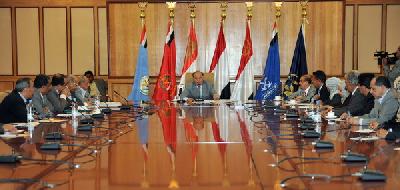 GPC discusses mechanism to carry out Gulf initiative
Almotamar.net - The General People Congress (GPC)'s general committee discussed on Wednesday several ideas pertaining to a mechanism in accord with the constitution to carry out the Gulf initiative.

In its extraordinary meeting chaired by Vice President Abdo Rabbo Mansour Hadi, the GPC's general committee asserted that the implementation of the Gulf initiative should assure achieving its goals, which are:
- The solution should lead to maintain the unity, security and stability of Yemen.
- It should meet with the ambitions of the Yemeni people of change and reform.
- The transfer of powers should be carried out in smooth and safe way via a national concord to keep Yemen away from anarchy and violence.
- All parts have to abide by eliminating all elements of political and security tension.
- All parts have to abide by stopping all forms of revenge and prosecution via guarantees.

After reaching an agreement on the mechanism, President Ali Abdullah Saleh will issue a decree to authorize the Vice President with requisite constitutional powers to conduct a dialogue with the parts singed the initiative on the timeframe and follow-up of the mechanism's implementation under a regional and international auspice and to assure holding an early presidential election.

The GPC general committee called on the Joint Meeting Parties (JMP) and its partners to take part in the dialogue as soon as possible and to end the division in the military establishments.

The committee also demanded the security bodies to declare the findings of the investigation of the presidential palace mosque attack, which is almost completed as Vice President said.

During the meeting, the Vice President indicated to the decisions adopted to enhance the political and security performance, reviewing the practical steps taken in some governorates to overcome the difficulties hindering the supplies access to the citizens.

Hadi stressed to avoid complexity or delay, saying they always lead to failure.

The meeting has touched on the essential requirements to end the ongoing crisis safely.

The general committee voted unanimously for the statement issued by the end of its two-day meetings
---

Dozens of mercenaries killed in Nehm
The army and popular forces killed and wounded dozens of Saudi-paid mercenaries when the national forces launched an attack and stormed in Nehm area of Marib province, a military official said on Wednesday


Aggression airstrikes kill, injure 20 in Taiz
At least 20 civilians were killed or injured on Tuesday in the US-Saudi aggression airstrikes on Mawza'a district in Taiz province.
The Saudi aggression warplanes targeted the internally displaced persons' houses in the district with three raids, killing and injuring 20 in an initial toll, a local official said .


Army repulses infiltration of mercenaries in Taiz
The army and popular forces repulsed an attempt of Saudi-paid mercenaries to infiltrate toward Mokha district of Taiz province, a military official said on Tuesday,
Dozens of the mercenaries were killed and wounded, as well as six UAE military vehicles were bombed in a Khalid camp during the operation.