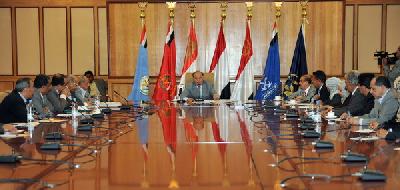 GPC discusses mechanism to carry out Gulf initiative
Almotamar.net - The General People Congress (GPC)'s general committee discussed on Wednesday several ideas pertaining to a mechanism in accord with the constitution to carry out the Gulf initiative.

In its extraordinary meeting chaired by Vice President Abdo Rabbo Mansour Hadi, the GPC's general committee asserted that the implementation of the Gulf initiative should assure achieving its goals, which are:
- The solution should lead to maintain the unity, security and stability of Yemen.
- It should meet with the ambitions of the Yemeni people of change and reform.
- The transfer of powers should be carried out in smooth and safe way via a national concord to keep Yemen away from anarchy and violence.
- All parts have to abide by eliminating all elements of political and security tension.
- All parts have to abide by stopping all forms of revenge and prosecution via guarantees.

After reaching an agreement on the mechanism, President Ali Abdullah Saleh will issue a decree to authorize the Vice President with requisite constitutional powers to conduct a dialogue with the parts singed the initiative on the timeframe and follow-up of the mechanism's implementation under a regional and international auspice and to assure holding an early presidential election.

The GPC general committee called on the Joint Meeting Parties (JMP) and its partners to take part in the dialogue as soon as possible and to end the division in the military establishments.

The committee also demanded the security bodies to declare the findings of the investigation of the presidential palace mosque attack, which is almost completed as Vice President said.

During the meeting, the Vice President indicated to the decisions adopted to enhance the political and security performance, reviewing the practical steps taken in some governorates to overcome the difficulties hindering the supplies access to the citizens.

Hadi stressed to avoid complexity or delay, saying they always lead to failure.

The meeting has touched on the essential requirements to end the ongoing crisis safely.

The general committee voted unanimously for the statement issued by the end of its two-day meetings
---

Sudan congratulates Yemen National Salvation Government
The Sudan's community in Yemen congratulated the formation of the Yemeni new National Salvation Government.
"On behalf of the Sudanese community and all the freemen of the Sudanese people who are anti-Saudi aggression on the brotherly Yemeni people, we congratulate the formation of the Yemeni new National Salvation Government," the Sudanese


SPC deplores negative reactions towards forming national salvation government
The Supreme Political Council strongly deplored some negative reactions made towards the formation of the National Salvation Government, saying the formation of the new government came in response to the will of the Yemeni people in the face of the Saudi aggression that targets the Yemeni people, their land and destroys all Yemeni resources


National salvation government convenes first meeting after sworn-in
Prime Minister Abdulaziz bin Habtour convened the first meeting of the newly-formed national salvation government here in the capital Sanaa to assume responsibilities.
The meeting was held on Tuesday after the new cabinet was sworn in before president of the Supreme Political Council, Saleh al-Sammad.


Leader Ali Abdullah Saleh congratulates nation on Independence Day
Former President of the Republic of Yemen, president of the General People's Congress, strongman Ali Abdullah Saleh congratulated the Yemeni people on the occasion of the 49th anniversary of the independence day, when Yemen got freedom from Britain in 30th November 1967, calling the nation to move forward for more and more victories.
Saleh's congratulation came in a speech to the nation late on Tuesday on the eve of the independence day.