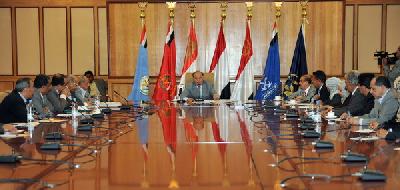 GPC discusses mechanism to carry out Gulf initiative
Almotamar.net - The General People Congress (GPC)'s general committee discussed on Wednesday several ideas pertaining to a mechanism in accord with the constitution to carry out the Gulf initiative.

In its extraordinary meeting chaired by Vice President Abdo Rabbo Mansour Hadi, the GPC's general committee asserted that the implementation of the Gulf initiative should assure achieving its goals, which are:
- The solution should lead to maintain the unity, security and stability of Yemen.
- It should meet with the ambitions of the Yemeni people of change and reform.
- The transfer of powers should be carried out in smooth and safe way via a national concord to keep Yemen away from anarchy and violence.
- All parts have to abide by eliminating all elements of political and security tension.
- All parts have to abide by stopping all forms of revenge and prosecution via guarantees.

After reaching an agreement on the mechanism, President Ali Abdullah Saleh will issue a decree to authorize the Vice President with requisite constitutional powers to conduct a dialogue with the parts singed the initiative on the timeframe and follow-up of the mechanism's implementation under a regional and international auspice and to assure holding an early presidential election.

The GPC general committee called on the Joint Meeting Parties (JMP) and its partners to take part in the dialogue as soon as possible and to end the division in the military establishments.

The committee also demanded the security bodies to declare the findings of the investigation of the presidential palace mosque attack, which is almost completed as Vice President said.

During the meeting, the Vice President indicated to the decisions adopted to enhance the political and security performance, reviewing the practical steps taken in some governorates to overcome the difficulties hindering the supplies access to the citizens.

Hadi stressed to avoid complexity or delay, saying they always lead to failure.

The meeting has touched on the essential requirements to end the ongoing crisis safely.

The general committee voted unanimously for the statement issued by the end of its two-day meetings
---

Hadi letters Djibouti counterpart
President Abdo Rabu Mansour Hadi sent Thursday a letter to President of Djibouti Ismail Omar Guelleh dealing with the mutual relations between the two brotherly countries as well as situations in the region.


President, UK ambassador review national developments
President Abd Rabbo Mansour Hadi reviewed on Wednesday with the United Kingdom ambassador to Yemen Jane Marriott the latest developments of the implementation of the national dialogue's outcomes.
During the meeting, the President praised the ambassador's efforts and the UK support for Yemen either bilaterally or within the five permanent members of the Security Council and the group of the ten countries sponsoring the implementation of the Gulf initiative.


President Hadi receives invitation to participate in Arab summit
President Abdo Rabbo Mansour Hadi received on Wednesday an invitation from Kuwaiti Emir Sheikh Sabah Al-Ahmad Al-Jaber Al Sabah to participate in the Arab summit to be held in Kuwait late March.
The invitation was handed over by Chargé d'affaires of the Kuwait embassy in Sana'a Faisal Saad Al-Mutairi during his meeting with President Hadi.


GPC delegation meets Prime Minister of Djibouti
General People's Congress (GPC) delegation met Prime Minister of Djibouti, Abdualqader Kamel in their visit to the country. During the meeting, both sides discussed bilateral relations and ways of developing them as well as discussing a number of issues of common interest between the two countries.
The occasion of the GPC delegation visit was to attend the 35 Conference of the ruling Party in Djibouti, which took place during the period from 3 until 4 March.


Seven soldiers killed in two attacks in Shabwa
Seven soldiers were killed and three were injured in two separate attacks in the eastern province of Shabwa on Monday, the Ministry of Defense said.
Unknown gunmen attacked a security patrol with a Rocket Propelled Grenade (RPG) killing four soldiers and wounding three others, the ministry added in a statement.


Statement Of GPC and its Allies on Security Council Resolution 2140
The General Congress Committee of the General People's Congress and the Higher Council of the National Democratic Coalition held an extraordinary meeting presided by Ali Abdullah Saleh , the president of the GPC ,during which they examined The Security Council Resolution 2140 on Yemen .
The General Congress Committee and the Coalition parties appreciated the resolution's reaffirmation of strong commitment to the unity , sovereignty , independence and territorial integrity of Yemen , its welcoming the outcomes of the comprehensive National Dialogue Conference which