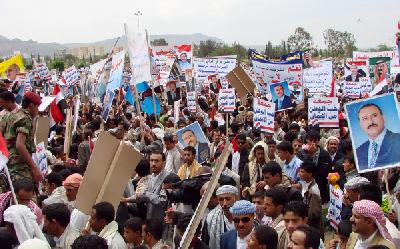 Millions of Yemenis renew promise of patriotism
Almotamar.net - Millions of Yemenis assembled on Friday in the public squares at the capital Sana'a and all governorates.

After performing Friday prayers, people staged demonstrations and rallies, renewing their pledge of patriotism and their commitment to maintain the security and stability of Yemen.

The crowds chanted slogans, expressing their love to the country and absolute loyalty to Allah and then to country, revolution and unity.

They reaffirmed their firm stands with the constitutional legitimacy and political leadership represented by President Ali Abdullah Saleh and refusing all forms of plots hatched by terrorists and saboteurs.

They also affirmed that the majority of the Yemeni people were standing with the constitutional legitimacy, accenting their readiness to stand beside the armed forces and security forces against any attempts to coup on the constitutional legitimacy.


---

Yemen to partake in FMs' meetings of OIC member countries
Yemen is to partake the 40th session of Foreign Ministers Council of the Member States to the Organization of Islamic Cooperation (OIC), which will be held during the period ( December 9- 11, 2013) in the Guinean capital, Conakry.


Ashton condemns defense ministry attack
EU High Representative Catherine Ashton strongly condemned on Friday the attack on the Defense Ministry and hospital that occurred Thursday morning, causing numerous deaths and injuries.


GPC Condemns the Terrorist Attack in al-Ordi
General people Congress (GPC) condemned the terrorist attack that targeted the Ministry of Defense hospital and led to the deaths of dozens of martyrs and wounded, including foreigners.


The war on al-Qaeda has achieved tangible results: Al-Shamy
Head of the Information Office at the General People's Congress (GPC) Tareq al-Shamy has affirmed on Thursday that the Yemen war on terror is an open one and that war has achieved successes through defeating and hitting the elements of al-Qaeda organisation in Luder and al-Houta. He pointed out that the incident of attacking a car belonging to the British embassy was an attempt by al-Qaeda to send a message that it was still present and able to do anything