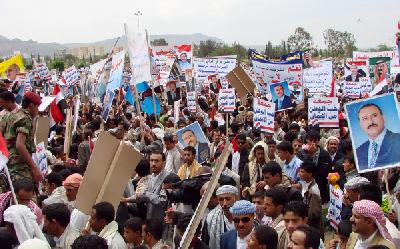 Millions of Yemenis renew promise of patriotism
Almotamar.net - Millions of Yemenis assembled on Friday in the public squares at the capital Sana'a and all governorates.

After performing Friday prayers, people staged demonstrations and rallies, renewing their pledge of patriotism and their commitment to maintain the security and stability of Yemen.

The crowds chanted slogans, expressing their love to the country and absolute loyalty to Allah and then to country, revolution and unity.

They reaffirmed their firm stands with the constitutional legitimacy and political leadership represented by President Ali Abdullah Saleh and refusing all forms of plots hatched by terrorists and saboteurs.

They also affirmed that the majority of the Yemeni people were standing with the constitutional legitimacy, accenting their readiness to stand beside the armed forces and security forces against any attempts to coup on the constitutional legitimacy.


---

Court executes man for rape, murder girl
The court of Appeal and judicial authorities in the capital Sanaa on Monday executed Hussein Abdullah al- Saket after convicted him of raping and killing five-year-old girl Safa Mohamed Taher al-Matari.
The execution of the 22-year-old al-Saket was carried out in a public place in Tahrir Square in central Sanaa where thousands of people witnessed the scene


Saudi air strikes continues its criminal attack on Yemen
Saudi aggression warplanes continued criminal air strikes on several provinces, targeting public and private properties over the past hours, officials said on Monday.
The warplanes launched three raids on Dawar area in Mastaba directorate of Hajah provinces and four raids on Hardh and Medi directorates.


Civil Aviation denies Saudi lies, confirms Sanaa Airport is secure, safe
The General Authority for Civil Aviation and Meteorology denied false claims by the Saudi-led aggression coalition about the Sanaa international airport, in a statement.
It said the airport is safe, secure and completely prepared to receive incoming flights in according to the international aviation standards.