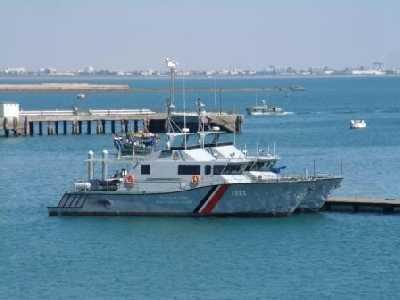 French yacht reported to be rescued, Yemeni coastguard official says
Almotamar.net-saba - Yemeni Coastguard Authority said Friday that a tourist and his wife aboard a French yacht were reported to be rescued by the friendly coalition forces stationed in the international waters.

Deputy Director of Yemeni Coastguard Authority- Aden sector - Abdul-Rahman Musa said that the authority was reported of the rescue operation by the coalition forces.

The available information showed that the yacht issued a mayday signal after suffering a technical fault in the international waters, about 120 nautical miles off the Yemeni coasts.

The French yacht carried the tourist and his wife was left Aden port on September 4th, after a tourist visit to Aden city began on August 19th, Musa said.

In related news, Musa denied press reports that a French yacht has been disappeared in Gulf of Aden.


---

Yemen to partake in FMs' meetings of OIC member countries
Yemen is to partake the 40th session of Foreign Ministers Council of the Member States to the Organization of Islamic Cooperation (OIC), which will be held during the period ( December 9- 11, 2013) in the Guinean capital, Conakry.


Ashton condemns defense ministry attack
EU High Representative Catherine Ashton strongly condemned on Friday the attack on the Defense Ministry and hospital that occurred Thursday morning, causing numerous deaths and injuries.


GPC Condemns the Terrorist Attack in al-Ordi
General people Congress (GPC) condemned the terrorist attack that targeted the Ministry of Defense hospital and led to the deaths of dozens of martyrs and wounded, including foreigners.


The war on al-Qaeda has achieved tangible results: Al-Shamy
Head of the Information Office at the General People's Congress (GPC) Tareq al-Shamy has affirmed on Thursday that the Yemen war on terror is an open one and that war has achieved successes through defeating and hitting the elements of al-Qaeda organisation in Luder and al-Houta. He pointed out that the incident of attacking a car belonging to the British embassy was an attempt by al-Qaeda to send a message that it was still present and able to do anything