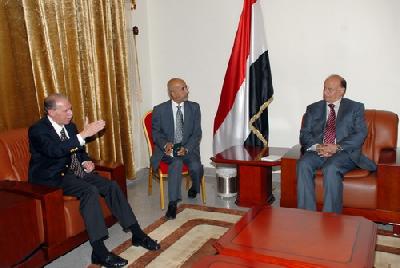 US congratulates Yemen on victory against al-Qaeda militants
Almotamar.net - American envoy congratulated here on Saturday Vice President Abdo Rabu Mansour Hadi over the victory of armed forces against al-Qaeda terrorist elements in Abyan province.

During his meeting with American ambassador to Yemen Gerald Feierstein, Hadi talked over the victory of security forces who managed to free the 25th brigade forces in Abyan after more than three months of blockade by al-Qaeda militants backed by coup elements.

The two officials also made reference to the ongoing developments in the local arena as well as negotiations and meetings carried out during the previous period at all various sides; local, regional and international ones.

The American envoy wished for Yemen to overcome form the current crisis peacefully, affirming to cooperate in order to ensure Yemen's security and stability.

---

Police, popular forces arrest 81 suspects
A total of 81 persons have been arrested on charges of various crimes in several governorates over the past two days, a police official said on Monday.
The official said that 58 of the accused were arrested for serious crimes, while 23 charged with petty crimes, and 19 others have been referred to the public


Saudi warplanes targets home in Bani Hashish
A Saudi aggression warplane destroyed a citizen's home in Bani Hashish district of Sanaa province in an air strike overnight, an official said on Monday.
The strike flattened the home and badly damaged the nearby houses.
The Saudi aggression fighter jets also waged other raids on al-Jmima Mount, caused huge damage to public property and telecommunications towers, said the official.


President calls UN to end Saudi barbaric aggression, blockade on Yemen
President Saleh al-Sammad called the United Nations security council to stop Saudi-led barbaric aggression and blockade on Yemen, in a letter sent to the UN late on Saturday.
In the letter, the president detailed brutal and inhumane crimes committed by the Saudi-led barbaric coalition during 18 months of aggression against the