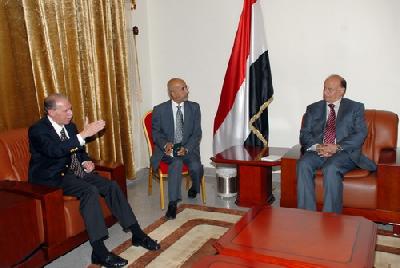 US congratulates Yemen on victory against al-Qaeda militants
Almotamar.net - American envoy congratulated here on Saturday Vice President Abdo Rabu Mansour Hadi over the victory of armed forces against al-Qaeda terrorist elements in Abyan province.

During his meeting with American ambassador to Yemen Gerald Feierstein, Hadi talked over the victory of security forces who managed to free the 25th brigade forces in Abyan after more than three months of blockade by al-Qaeda militants backed by coup elements.

The two officials also made reference to the ongoing developments in the local arena as well as negotiations and meetings carried out during the previous period at all various sides; local, regional and international ones.

The American envoy wished for Yemen to overcome form the current crisis peacefully, affirming to cooperate in order to ensure Yemen's security and stability.

---

Court executes man for rape, murder girl
The court of Appeal and judicial authorities in the capital Sanaa on Monday executed Hussein Abdullah al- Saket after convicted him of raping and killing five-year-old girl Safa Mohamed Taher al-Matari.
The execution of the 22-year-old al-Saket was carried out in a public place in Tahrir Square in central Sanaa where thousands of people witnessed the scene


Saudi air strikes continues its criminal attack on Yemen
Saudi aggression warplanes continued criminal air strikes on several provinces, targeting public and private properties over the past hours, officials said on Monday.
The warplanes launched three raids on Dawar area in Mastaba directorate of Hajah provinces and four raids on Hardh and Medi directorates.


Civil Aviation denies Saudi lies, confirms Sanaa Airport is secure, safe
The General Authority for Civil Aviation and Meteorology denied false claims by the Saudi-led aggression coalition about the Sanaa international airport, in a statement.
It said the airport is safe, secure and completely prepared to receive incoming flights in according to the international aviation standards.