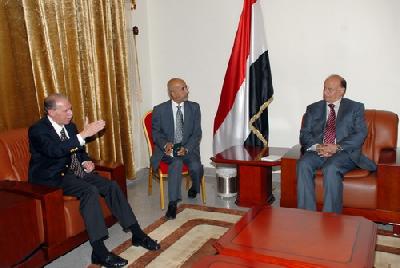 US congratulates Yemen on victory against al-Qaeda militants
Almotamar.net - American envoy congratulated here on Saturday Vice President Abdo Rabu Mansour Hadi over the victory of armed forces against al-Qaeda terrorist elements in Abyan province.

During his meeting with American ambassador to Yemen Gerald Feierstein, Hadi talked over the victory of security forces who managed to free the 25th brigade forces in Abyan after more than three months of blockade by al-Qaeda militants backed by coup elements.

The two officials also made reference to the ongoing developments in the local arena as well as negotiations and meetings carried out during the previous period at all various sides; local, regional and international ones.

The American envoy wished for Yemen to overcome form the current crisis peacefully, affirming to cooperate in order to ensure Yemen's security and stability.

---

Army missile unites target mercenaries in Sourwah
The missile units of the army and popular force targeted on Friday gatherings of Saudi-paid mercenaries in Sourwah district of Marib province, a military official said.
Dozens of mercenaries were killed and wounded, Including Colonel Saleh Al-Kahli Al-Bukhaiti, commander of a battalion of mercenaries with a number of his companions, the official added.


Mercenaries launch artillery attacks on citizens' houses in Serwah
The Saudi-paid mercenaries launched on Friday intensively artillery and missile attacks on houses and farms of citizens in Serwah district of Mareb province.
A local official said that and artillery bombardment of the mercenaries targeted the areas of the airport, al-Haglan, Wadi Nawa and Souk Serwah, and caused great damage to the houses and farms of citizens.


49 Yemeni civilians killed in 212 Saudi aggression airstrikes in six days
At least 49 civilians were killed, Including thirteen children and six women, and 16 others wounded including a woman and child in 212 airstrikes launched by US-backed Saudi aggression warplanes on several Yemeni provinces over the past six days, officials and residents said.
In Sanaa province, the aggression warplanes launched 55 air strikes on the districts of Nehm, Hamdan, Sanhan, Belad Alroos.