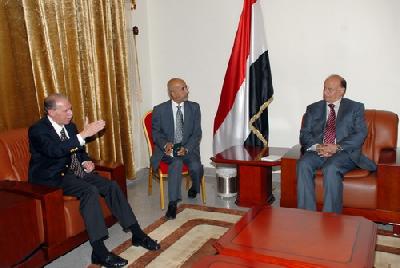 US congratulates Yemen on victory against al-Qaeda militants
Almotamar.net - American envoy congratulated here on Saturday Vice President Abdo Rabu Mansour Hadi over the victory of armed forces against al-Qaeda terrorist elements in Abyan province.

During his meeting with American ambassador to Yemen Gerald Feierstein, Hadi talked over the victory of security forces who managed to free the 25th brigade forces in Abyan after more than three months of blockade by al-Qaeda militants backed by coup elements.

The two officials also made reference to the ongoing developments in the local arena as well as negotiations and meetings carried out during the previous period at all various sides; local, regional and international ones.

The American envoy wished for Yemen to overcome form the current crisis peacefully, affirming to cooperate in order to ensure Yemen's security and stability.

---

Yemen to partake in FMs' meetings of OIC member countries
Yemen is to partake the 40th session of Foreign Ministers Council of the Member States to the Organization of Islamic Cooperation (OIC), which will be held during the period ( December 9- 11, 2013) in the Guinean capital, Conakry.


Ashton condemns defense ministry attack
EU High Representative Catherine Ashton strongly condemned on Friday the attack on the Defense Ministry and hospital that occurred Thursday morning, causing numerous deaths and injuries.


GPC Condemns the Terrorist Attack in al-Ordi
General people Congress (GPC) condemned the terrorist attack that targeted the Ministry of Defense hospital and led to the deaths of dozens of martyrs and wounded, including foreigners.


The war on al-Qaeda has achieved tangible results: Al-Shamy
Head of the Information Office at the General People's Congress (GPC) Tareq al-Shamy has affirmed on Thursday that the Yemen war on terror is an open one and that war has achieved successes through defeating and hitting the elements of al-Qaeda organisation in Luder and al-Houta. He pointed out that the incident of attacking a car belonging to the British embassy was an attempt by al-Qaeda to send a message that it was still present and able to do anything