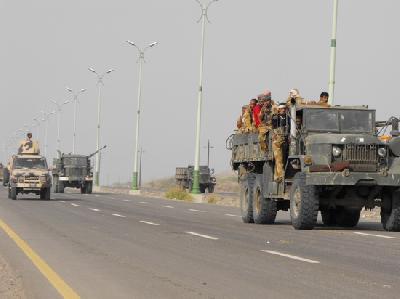 President Saleh announces end of army brigade siege
Almotamar.net-saba - President Ali Abdullah Saleh said on Saturday that the army and security forces managed to free the 25th brigade forces in Abyan province after more than three months of blockade by al-Qaeda militants backed by coup elements.

In his cable of congratulations on this victory to the Minister of Defense and military and security commanders, President Saleh said that the army and security forces have achieved a great victory against those terrorist elements that wanted to convert Abyan province into an den of terrorism and extremism.

He praised the efforts and direct supervision by Vice President Abdo Rabbo Mansour Hadi and cooperation of citizens in the provinces of Abyan, Aden and Lahj to achieve this national success.

Saleh also said that the 25th brigade forces had foiled the plots of terrorists, coup elements and conspirators and caused them exorbitant losses.

The President praised also the logistical support provided by Saudi Arabia, saying the Saudi support contributed to the alleviation of the blockade on the 25th brigade.

In addition, Saleh thanked the United States for cooperation in providing information, adding this comes within the framework of the two countries' joint efforts to combat terrorism.
---

Saudi aggression's warplanes launches 7 raids on capital
Saudi aggression's warplanes waged seven raids against the capital Sana'a early on Sunday, an official said.
The strikes targeted Sarif area east of al-Rawda city, on the road linking the capital with neighboring province of Mareb, causing large damage to citizens' houses and farms, the official added.


Saudi aggression airstrikes kill 10 people in Ibb
Ten people were killed and nine injured in early Sunday morning Saudi aggression airstrikes on residential quarter in downtown Ibb city, an official said.
The hostile warplanes targeted residential buildings in Dar al-Sharf area of Mafrak Jibla neighborhood, he said.
The Saudi aggression also waged two raids on Bin Laden tourist complex few miles away city in central the city, said the official, adding that three other air raids hit Kah area in al-Sabrah district of Ibb province.


Saudi raid injures 16 people in Sa'ada
At least 16 people were injured on Saturday in a Saudi air raid on Magz district of Sa'ada province, a security official said.
The Saudi-led aggression targeted al-Gerbah bridge in the district, the official added.
Before two days, the Sauid warplanes targeted the bridge with two raids causing a cut off the road for some areas.


Saudi warplanes launches 12 raids on Radaa
Saudi aggression warplanes waged 12 air raids on
Radaa city and surroundings regions of Baidha province late on Friday ,a military official said.
The raids destroyed communication grid in Ihraam mount in the city.
The official added the fighter jets continued intensely flying over the sky of the city and broke the sound barrier.