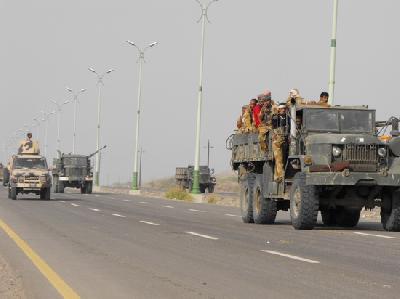 President Saleh announces end of army brigade siege
Almotamar.net-saba - President Ali Abdullah Saleh said on Saturday that the army and security forces managed to free the 25th brigade forces in Abyan province after more than three months of blockade by al-Qaeda militants backed by coup elements.

In his cable of congratulations on this victory to the Minister of Defense and military and security commanders, President Saleh said that the army and security forces have achieved a great victory against those terrorist elements that wanted to convert Abyan province into an den of terrorism and extremism.

He praised the efforts and direct supervision by Vice President Abdo Rabbo Mansour Hadi and cooperation of citizens in the provinces of Abyan, Aden and Lahj to achieve this national success.

Saleh also said that the 25th brigade forces had foiled the plots of terrorists, coup elements and conspirators and caused them exorbitant losses.

The President praised also the logistical support provided by Saudi Arabia, saying the Saudi support contributed to the alleviation of the blockade on the 25th brigade.

In addition, Saleh thanked the United States for cooperation in providing information, adding this comes within the framework of the two countries' joint efforts to combat terrorism.
---

Court executes man for rape, murder girl
The court of Appeal and judicial authorities in the capital Sanaa on Monday executed Hussein Abdullah al- Saket after convicted him of raping and killing five-year-old girl Safa Mohamed Taher al-Matari.
The execution of the 22-year-old al-Saket was carried out in a public place in Tahrir Square in central Sanaa where thousands of people witnessed the scene


Saudi air strikes continues its criminal attack on Yemen
Saudi aggression warplanes continued criminal air strikes on several provinces, targeting public and private properties over the past hours, officials said on Monday.
The warplanes launched three raids on Dawar area in Mastaba directorate of Hajah provinces and four raids on Hardh and Medi directorates.


Civil Aviation denies Saudi lies, confirms Sanaa Airport is secure, safe
The General Authority for Civil Aviation and Meteorology denied false claims by the Saudi-led aggression coalition about the Sanaa international airport, in a statement.
It said the airport is safe, secure and completely prepared to receive incoming flights in according to the international aviation standards.