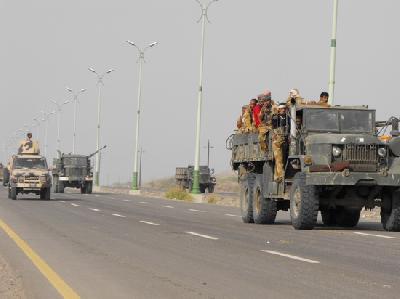 President Saleh announces end of army brigade siege
Almotamar.net-saba - President Ali Abdullah Saleh said on Saturday that the army and security forces managed to free the 25th brigade forces in Abyan province after more than three months of blockade by al-Qaeda militants backed by coup elements.

In his cable of congratulations on this victory to the Minister of Defense and military and security commanders, President Saleh said that the army and security forces have achieved a great victory against those terrorist elements that wanted to convert Abyan province into an den of terrorism and extremism.

He praised the efforts and direct supervision by Vice President Abdo Rabbo Mansour Hadi and cooperation of citizens in the provinces of Abyan, Aden and Lahj to achieve this national success.

Saleh also said that the 25th brigade forces had foiled the plots of terrorists, coup elements and conspirators and caused them exorbitant losses.

The President praised also the logistical support provided by Saudi Arabia, saying the Saudi support contributed to the alleviation of the blockade on the 25th brigade.

In addition, Saleh thanked the United States for cooperation in providing information, adding this comes within the framework of the two countriesí joint efforts to combat terrorism.
---

Police, popular forces arrest 81 suspects
A total of 81 persons have been arrested on charges of various crimes in several governorates over the past two days, a police official said on Monday.
The official said that 58 of the accused were arrested for serious crimes, while 23 charged with petty crimes, and 19 others have been referred to the public


Saudi warplanes targets home in Bani Hashish
A Saudi aggression warplane destroyed a citizen's home in Bani Hashish district of Sanaa province in an air strike overnight, an official said on Monday.
The strike flattened the home and badly damaged the nearby houses.
The Saudi aggression fighter jets also waged other raids on al-Jmima Mount, caused huge damage to public property and telecommunications towers, said the official.


President calls UN to end Saudi barbaric aggression, blockade on Yemen
President Saleh al-Sammad called the United Nations security council to stop Saudi-led barbaric aggression and blockade on Yemen, in a letter sent to the UN late on Saturday.
In the letter, the president detailed brutal and inhumane crimes committed by the Saudi-led barbaric coalition during 18 months of aggression against the