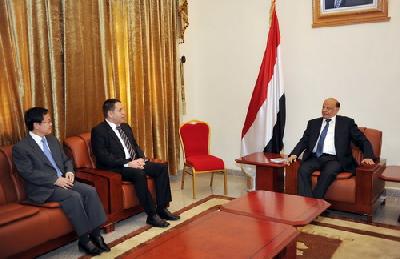 VP discusses local developments with Russian, Chinese diplomats
Almotamar.net - Vice President Abdo Rabbo Mansour Hadi discussed here on Monday with Russian and Chinese ambassadors to Yemen the latest developments in the local arena.

Hadi briefed Russian ambassador Sergei Kozlov and Chinese ambassador Liu Denglin the nature and outcomes of the meetings and consultations at the national and regional levels to solve the country's political crisis.

All the consultations focus on reaching an agreement on the mechanism to implement the Gulf initiative based on the General People Congress (GPC) General Committee's decisions issued in the extraordinary meeting held a few days ago, said the Vice President.

He touched on aftermaths of the clashes taken place in Abyan province between the armed forces and al-Qaeda, saying they were resulted in great losses and damages in private and governmental facilities and the citizens' houses as well.

He added that the province really needed financial and in-kind aid from the European Union (EU), Russia and China for reconstruction and assisting the displaced people, over 100,000, to return to their homes.

Hadi voiced his appreciation of the 30 million Yuan assistance granted from China to the Abyan displaced people, praising the ceaseless positive attitude in support with Yemen in various circumstances.

Fighting on terrorism is an international responsibility, Yemen should not bear it alone, Hadi said.

The two diplomats asserted their countries' support for the stability of Yemen, as a friend country, saying that Russia and China would spare no effort to maintain its unity and security.


---

Army missile unites target mercenaries in Sourwah
The missile units of the army and popular force targeted on Friday gatherings of Saudi-paid mercenaries in Sourwah district of Marib province, a military official said.
Dozens of mercenaries were killed and wounded, Including Colonel Saleh Al-Kahli Al-Bukhaiti, commander of a battalion of mercenaries with a number of his companions, the official added.


Mercenaries launch artillery attacks on citizens' houses in Serwah
The Saudi-paid mercenaries launched on Friday intensively artillery and missile attacks on houses and farms of citizens in Serwah district of Mareb province.
A local official said that and artillery bombardment of the mercenaries targeted the areas of the airport, al-Haglan, Wadi Nawa and Souk Serwah, and caused great damage to the houses and farms of citizens.


49 Yemeni civilians killed in 212 Saudi aggression airstrikes in six days
At least 49 civilians were killed, Including thirteen children and six women, and 16 others wounded including a woman and child in 212 airstrikes launched by US-backed Saudi aggression warplanes on several Yemeni provinces over the past six days, officials and residents said.
In Sanaa province, the aggression warplanes launched 55 air strikes on the districts of Nehm, Hamdan, Sanhan, Belad Alroos.