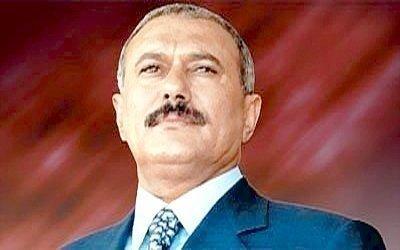 President Saleh authorizes Hadi to conduct dialogue with opposition
Almotamar.net-saba - President Ali Abdullah Saleh issued Monday a presidential decree to give Vice President Abdo Rabbo Mansour Hadi a mandate to conduct a dialogue with the parties signatories to the Gulf initiative.

Upon the presidential decree No. (24), "Vice President Abdo Rabbo Mansour Hadi has the necessary constitutional authority to conduct a dialogue with the signatories of the initiative made by the states of the Gulf Cooperation Council, reach an agreement on a lasting mechanism for the implementation of the initiative, sign it subsequently on our behalf and begin tracking its implementation under a regional and international auspice, leading to hold an early presidential election and ensure a legal and democratic transition of power".


---

Saudi aggression wages 21 airstrikes on Hodeida
Saudi aggression coalition waged 16 air raids on a bridge the province of Hodeida overnight, while the enemy warships shelled Al-Tohayta district in Hodeida.
A security official source said that the aggression coalition warplanes waged 16 raids on the bridge linking directorates of Al-Tohayta and al-Torba, completely


Saudi aggression wounds 3 women, girl in 42 airstrikes over 24 hours
Saudi aggression warplanes and its mercenaries continued targeting the civilians and their properties in several provinces over the past 24 hours, a military official said on Thursday.
The 42 airstrikes targeted the provinces of Sana'a, Sa'ada, Mareb, Taiz, Hajjh, Jizan.
Three women and a girl were wounded in the airstrikes on the civilian targets.


Somali community denounces Saudi criminal airstrike on Somali refugees
The Somali community in Yemen denounced the Saudi aggression coalition's airstrike against the Somali refugees off the Yemeni Red Sea port city of Hodeida.
In a statement obtained by Saba, the Somali community denounced the aggression coalition targeting the boat carrying Somali refugees in the Red Sea, near


Saudi paid mercenaries pounded in Taiz
The artillery of the army and popular forces shelled gatherings of Saudi-paid mercenaries in Taiz province, a military official said on Tuesday.
The shelling the mercenaries in al-Kadahah area of al-Ma'afarah distrit, Salah area, behind al-kanday wabar, al-Mukalal and Usayfarah areas, the official added.


Foreign, Agriculture Ministers meet FAO Resident Representative
Minister of Foreign Affairs Eng. Hisham Sharaf and Minister of Agriculture Ghazi Al-Ahwal met on Tuesday with the Resident Representative of the Food and Agriculture Organization of the United Nations (FAO) in Sana'a Dr. Salah El Hajj.
The meeting reviewed aspects of cooperation between Yemen and FAO, especially with regard to the food security situation in Yemen.