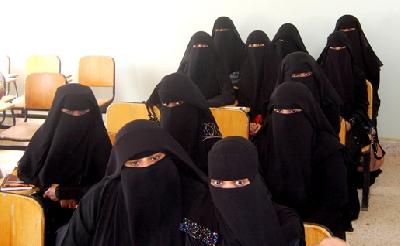 Yemen, international partners seek to increase access to schools
Almotamar.net - More than seven million Yemeni girls and boys started on Saturday the new school year. In addition, it is expected that about 800,000 children will be enrolled in the first primary grade, according to the Ministry of Education.

In cooperation with UNICEF and other partners including USAID's Responsive Governance Project (RGP), CHF International and Save The Children, Education Ministry has launched a nationwide Back-To-School campaign aimed at increasing the number of children going to school and reducing dropout during the school year 2011-2012.

"Given the government's commitment to provide access to education for all children of school age, the ministry is working now with partners on the implementation of the Back to School campaign to ensure all students are back to school nationwide and mainly in the affected areas," said the Minister of Education, Dr. Abdul-Salam al-Jawfi.

The Back-to-School campaign seeks to increase access to schools and reduce dropout during the school year 2011-2012 by raising the awareness of communities about the value of education and importance of sending children to schools, the distribution of learning teaching supplies to 885,750 displaced persons, host communities and vulnerable groups, in order to make sure they do not fall through the cracks, as well as training more than 4000 untrained or poorly trained teachers to be able to impart quality education as well as psychosocial support.

Despite many challenges seen in many parts of Yemen today, sending children to school should be a top priority for parents, communities as well as the government. Towards that end, a national emergency committee and field taskforce teams are on the ground in different regions working continuously for accelerated implementation and follow-up of the campaign.

"Without an educated population, no country thrives", says UNICEF Yemen representative Geert Cappelaere. "In a country where only 70% of boys and 60% of girls receive basic education, no effort should be spared in making sure every single child is sent to school this year. Aside from the provision of supplies and training of teachers, we try to achieve this by raising the awareness of communities on the value of education and importance of sending children to schools, especially girls."

On another note, RGP Acting Chief of Party, Mehboob Karim believes that the comprehensive media campaign on TV, radio, newspapers and other publicity materials will effectively contribute to raising the awareness of parents throughout Yemen about education, and encourage them to send their children to school.

"Our engagement in the implementation of the campaign was to raise the profile of education and establish an effective partnership with the Yemeni government, international organizations and civil society organizations," Karim said. "The media awareness campaign was skilfully crafted around chronic and emergency issues including girls' education, child labor and armed conflict."

The teacher training program – as a major component of the Back-to-School campaign - represents an attempt to improve the quality of education, a fundamental pillar for sustainable development, according to CHF Country Director, Roberta Contin.

"I would like to stress the importance of implementing such capacity building interventions in regions with emergencies where teachers are set to provide psychosocial support for children aside from traditional education".

The Minister of Education emphasized that the campaign cannot achieve its full potential of increasing rates of enrolment without real cooperation from all stakeholders at national and local levels.

"Education is a collective responsibility for everyone," said Minister Al-Jawfi. "We urge everybody to make sure that all our school-age daughters and sons are back in school by 17 September. We also appeal to political parties, community organizations, and the media and mosque preachers to enthusiastically engage during the campaign and ensure that access to education is guaranteed to all children without any exception.

"We are confident that teachers and educators will be at the level of national responsibility and will always provide the appropriate atmosphere for a smooth scholastic year," Al-Jawfi concluded.


---

GPC , Ansarullah delegation heads to Muscat
The delegation of General People's Congress (GPC),and Ansarullah, which will participate in Geneva consultations, headed on Saturday to the Omani capital, Muscat.
The delegation will meet in Muscat with the United Nations Special Envoy for Yemen Ismail Ould Cheikh Ahmed to discuss the dialogue draft proposed by the United Nations as a


UN warns of increasing collapse of basic services in Yemen
The United Nations has warned of the accelerating collapse of basic services in Yemen due to the aggression, siege and fighting which was described as "devastating."
The UN Humanitarian Coordinator for Yemen Johannes van der Klaauw said in a press conference in Cairo that the current estimations indicate that more than 14 million people in Yemen cannot get sufficient health care.
He noted that 20 governorates, out of 22 governorates, are affected and that about 2.3 million people were forced to leave their homes which created a deteriorating and desperate humanitarian situation over the past seven months, stressing the importance of promptly finding out a political solution before it is over.
The UN official said that 3 million children and women are in need for medication because of malnutrition while 1.8 million children are deprived of schooling since March.
Klaauw pointed out the increasing deterioration of the basic services as a direct result of the dispute and the lack of necessary supplies to pay salaries or to cover maintenance costs.


Oxfam welcomes alteration of UK attitude on selling weapons to KSA
Oxfam welcomed on Friday the changing of the British policy on exporting weapons to Saudi Arabia which is used in its aggression against Yemen.
The Oxfam emphasized citizens are in the fire line not only because of weapons, but also of the siege imposed on Yemen which affected its main services and economy.
Josephine Hatton, director of the Middle East program at Oxfam, said in a statement the organization welcomed the alteration of the British attitude towards the denial of Saudi Arabia in targeting citizens in its airstrikes against Yemen, and insisting to conduct serious investigations in that regard.


UK calls to conduct investigations over Saudi airstrikes on Yemen
Secretary of State for Foreign and Commonwealth Affairs Philip Hammond called on Thursday to carry out a serious investigation on the Saudi air raids against Yemen.
In an interview with the BBC, Hammond said the denial of Saudi in targeting citizens by its airstrikes against Yemen since March is not enough, serious investigations must been conducted in that regard.


Suicide bomber blows himself up in Ibb
A suicide bomber blew himself up on Tuesday in front of the Faculty of Agriculture in Ibb University, a security source said.
"The explosion did not cause any casualties," the source said, noting that the suicide bomber detonated himself before he was arrested by the security men, who noticed he was wearing an explosive belt.


MSF: thousands of Yemenis incapable to receive medical care
The Médecins Sans Frontiers (MSF) organization said on Monday that thousands of Yemeni people still incapable to receive medical care because of the absence of transportation means and closing the health facilities.
In its statement, the MSF said many of health facilities have totally or partly been destroyed as a result of the airstrikes and war in the country.


Russia supports Ould Sheikh efforts to hold Yemeni talks
MOSCOW– Russia affirmed on Saturday its support to the exerted efforts to hold a new talks' round on the Yemeni crisis and with the participation of the various sides.
The Ministry of Foreign Affairs of the Russian Federation said, in its statement issued Saturday, it is important to do all the possible efforts in order to end violence in Yemen and reach peace all over the country via implementing dialogue gathering all the Yemeni political powers.