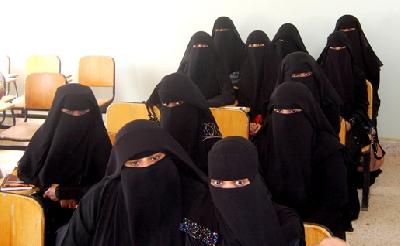 Yemen, international partners seek to increase access to schools
Almotamar.net - More than seven million Yemeni girls and boys started on Saturday the new school year. In addition, it is expected that about 800,000 children will be enrolled in the first primary grade, according to the Ministry of Education.

In cooperation with UNICEF and other partners including USAID's Responsive Governance Project (RGP), CHF International and Save The Children, Education Ministry has launched a nationwide Back-To-School campaign aimed at increasing the number of children going to school and reducing dropout during the school year 2011-2012.

"Given the government's commitment to provide access to education for all children of school age, the ministry is working now with partners on the implementation of the Back to School campaign to ensure all students are back to school nationwide and mainly in the affected areas," said the Minister of Education, Dr. Abdul-Salam al-Jawfi.

The Back-to-School campaign seeks to increase access to schools and reduce dropout during the school year 2011-2012 by raising the awareness of communities about the value of education and importance of sending children to schools, the distribution of learning teaching supplies to 885,750 displaced persons, host communities and vulnerable groups, in order to make sure they do not fall through the cracks, as well as training more than 4000 untrained or poorly trained teachers to be able to impart quality education as well as psychosocial support.

Despite many challenges seen in many parts of Yemen today, sending children to school should be a top priority for parents, communities as well as the government. Towards that end, a national emergency committee and field taskforce teams are on the ground in different regions working continuously for accelerated implementation and follow-up of the campaign.

"Without an educated population, no country thrives", says UNICEF Yemen representative Geert Cappelaere. "In a country where only 70% of boys and 60% of girls receive basic education, no effort should be spared in making sure every single child is sent to school this year. Aside from the provision of supplies and training of teachers, we try to achieve this by raising the awareness of communities on the value of education and importance of sending children to schools, especially girls."

On another note, RGP Acting Chief of Party, Mehboob Karim believes that the comprehensive media campaign on TV, radio, newspapers and other publicity materials will effectively contribute to raising the awareness of parents throughout Yemen about education, and encourage them to send their children to school.

"Our engagement in the implementation of the campaign was to raise the profile of education and establish an effective partnership with the Yemeni government, international organizations and civil society organizations," Karim said. "The media awareness campaign was skilfully crafted around chronic and emergency issues including girls' education, child labor and armed conflict."

The teacher training program – as a major component of the Back-to-School campaign - represents an attempt to improve the quality of education, a fundamental pillar for sustainable development, according to CHF Country Director, Roberta Contin.

"I would like to stress the importance of implementing such capacity building interventions in regions with emergencies where teachers are set to provide psychosocial support for children aside from traditional education".

The Minister of Education emphasized that the campaign cannot achieve its full potential of increasing rates of enrolment without real cooperation from all stakeholders at national and local levels.

"Education is a collective responsibility for everyone," said Minister Al-Jawfi. "We urge everybody to make sure that all our school-age daughters and sons are back in school by 17 September. We also appeal to political parties, community organizations, and the media and mosque preachers to enthusiastically engage during the campaign and ensure that access to education is guaranteed to all children without any exception.

"We are confident that teachers and educators will be at the level of national responsibility and will always provide the appropriate atmosphere for a smooth scholastic year," Al-Jawfi concluded.


---

Army forces counterattack al-Qaeda elements in Shabwa
Soldiers of the 2nd Infantry Brigade managed on Sunday to foil an attack by al-Qaeda elements against Mafraq Al-Houtah and Al-Jasr in Azzan in Shabwa governorate.
During the attack, an explosive car blew off in Jawl Al-Raida area.
An informed military source said that terror elements leaked on Sunday at noon time through one of the valleys which stretch to Mayfa'ah area and carried out their terror attack against the soldiers while having their lunch


Gulf States support President Hadi's efforts: al-Zayani
The Gulf Cooperation Council's (GCC) Secretary General has stressed the GCC States' adherence to maintain Yemen's unity, security and stability.
The GCC States fully support the efforts of President Abd Rabbu Mansour Hadi to complete the transitional stage based on the GCC-initiative and its executive mechanism in order to achieve the Yemeni people's aspiration, Abdul Latif al-Zayani said in a joint press conference with Kuwait's First Deputy Prime Minister and Foreign Minister Sabah Khaled al-Sabah, the


One soldier, five al-Qaeda terrorists killed in clashes in Qatan
One soldier and five al-Qaeda terrorists were killed on Saturday in clashes between the army and al-Qaida militants in Qatan district of Hadramout province.
Intelligence information has been obtained on suspicious movements of terrorist groups towards Qatan district, a military source said, adding that a plan has been prepared to foil the attack led to blowing up two suicide car bombs near a camp of special security forces and killing all terrorists on the cars.


President Hadi receives board members of Popular Alignment Body
President Abdu-Rabbu Mansour Hadi received on Wednesday board members of the Popular Alignment Body for the Protection of National Gains, led by Yehia Hussein al-Arashi, member of Shura Council.
During the meeting, Hadi talked about a number of issues Yemen has been experiencing since the eruption of 2011's crisis, saying that the country has overcome various challenges and difficulties until holding the National Dialogue Conference, noting also steps and measures taken to handle that crisis.


Three terrorists killed in Hadramout
Troops of the First Military Region raided on Wednesday a den of terrorists in al-Aqad area in Sayoun town of Hadramout province, killing three al-Qaeda terrorists and injuring others.
A military source in the First Military Region's command said that the clashes with the terrorists resulted in injuring of a soldiers.


Presidential committee in Saada
- The presidential national committee headed by Deputy Prime Minister Dr. Ahmed Obaid bin Daghr has continued its meetings in Saada province with the leadership of Ansar Allah Abdul-Malik al-Houthi.
The official spokesman of the presidential committee, Abdul-Malik al-Mikhlafi, said that the committee presented during the meetings a comprehensive agreement draft.
Al-Mikhlafi pointed out that the committee discussed with the leadership of Ansar Allah


Army raids terrorist cell in Hadramout
Military units of the second Military Region raided on Monday a villa in 60 street in Mukala, which was used as a den by a terrorist cell to carry out terrorist acts.
A military source at the Military Region command said on Tuesday that the military forces surrounded the villa after receiving the information about the existence of a terrorist cell and clashed with the terrorists.