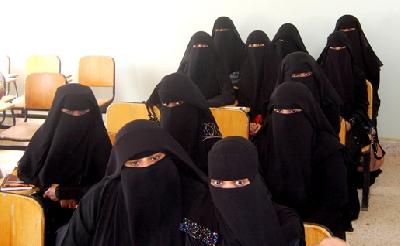 Yemen, international partners seek to increase access to schools
Almotamar.net - More than seven million Yemeni girls and boys started on Saturday the new school year. In addition, it is expected that about 800,000 children will be enrolled in the first primary grade, according to the Ministry of Education.

In cooperation with UNICEF and other partners including USAID's Responsive Governance Project (RGP), CHF International and Save The Children, Education Ministry has launched a nationwide Back-To-School campaign aimed at increasing the number of children going to school and reducing dropout during the school year 2011-2012.

"Given the government's commitment to provide access to education for all children of school age, the ministry is working now with partners on the implementation of the Back to School campaign to ensure all students are back to school nationwide and mainly in the affected areas," said the Minister of Education, Dr. Abdul-Salam al-Jawfi.

The Back-to-School campaign seeks to increase access to schools and reduce dropout during the school year 2011-2012 by raising the awareness of communities about the value of education and importance of sending children to schools, the distribution of learning teaching supplies to 885,750 displaced persons, host communities and vulnerable groups, in order to make sure they do not fall through the cracks, as well as training more than 4000 untrained or poorly trained teachers to be able to impart quality education as well as psychosocial support.

Despite many challenges seen in many parts of Yemen today, sending children to school should be a top priority for parents, communities as well as the government. Towards that end, a national emergency committee and field taskforce teams are on the ground in different regions working continuously for accelerated implementation and follow-up of the campaign.

"Without an educated population, no country thrives", says UNICEF Yemen representative Geert Cappelaere. "In a country where only 70% of boys and 60% of girls receive basic education, no effort should be spared in making sure every single child is sent to school this year. Aside from the provision of supplies and training of teachers, we try to achieve this by raising the awareness of communities on the value of education and importance of sending children to schools, especially girls."

On another note, RGP Acting Chief of Party, Mehboob Karim believes that the comprehensive media campaign on TV, radio, newspapers and other publicity materials will effectively contribute to raising the awareness of parents throughout Yemen about education, and encourage them to send their children to school.

"Our engagement in the implementation of the campaign was to raise the profile of education and establish an effective partnership with the Yemeni government, international organizations and civil society organizations," Karim said. "The media awareness campaign was skilfully crafted around chronic and emergency issues including girls' education, child labor and armed conflict."

The teacher training program – as a major component of the Back-to-School campaign - represents an attempt to improve the quality of education, a fundamental pillar for sustainable development, according to CHF Country Director, Roberta Contin.

"I would like to stress the importance of implementing such capacity building interventions in regions with emergencies where teachers are set to provide psychosocial support for children aside from traditional education".

The Minister of Education emphasized that the campaign cannot achieve its full potential of increasing rates of enrolment without real cooperation from all stakeholders at national and local levels.

"Education is a collective responsibility for everyone," said Minister Al-Jawfi. "We urge everybody to make sure that all our school-age daughters and sons are back in school by 17 September. We also appeal to political parties, community organizations, and the media and mosque preachers to enthusiastically engage during the campaign and ensure that access to education is guaranteed to all children without any exception.

"We are confident that teachers and educators will be at the level of national responsibility and will always provide the appropriate atmosphere for a smooth scholastic year," Al-Jawfi concluded.


---

UN: Negotiation is the only option for resolving Yemen's crisis
The United Nations Secretary-General underlined that the only option for resolving the crisis in Yemen is negotiation.
Mr. Ban Ki-moon "is aware of reports that other States, in particular members of the Gulf Cooperation Council, are also supporting these [Military] operations," said a statement released from the office of the UN chief's spokesperson.
Mr. Ban called for ensuring the protection of civilians and emphasized that "negotiations remain the only option for ultimately resolving the crisis."


Pakistan Denies Allegations Of Air Strikes Involvement In Yemen
A clarification message from the Pakistani embassy in Sana'a denies the rumors of Pakistan involvement on the air strikes against Yemen.
The source was surprised of including the name of Pakistan to the list of countries who participated in last night air strikes on Sana'a and other Yemeni cities.
Ambassador to Yemen Dr. Irfan Shami said, Several international media reports are erroneously reporting that Pakistani aircraft were involved in the air strikes launched by the GCC coalition against Yemen in the early morning of Thursday, 26 March 2015.


OIC calls Yemeni parties to give priority to Yemen interests
The Secretary-General of the Organization of Islamic Cooperation (OIC) Iyad Madani called on all Yemeni parties to act wisely and put the interests of Yemen above all political, tribal and sectarian accounts.
In a statement aired by Saudi Press Agency (SPA), Madani described the developments that are currently taking place in Yemen as "serious".
Madani urged all parties to avoid the military option and to response to the international and regional efforts that call for a comprehensive national dialogue to find a peaceful way out of the deepening crisis in Yemen


UN envoy says Yemen on 'rapid downward spiral' as tensions rise
Yemen stands on the brink of civil war amid deepening political tensions and an uptick in sectarian violence, United Nations Special Adviser Jamal Benomar warned [Yesterday] as he explained that only through dialogue could the country achieve a peaceful political transition.
Briefing the Security Council via video conference in a rare Sunday session, Mr. Benomar told the UN body that Yemen was on a "rapid downward spiral" as the conflict took on "worrying sectarian tones and deepening north-south divisions."
"Emotions are running extremely high and, unless solutions can be found, the country will fall into further violent confrontations," Mr. Benomar declared. "Events in Yemen are leading the country away from political settlement and to the edge of civil war."
The situation in Yemen has been rapidly deteriorating since the country formed a new Government in November 2014 aimed at ending a period of political turbulence and bringing about a full transition towards democracy. Nonetheless, the country has continued to be plagued by violence and mass political demonstrations despite UN efforts to bring about a peaceful political resolution


Yemen's unity, stability face huge threats : Egyptian FM
Yemen's unity and stability are under huge threats, which casts serious consequences for the Arab region and the international peace and security, Egypt's Foreign Minister Sameh Shoukry said on Monday.
"Yemen is facing multiple challenges, which makes it imperative to help Yemen and drag it away from the edge of the abyss ", Shoukry said in his speech during the Arab League Council meeting at the ministerial level held in Cairo.
He reiterated Egypt's support for the institutions of the state in Yemen to carry out their national responsibilities in maintaining the unity of Yemeni territory.


Humanitarian response plan requires US $747.5 mln for 2015: UN
The United Nations announced on Sunday the launch of the humanitarian response plan for Yemen for 2015 with an amount of US $747.5 million to deliver humanitarian aid to 8.2 million people.
Humanitarian Coordinator in Yemen Johannes Van Der Klaauw said that the latest developments in Yemen confirm the importance of continuing humanitarian aid and expanding its domain to reach millions of vulnerable Yemeni people.
"Despite the political unrest in Yemen, the humanitarian community will continue to work in Yemen at its full capacity and within strong partnerships with local communities and local partners," Klaauw added.
He said that the humanitarian agencies are adhered to continue to deliver emergency humanitarian assistance and to provide protection services for people within the vulnerable groups.
He called on all donors and concerned parties to support such efforts and provide humanitarian response plan for Yemen during the current year.


UN envoy denies deal with Houthis on presidential council formula
The UN envoy to Yemen Jamal Benomar has denied what was reported by some Arab and Yemeni media about an alleged deal between him and Houthis' leader on a presidential council formula.
"I deny altogether these erroneous interpretations", the UN envoy said.
Those who sit at the dialogue table to negotiate with the Houthis (Ansarullah) are Yemeni parties, including the party of the person who made the false statements referred to above, Benomar added.
The UN envoy's role is limited to facilitating the negotiation process and mediation between the parties, and therefore he is not a party to the negotiations, he explained.
He went on: "The UN envoy will not be a party to any agreement because he represents a neutral party that does not have political interests in Yemen."
The presidential council formula is not the idea of the UN envoy, but it is an option adopted by several negotiating parties", he affirmed.


UNSC calls on political parties to reach political agreement
The United Nations Security Council (UNSC) renewed on Wednesday its call for all political parties in Yemen to implement the Council's relevant resolutions, especially the resolution 2201.
The council urged Yemeni political parties to reach a political agreement based on the Gulf initiative and the Peace and National Partnership Agreement (PNPA), confirming its respect to the unity, sovereignty and territorial integrity of Yemen.
Chaired by Francois Delattre, the ambassador and Permanent Mission of France to the United Nations in New York, the UNSC confirmed its support for the efforts made by the UN Special adviser on Yemen Jamal Benomar.
In closed consultations which lasted for more than two hours, Delattre said, "We have heard Benomar's briefing over the latest developments in Yemen, reviewing our concerns the lack of political solutions as well as growing of terrorist threats due to the ongoing security vacuum."