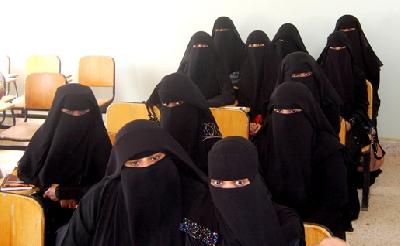 Yemen, international partners seek to increase access to schools
Almotamar.net - More than seven million Yemeni girls and boys started on Saturday the new school year. In addition, it is expected that about 800,000 children will be enrolled in the first primary grade, according to the Ministry of Education.

In cooperation with UNICEF and other partners including USAID's Responsive Governance Project (RGP), CHF International and Save The Children, Education Ministry has launched a nationwide Back-To-School campaign aimed at increasing the number of children going to school and reducing dropout during the school year 2011-2012.

"Given the government's commitment to provide access to education for all children of school age, the ministry is working now with partners on the implementation of the Back to School campaign to ensure all students are back to school nationwide and mainly in the affected areas," said the Minister of Education, Dr. Abdul-Salam al-Jawfi.

The Back-to-School campaign seeks to increase access to schools and reduce dropout during the school year 2011-2012 by raising the awareness of communities about the value of education and importance of sending children to schools, the distribution of learning teaching supplies to 885,750 displaced persons, host communities and vulnerable groups, in order to make sure they do not fall through the cracks, as well as training more than 4000 untrained or poorly trained teachers to be able to impart quality education as well as psychosocial support.

Despite many challenges seen in many parts of Yemen today, sending children to school should be a top priority for parents, communities as well as the government. Towards that end, a national emergency committee and field taskforce teams are on the ground in different regions working continuously for accelerated implementation and follow-up of the campaign.

"Without an educated population, no country thrives", says UNICEF Yemen representative Geert Cappelaere. "In a country where only 70% of boys and 60% of girls receive basic education, no effort should be spared in making sure every single child is sent to school this year. Aside from the provision of supplies and training of teachers, we try to achieve this by raising the awareness of communities on the value of education and importance of sending children to schools, especially girls."

On another note, RGP Acting Chief of Party, Mehboob Karim believes that the comprehensive media campaign on TV, radio, newspapers and other publicity materials will effectively contribute to raising the awareness of parents throughout Yemen about education, and encourage them to send their children to school.

"Our engagement in the implementation of the campaign was to raise the profile of education and establish an effective partnership with the Yemeni government, international organizations and civil society organizations," Karim said. "The media awareness campaign was skilfully crafted around chronic and emergency issues including girls' education, child labor and armed conflict."

The teacher training program – as a major component of the Back-to-School campaign - represents an attempt to improve the quality of education, a fundamental pillar for sustainable development, according to CHF Country Director, Roberta Contin.

"I would like to stress the importance of implementing such capacity building interventions in regions with emergencies where teachers are set to provide psychosocial support for children aside from traditional education".

The Minister of Education emphasized that the campaign cannot achieve its full potential of increasing rates of enrolment without real cooperation from all stakeholders at national and local levels.

"Education is a collective responsibility for everyone," said Minister Al-Jawfi. "We urge everybody to make sure that all our school-age daughters and sons are back in school by 17 September. We also appeal to political parties, community organizations, and the media and mosque preachers to enthusiastically engage during the campaign and ensure that access to education is guaranteed to all children without any exception.

"We are confident that teachers and educators will be at the level of national responsibility and will always provide the appropriate atmosphere for a smooth scholastic year," Al-Jawfi concluded.


---

Death Stole Them But Their Work Immortalized Them
Yemen has lost many women who have struggled in highlighting the role that women have played in social advancement. Death took these bright minds from Yemen, however, they have left a huge impact in Yemenis hearts and minds that cannot be erased.
In this special issue, National Yemen highlighted stories and achievements of three great women who passed away, though their achievements are still discussed. We are especially pleased to showcase that disabled Yemeni women also have much to contribute


Yemeni-Omani relations discussed in Cairo
Foreign Minister Abo Baker al-Qirbi discussed Sunday with Yousuf Bin Alawi Bin Abdullah, Minister Responsible for Foreign Affairs of Sultanate of Oman, aspects of the Yemeni-Omani distinctive relations and means to enhance them.


Yemeni, Saudi FM discuss issues of common concern
Foreign Minister Abo Baker al-Qirbi met Sunday with Saudi Arabia's Foreign Minister Prince Saud al-Faisal, in the meeting's sidelines of the 141st regular session of the Arab foreign ministers in Cairo.


Decrees identify, form Constitution Drafting Committee actions, members
The Presidential decrees Nos.(26& 27) for 2014 were issued Saturday determining the work mechanism of the Constitution Drafting Committee and forming the committee's members.
The first decree includes six chapters containing objectives and principles, constitution drafting committee and its general secretariat, the committee's mechanism of action, the preparation and publication of the constitution's draft, consultations and amendments, and finally the last chapter is on the final provisions.


FM partakes in Arab FMs meeting in Cairo
Foreign Minister Abu Bakr al-Qirbi headed on Saturday for Cairo, Egypt, to participate in the meeting of the 141st regular session of the Arab foreign ministers.
The meeting to kick off on Sunday at the Arab League's headquarters would discuss many important files, topped by the preparations for the upcoming Arab summit to be held in Kuwait on 25-26 of this month, al-Qirbi said.


Four terrorists, including Saudi, killed in attack in Abyan
Terrorist militants attacked on Saturday a checkpoint of the 115th Brigade in Lawder town in Abyan province, a military official said.
They were equipped with explosive belts, grenades and heavy machineguns, he said, adding that four of the attackers, including a Saudi national, were killed.
Two soldiers were killed and one other injured in the attack, the official said.


GPC delegation meets Prime Minister of Djibouti
General People's Congress (GPC) delegation met Prime Minister of Djibouti, Abdualqader Kamel in their visit to the country. During the meeting, both sides discussed bilateral relations and ways of developing them as well as discussing a number of issues of common interest between the two countries.
The occasion of the GPC delegation visit was to attend the 35 Conference of the ruling Party in Djibouti, which took place during the period from 3 until 4 March.


Statement Of GPC and its Allies on Security Council Resolution 2140
The General Congress Committee of the General People's Congress and the Higher Council of the National Democratic Coalition held an extraordinary meeting presided by Ali Abdullah Saleh , the president of the GPC ,during which they examined The Security Council Resolution 2140 on Yemen .
The General Congress Committee and the Coalition parties appreciated the resolution's reaffirmation of strong commitment to the unity , sovereignty , independence and territorial integrity of Yemen , its welcoming the outcomes of the comprehensive National Dialogue Conference which