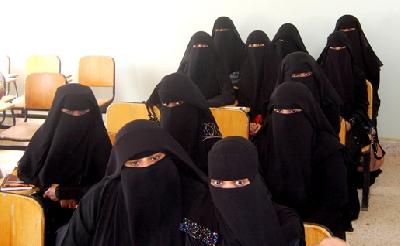 Yemen, international partners seek to increase access to schools
Almotamar.net - More than seven million Yemeni girls and boys started on Saturday the new school year. In addition, it is expected that about 800,000 children will be enrolled in the first primary grade, according to the Ministry of Education.

In cooperation with UNICEF and other partners including USAID's Responsive Governance Project (RGP), CHF International and Save The Children, Education Ministry has launched a nationwide Back-To-School campaign aimed at increasing the number of children going to school and reducing dropout during the school year 2011-2012.

"Given the government's commitment to provide access to education for all children of school age, the ministry is working now with partners on the implementation of the Back to School campaign to ensure all students are back to school nationwide and mainly in the affected areas," said the Minister of Education, Dr. Abdul-Salam al-Jawfi.

The Back-to-School campaign seeks to increase access to schools and reduce dropout during the school year 2011-2012 by raising the awareness of communities about the value of education and importance of sending children to schools, the distribution of learning teaching supplies to 885,750 displaced persons, host communities and vulnerable groups, in order to make sure they do not fall through the cracks, as well as training more than 4000 untrained or poorly trained teachers to be able to impart quality education as well as psychosocial support.

Despite many challenges seen in many parts of Yemen today, sending children to school should be a top priority for parents, communities as well as the government. Towards that end, a national emergency committee and field taskforce teams are on the ground in different regions working continuously for accelerated implementation and follow-up of the campaign.

"Without an educated population, no country thrives", says UNICEF Yemen representative Geert Cappelaere. "In a country where only 70% of boys and 60% of girls receive basic education, no effort should be spared in making sure every single child is sent to school this year. Aside from the provision of supplies and training of teachers, we try to achieve this by raising the awareness of communities on the value of education and importance of sending children to schools, especially girls."

On another note, RGP Acting Chief of Party, Mehboob Karim believes that the comprehensive media campaign on TV, radio, newspapers and other publicity materials will effectively contribute to raising the awareness of parents throughout Yemen about education, and encourage them to send their children to school.

"Our engagement in the implementation of the campaign was to raise the profile of education and establish an effective partnership with the Yemeni government, international organizations and civil society organizations," Karim said. "The media awareness campaign was skilfully crafted around chronic and emergency issues including girls' education, child labor and armed conflict."

The teacher training program – as a major component of the Back-to-School campaign - represents an attempt to improve the quality of education, a fundamental pillar for sustainable development, according to CHF Country Director, Roberta Contin.

"I would like to stress the importance of implementing such capacity building interventions in regions with emergencies where teachers are set to provide psychosocial support for children aside from traditional education".

The Minister of Education emphasized that the campaign cannot achieve its full potential of increasing rates of enrolment without real cooperation from all stakeholders at national and local levels.

"Education is a collective responsibility for everyone," said Minister Al-Jawfi. "We urge everybody to make sure that all our school-age daughters and sons are back in school by 17 September. We also appeal to political parties, community organizations, and the media and mosque preachers to enthusiastically engage during the campaign and ensure that access to education is guaranteed to all children without any exception.

"We are confident that teachers and educators will be at the level of national responsibility and will always provide the appropriate atmosphere for a smooth scholastic year," Al-Jawfi concluded.


---

Yemen, UNHCR sign MoU on health services for refugees
The Ministry of Public Health and Population and the UNHCR signed on Wednesday a memorandum of understanding (MoU) to provide health services for refugees and asylum seekers in Yemen.
Under the MoU, the refugees and asylum seekers will get preventive and curative services and health support and will benefit from the health programs given by the ministry for AIDS patients.
The memo obligates the health ministry and its offices in the Capital Sana'a and in the provinces of Aden, Lahj and Hadramout to provide health services for refugees for three years


UNSC extends sanctions
The UN Security Council adopted on Tuesday a unanimous Resolution No. (2204) extending sanctions on individuals and entities involved in acts threatening peace, security and stability in Yemen which reflects


First Military Region's commander escapes assassination
The First Military Region's commander Abdulrahman al-Halili survived an assassination attempt, a military source said on Monday.
One of the commander's guards was killed and six others injured when a bomb planted at roadside exploded targeting his motorcade in al-Qatan district in Hadramout province, the Defense Ministry's website quoted the military source as saying.


Arab League to discuss Yemeni developments in March
The General Secretariat of the Arab League said the latest developments in Yemen will be discussed within the agenda of the 143rd session of the League's Ministerial Council next month.
"It was agreed to discuss the latest developments in Yemen within the agenda of the regular session of the Arab League Council at the level of Arab foreign ministers to be held in March 09 - 10 in Cairo", Arab League's Deputy Secretary-General Ambassador Ahmed Ben Helli said in a press statement on Sunday.


Benomar: Political parties agree on legislative authority
The UN Secretary General Advisor on Yemen Affairs Jamal Benomar has announced that the political parties reached progress in the dialogue in preparation for a comprehensive dialogue.
Benomar said that the political powers had agreed on the form of the legislative power for the transitional period to ensure participation of all components which were not included in the current parliament.


Russia urges Yemeni parties to work hard to reach settlement
Russia called on Thursday Yemen's political parties to work as hard as possible to reach an agreement of the current impasse in Yemen.
All political powers did not relinquish the dialogue on forming new State's institutions, despite continuing the current crisis in Yemen," Russian Foreign Ministry spokesman Alexander Lukashevich told reporters.
He urged all political parties to speed up negotiations and show maximum flexibility in order to reach a settlement and implement the Security Council resolution 2201.


Arab Parliament rejects foreign interference in Yemen affairs
The Arab Parliament affirmed its absolute rejection of any foreign interference in Yemen internal affairs, warning that that will lead to the aggravation of the situation in the country.
In a statement issued on Tuesday, the Arab Parliament called on all Yemeni political parties to quickly reach a peaceful solution to the current impasse to maintain Yemen's unity and its territorial integrity.


UN envoy returns to Sana'a
Advisor to the Secretary General of the United Nations on Yemen Jamal Benomar returned to Sana'a on Saturday.
During the visit, Benomar would meet with the political parties and components to discuss ways to overcome the current challenges facing Yemen and steps to complete the transition period and implement the National Dialogue Conference outcomes


Smuggling boat sinks in Yemen waters, 13 saved
A small smuggling boat carrying 49 Africans sank on Monday off southwest coast of Yemen between Miyun Island and Thubab coast after it capsized due to strong currents and waves.
Commander of the 17th Infantry Brigade Brigadier Saleh al-Sobari explained that the brigade patrols managed to rescue five Somalis, including a woman, and eight Ethiopians before drowning and recovered a body of a Somali.


Yemen decries killing of Japanese hostage Kenji
Yemen condemned on Monday the killing of the second Japanese citizen by the Islamic State of Iraq and the Levant (ISIL).
In its statement, the Foreign Ministry said that the murder of Japanese citizen, Kenji Goto, is inconsistent with the basic principles of humanity and morality.
Yemen expressed deep sorrow for the criminal incident and offered its condolences to the friendly people and government of Japan, the statement said.