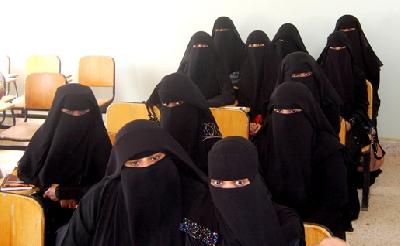 Yemen, international partners seek to increase access to schools
Almotamar.net - More than seven million Yemeni girls and boys started on Saturday the new school year. In addition, it is expected that about 800,000 children will be enrolled in the first primary grade, according to the Ministry of Education.

In cooperation with UNICEF and other partners including USAID's Responsive Governance Project (RGP), CHF International and Save The Children, Education Ministry has launched a nationwide Back-To-School campaign aimed at increasing the number of children going to school and reducing dropout during the school year 2011-2012.

"Given the government's commitment to provide access to education for all children of school age, the ministry is working now with partners on the implementation of the Back to School campaign to ensure all students are back to school nationwide and mainly in the affected areas," said the Minister of Education, Dr. Abdul-Salam al-Jawfi.

The Back-to-School campaign seeks to increase access to schools and reduce dropout during the school year 2011-2012 by raising the awareness of communities about the value of education and importance of sending children to schools, the distribution of learning teaching supplies to 885,750 displaced persons, host communities and vulnerable groups, in order to make sure they do not fall through the cracks, as well as training more than 4000 untrained or poorly trained teachers to be able to impart quality education as well as psychosocial support.

Despite many challenges seen in many parts of Yemen today, sending children to school should be a top priority for parents, communities as well as the government. Towards that end, a national emergency committee and field taskforce teams are on the ground in different regions working continuously for accelerated implementation and follow-up of the campaign.

"Without an educated population, no country thrives", says UNICEF Yemen representative Geert Cappelaere. "In a country where only 70% of boys and 60% of girls receive basic education, no effort should be spared in making sure every single child is sent to school this year. Aside from the provision of supplies and training of teachers, we try to achieve this by raising the awareness of communities on the value of education and importance of sending children to schools, especially girls."

On another note, RGP Acting Chief of Party, Mehboob Karim believes that the comprehensive media campaign on TV, radio, newspapers and other publicity materials will effectively contribute to raising the awareness of parents throughout Yemen about education, and encourage them to send their children to school.

"Our engagement in the implementation of the campaign was to raise the profile of education and establish an effective partnership with the Yemeni government, international organizations and civil society organizations," Karim said. "The media awareness campaign was skilfully crafted around chronic and emergency issues including girls' education, child labor and armed conflict."

The teacher training program – as a major component of the Back-to-School campaign - represents an attempt to improve the quality of education, a fundamental pillar for sustainable development, according to CHF Country Director, Roberta Contin.

"I would like to stress the importance of implementing such capacity building interventions in regions with emergencies where teachers are set to provide psychosocial support for children aside from traditional education".

The Minister of Education emphasized that the campaign cannot achieve its full potential of increasing rates of enrolment without real cooperation from all stakeholders at national and local levels.

"Education is a collective responsibility for everyone," said Minister Al-Jawfi. "We urge everybody to make sure that all our school-age daughters and sons are back in school by 17 September. We also appeal to political parties, community organizations, and the media and mosque preachers to enthusiastically engage during the campaign and ensure that access to education is guaranteed to all children without any exception.

"We are confident that teachers and educators will be at the level of national responsibility and will always provide the appropriate atmosphere for a smooth scholastic year," Al-Jawfi concluded.


---

GPC chairman receives the ICRC delegation of the Red Cross
Ali Abdullah Saleh, chairman of the General People's Congress (GPC), received Mr. Sidrek Shafaizer, Chief of the International Committee Mission of the Red Cross. The meeting discussed the ICRC humanitarian activities in Yemen in order to provide services in the areas affected by conflict armed.
Shafaizer confirmed that International Committee almost has 250 activist disrupted among many Yemeni governorate like Sana'a, Aden, Taiz, Sa'ada, and Dalea.


124 children kidnapped in Yemen in 2013
The number of kidnapped children in Yemen during the last year reached 124, including 105 males and 19 females, Head of Seyaj Organization for childhood protection Ahmed Al-Qershi has said.
Al-Qershi added that most of the abducted children were victims of human trafficking .
In a press conference organized in Sana'a by the Monitoring and Advocating Center in Seyaj on the occasion of launching the first annual report on kidnapping children in Yemen 2013
al-Qershi confirmed that only 19 of children kidnapping cases were reported by their parents.


Yemeni Female Prisoners: Between Bitterness And Social Rejection
Safi did not commit any crime that deserved imprisonment. She was only friends with a man in a society that did not believe in that. Since her childhood, she used to have her friend drive her places because she trusted him, and never thought about it. One night, though, his car stalled and he went to repair it. A group of men demanded money from them, otherwise they would call the police and imprison them for immorality. The two friends did not listen, and as a result, Safi found herself in jail.
Safi didn't face as many problems in prison as she did with society and her family. Once they found out, they left her to face things alone. One year passed, and when she was released, her eyes were filled with tears.


AL-Qirbi meets GCC office director
Foreign Minister Abu Bakr al-Qirbi met here on Tuesday with director of the GCC office in Sana'a Saad al-Arifi.
During the meeting, they reviewed the ongoing arrangements for the Friends of Yemen next meeting to be held in London on 29 April, as well as the latest developments in the local and international arenas.


Yemen, US discuss cooperation in information technology
Yemen and the US reviewed here on Tuesday aspects of joint cooperation in the telecommunication and information technology fields.
During their meeting, Minister of Telecommunication and Information Technology Ahmed bin Daghr and Chargé d'affaires of the US embassy Karen Sasahara discussed the possible means of Yemen to benefit from the US telecommunication experiences and technologies.


President Hadi congratulates Marie-Louise Coleiro for being elected as new President
President Abdu Rabbu Mansour Hadi sent a cable of congratulations to new President of Malta, Marie-Louise Coleiro Preca.
Hadi in his cable congratulated Coleiro for being elected by Malta's parliament as a new President of the Republic of Malta, wishing her all success in carrying out her new tasks.
Last week, Marie-Louise Coleiro Preca was elected President of the Republic of Malta. A Parliamentary resolution on 1st April 2014, approved her nomination as the ninth President of Malta.


Poverty And Early Marriage Two Sides For The Same Problem
Anxiety is affecting many Yemeni girls who are groaning under the burden of economic problems, which is one of the primary motivations for child marriage in the country. Mohammed Ali, a father of five daughters, said that he was fired from his job three years ago, and lost the income needed to provide them with a good education and comfortable life.
"I really feel guilty when I accept a marriage proposal for one of my daughters while she is still a child, but nothing is in my hands. Poverty leaves no way in front of me."
Academic studies say that 52% of Yemeni girls accept marriage in their early years to escape poverty. The study also said that boys are also affected by the phenomenon.


Yemen, UK review arrangements for Friends' meeting
Yemen and Britain reviewed on Monday the current arrangements for the Friends of Yemen meeting scheduled to be held in London on 29 April 2014.
This came during a meeting gathered in London Yemen's ambassador to Britain Abdullah al-Radhi and the British Minister of State for International Development Alan Duncan .
Al-Radhi underlined the importance of activating the Group of Friends through the new mechanism to be adopted in the London meeting.
In the meeting, Duncan praised the role and steps made by President Abd Rabbo Mansour Hadi during the transitional phase.


Friends of Yemen meeting in London 29 April
The governments of the UK, Saudi Arabia and Yemen will co-chair the next Friends of Yemen meeting in London on 29 April, the UK Foreign & Commonwealth Office said in a press release on Monday.
The Friends of Yemen was established in 2010 to co-ordinate international support for Yemen and comprises 39 countries and organisations.
"With the conclusion of the National Dialogue Conference (NDC) earlier this year, Yemen has entered a new stage in its transition towards a constitutional referendum and elections", the UK Foreign & Commonwealth Office added.


President Hadi receives sheiks and dignitaries from al-Mahra and Socotra Archipelago
President Abdu Rabbu Mansour Hadi received on Sunday at the Presidential Palace sheiks and dignitaries of al-Mahra and Socotra Archipelago provinces.
At the meeting, Hadi indicated to the critical situation Yemen has been experiencing nowadays, which needs as he said all national efforts in order to translate the NDC outcomes on the ground. "Yemen has got out of its crisis fairly and honorable,'' the President said.
He confirmed that the cooperation by the international community averted Yemen from dragging into several risks and dangers based on the expending the responsibility, wealth, and power under a new federal system which would achieve justice and fair.