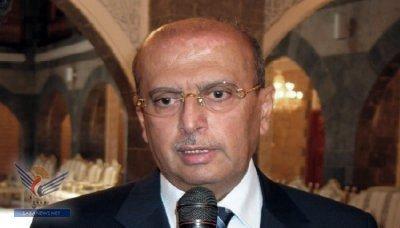 Some HRC report's findings need clarifications, FM says
Almotamar.net - The findings of the Human Right Council (HRC) mission's visit to Yemen were on the whole balanced except some information that still need some clarifications, Foreign Minister said here Saturday.

Abu Bakr al-Qirbi made the statement upon his departure to Geneva to present the Yemeni side's clarifications on the mission's report in the HRC meeting to be held on Monday to review the report.

He attributed the deficiency in the report's findings to the shortness of the mission's visit and inability to check documents pertaining to a number of issues mentioned in the report

"We will pose many of such issues. We will affirm that Yemen is keen on considering all human rights abuses and to be brought to court if there is an evidence", al-Qirbi said

"We want the truth", the Foreign Minister said, pointing that the HRC mission's visit to the country was based on a request from the Yemeni government to refute the false claims on human rights issues.


---

Sudan congratulates Yemen National Salvation Government
The Sudan's community in Yemen congratulated the formation of the Yemeni new National Salvation Government.
"On behalf of the Sudanese community and all the freemen of the Sudanese people who are anti-Saudi aggression on the brotherly Yemeni people, we congratulate the formation of the Yemeni new National Salvation Government," the Sudanese


SPC deplores negative reactions towards forming national salvation government
The Supreme Political Council strongly deplored some negative reactions made towards the formation of the National Salvation Government, saying the formation of the new government came in response to the will of the Yemeni people in the face of the Saudi aggression that targets the Yemeni people, their land and destroys all Yemeni resources


National salvation government convenes first meeting after sworn-in
Prime Minister Abdulaziz bin Habtour convened the first meeting of the newly-formed national salvation government here in the capital Sanaa to assume responsibilities.
The meeting was held on Tuesday after the new cabinet was sworn in before president of the Supreme Political Council, Saleh al-Sammad.


Leader Ali Abdullah Saleh congratulates nation on Independence Day
Former President of the Republic of Yemen, president of the General People's Congress, strongman Ali Abdullah Saleh congratulated the Yemeni people on the occasion of the 49th anniversary of the independence day, when Yemen got freedom from Britain in 30th November 1967, calling the nation to move forward for more and more victories.
Saleh's congratulation came in a speech to the nation late on Tuesday on the eve of the independence day.