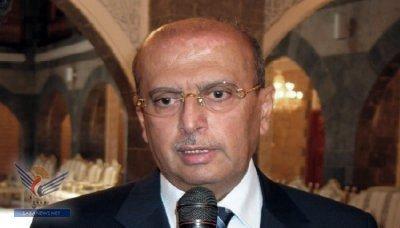 Some HRC report's findings need clarifications, FM says
Almotamar.net - The findings of the Human Right Council (HRC) mission's visit to Yemen were on the whole balanced except some information that still need some clarifications, Foreign Minister said here Saturday.

Abu Bakr al-Qirbi made the statement upon his departure to Geneva to present the Yemeni side's clarifications on the mission's report in the HRC meeting to be held on Monday to review the report.

He attributed the deficiency in the report's findings to the shortness of the mission's visit and inability to check documents pertaining to a number of issues mentioned in the report

"We will pose many of such issues. We will affirm that Yemen is keen on considering all human rights abuses and to be brought to court if there is an evidence", al-Qirbi said

"We want the truth", the Foreign Minister said, pointing that the HRC mission's visit to the country was based on a request from the Yemeni government to refute the false claims on human rights issues.


---

Mercenaries kill, abduct hundreds of al-Serari people
The Riyadh's mercenaries have killed and abducted hundreds and destroyed tens of houses of al-Serari village's citizens in Taiz province, a local report said on Wednesday.
The report showed that the mercenaries have abducted at least 125 civilians form al-Serari, al-Hyyar and Thi al-Brah villages in Saber-al


UN Coordinator calls for immediate truce in Taiz
The UN Humanitarian Coordinator for Yemen called on Wednesday for an immediate humanitarian truce in Taiz province.
"I call on all parties to agree immediately to a humanitarian pause," said Jamie McGoldrick in a statement issued yesterday by the UN Office for the Coordination of Humanitarian Affairs (OCHA).
James McGoldrick voiced an alarm at increasing bloodshed in the southwestern Taiz province, particularly al-Serari area.


Missile force bombards hirelings at 115th Brigade in Jawf
The missile force of the army and popular committees targeted on Tuesday the hirelings gatherings at the 115th Brigade Camp in al-Hazm city of Jawf province.
A military official told Saba that the army and popular committees fired barrages of Katyusha missiles on hirelings at the 115th Brigade Camp,


Hirelings burn over 50 houses in al-Sarari village
The Saudi aggression's hirelings burned more than 50 houses after looting them in al-Sarari village in Taiz province, a local official said on Tuesday.
The official pointed out that the burning of houses and detaining of people is still continuing in al-Sarari village, noting that over 38 citizens were detained from al-Sarari village and the neighboring village of Thi-al-Barh