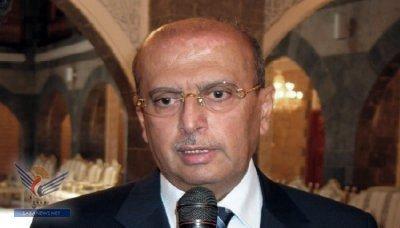 Some HRC report's findings need clarifications, FM says
Almotamar.net - The findings of the Human Right Council (HRC) mission's visit to Yemen were on the whole balanced except some information that still need some clarifications, Foreign Minister said here Saturday.

Abu Bakr al-Qirbi made the statement upon his departure to Geneva to present the Yemeni side's clarifications on the mission's report in the HRC meeting to be held on Monday to review the report.

He attributed the deficiency in the report's findings to the shortness of the mission's visit and inability to check documents pertaining to a number of issues mentioned in the report

"We will pose many of such issues. We will affirm that Yemen is keen on considering all human rights abuses and to be brought to court if there is an evidence", al-Qirbi said

"We want the truth", the Foreign Minister said, pointing that the HRC mission's visit to the country was based on a request from the Yemeni government to refute the false claims on human rights issues.


---

Army missile unites target mercenaries in Sourwah
The missile units of the army and popular force targeted on Friday gatherings of Saudi-paid mercenaries in Sourwah district of Marib province, a military official said.
Dozens of mercenaries were killed and wounded, Including Colonel Saleh Al-Kahli Al-Bukhaiti, commander of a battalion of mercenaries with a number of his companions, the official added.


Mercenaries launch artillery attacks on citizens' houses in Serwah
The Saudi-paid mercenaries launched on Friday intensively artillery and missile attacks on houses and farms of citizens in Serwah district of Mareb province.
A local official said that and artillery bombardment of the mercenaries targeted the areas of the airport, al-Haglan, Wadi Nawa and Souk Serwah, and caused great damage to the houses and farms of citizens.


49 Yemeni civilians killed in 212 Saudi aggression airstrikes in six days
At least 49 civilians were killed, Including thirteen children and six women, and 16 others wounded including a woman and child in 212 airstrikes launched by US-backed Saudi aggression warplanes on several Yemeni provinces over the past six days, officials and residents said.
In Sanaa province, the aggression warplanes launched 55 air strikes on the districts of Nehm, Hamdan, Sanhan, Belad Alroos.