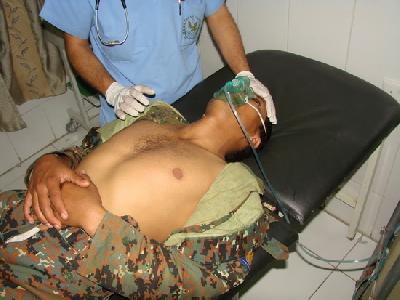 Islah militia, 1st armored division burn power generators
Almotamar.net-saba - Militias of the Islah opposition party and 1st armored division staged Sunday an unlicensed demonstration come out from the University Square.

A security source from the Interior Ministry said that the militias have thrown molotov bombs at a power station behind the Old University resulting on burning power generators.

They also attacked the anti-riot forces and wounded four soldiers and blaze a military vehicle, the source said.

The source added that the militias have also launched a similar attack against anti-riot forces at Kentaky intersection in Al-Zubairi street.

---

Yemen to partake in FMs' meetings of OIC member countries
Yemen is to partake the 40th session of Foreign Ministers Council of the Member States to the Organization of Islamic Cooperation (OIC), which will be held during the period ( December 9- 11, 2013) in the Guinean capital, Conakry.


Ashton condemns defense ministry attack
EU High Representative Catherine Ashton strongly condemned on Friday the attack on the Defense Ministry and hospital that occurred Thursday morning, causing numerous deaths and injuries.


GPC Condemns the Terrorist Attack in al-Ordi
General people Congress (GPC) condemned the terrorist attack that targeted the Ministry of Defense hospital and led to the deaths of dozens of martyrs and wounded, including foreigners.


The war on al-Qaeda has achieved tangible results: Al-Shamy
Head of the Information Office at the General People's Congress (GPC) Tareq al-Shamy has affirmed on Thursday that the Yemen war on terror is an open one and that war has achieved successes through defeating and hitting the elements of al-Qaeda organisation in Luder and al-Houta. He pointed out that the incident of attacking a car belonging to the British embassy was an attempt by al-Qaeda to send a message that it was still present and able to do anything