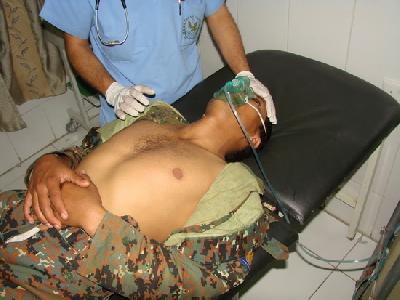 Islah militia, 1st armored division burn power generators
Almotamar.net-saba - Militias of the Islah opposition party and 1st armored division staged Sunday an unlicensed demonstration come out from the University Square.

A security source from the Interior Ministry said that the militias have thrown molotov bombs at a power station behind the Old University resulting on burning power generators.

They also attacked the anti-riot forces and wounded four soldiers and blaze a military vehicle, the source said.

The source added that the militias have also launched a similar attack against anti-riot forces at Kentaky intersection in Al-Zubairi street.

---

Saudi aggression injures two civilians in Baqem
Two civilians were injured on Wednesday in two Saudi air raids on Baqem district of Sa'ada province.
A security official said that the Saudi aggression warplanes targeted Wadi al-Jabal area in Baqem .
The official added that the aggression warplanes intensified hovering in the sky of many district in the province.


Saudi aggression warplanes wage raids on Serwah
Saudi aggression warplanes waged on Tuesday two air raids on Serwah district of Mareb province, a local official said.
The official added that the aggression warplanes targered al-Makhdrah in Serwah.
Meanwhile, Saudi mercenaries pounded houses and agricultural farms in several parts of Serwah, the official said.


Saudi aggression fighter jets kill 6 citizens in Sa'ada
Saudi aggression fighter jets killed on Tuesday six citizens and two wounded in Haydan district of Sa'ada province, a security official said.
The warplanes waged a strike on popular Souk in Maran area and left a number of the citizens died and wounded.
The official said the aggression war planes kept flying intensively over the area.


Saudi warships kill 6 family members in Taiz
A total of six citizens were killed from two families when Saudi aggression warships discriminately fired on coastal village of al-Moijr in Taiz province early Tuesday morning, an official said.
The shelling targeted citizen's houses in Shabat Hafeeth and Mahmod Hafeeth, destroying both houses and injuring five people.


Schools of Sana'a province condemn Saudi aggression's massacres against students
Schools of Sana'a province organized a protest rally to condemn the Saudi aggression air strikes the primary al-Falah school in Nehm district of Sana'a province last Tuesday.
The air strikes killed eight students and injured 15 others early morning of Tuesdasy.
The protesters expressed deep indignation against the Saudi aggression air strikes, considering it a new war crime against the Yemeni people and calling for the international community to move to stop Saudi massacres against Yemenis.