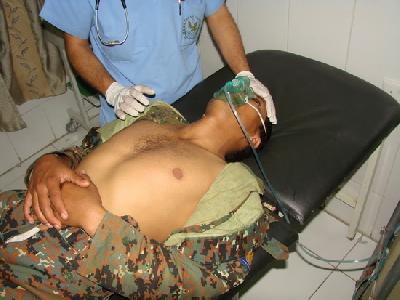 Islah militia, 1st armored division burn power generators
Almotamar.net-saba - Militias of the Islah opposition party and 1st armored division staged Sunday an unlicensed demonstration come out from the University Square.

A security source from the Interior Ministry said that the militias have thrown molotov bombs at a power station behind the Old University resulting on burning power generators.

They also attacked the anti-riot forces and wounded four soldiers and blaze a military vehicle, the source said.

The source added that the militias have also launched a similar attack against anti-riot forces at Kentaky intersection in Al-Zubairi street.

---

Army missile unites target mercenaries in Sourwah
The missile units of the army and popular force targeted on Friday gatherings of Saudi-paid mercenaries in Sourwah district of Marib province, a military official said.
Dozens of mercenaries were killed and wounded, Including Colonel Saleh Al-Kahli Al-Bukhaiti, commander of a battalion of mercenaries with a number of his companions, the official added.


Mercenaries launch artillery attacks on citizens' houses in Serwah
The Saudi-paid mercenaries launched on Friday intensively artillery and missile attacks on houses and farms of citizens in Serwah district of Mareb province.
A local official said that and artillery bombardment of the mercenaries targeted the areas of the airport, al-Haglan, Wadi Nawa and Souk Serwah, and caused great damage to the houses and farms of citizens.


49 Yemeni civilians killed in 212 Saudi aggression airstrikes in six days
At least 49 civilians were killed, Including thirteen children and six women, and 16 others wounded including a woman and child in 212 airstrikes launched by US-backed Saudi aggression warplanes on several Yemeni provinces over the past six days, officials and residents said.
In Sanaa province, the aggression warplanes launched 55 air strikes on the districts of Nehm, Hamdan, Sanhan, Belad Alroos.