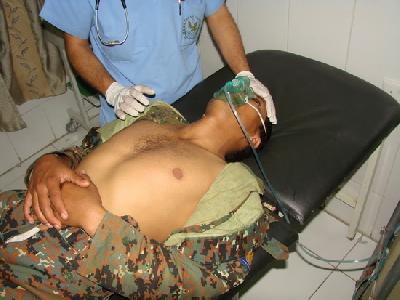 Islah militia, 1st armored division burn power generators
Almotamar.net-saba - Militias of the Islah opposition party and 1st armored division staged Sunday an unlicensed demonstration come out from the University Square.

A security source from the Interior Ministry said that the militias have thrown molotov bombs at a power station behind the Old University resulting on burning power generators.

They also attacked the anti-riot forces and wounded four soldiers and blaze a military vehicle, the source said.

The source added that the militias have also launched a similar attack against anti-riot forces at Kentaky intersection in Al-Zubairi street.

---

Sudan congratulates Yemen National Salvation Government
The Sudan's community in Yemen congratulated the formation of the Yemeni new National Salvation Government.
"On behalf of the Sudanese community and all the freemen of the Sudanese people who are anti-Saudi aggression on the brotherly Yemeni people, we congratulate the formation of the Yemeni new National Salvation Government," the Sudanese


SPC deplores negative reactions towards forming national salvation government
The Supreme Political Council strongly deplored some negative reactions made towards the formation of the National Salvation Government, saying the formation of the new government came in response to the will of the Yemeni people in the face of the Saudi aggression that targets the Yemeni people, their land and destroys all Yemeni resources


National salvation government convenes first meeting after sworn-in
Prime Minister Abdulaziz bin Habtour convened the first meeting of the newly-formed national salvation government here in the capital Sanaa to assume responsibilities.
The meeting was held on Tuesday after the new cabinet was sworn in before president of the Supreme Political Council, Saleh al-Sammad.


Leader Ali Abdullah Saleh congratulates nation on Independence Day
Former President of the Republic of Yemen, president of the General People's Congress, strongman Ali Abdullah Saleh congratulated the Yemeni people on the occasion of the 49th anniversary of the independence day, when Yemen got freedom from Britain in 30th November 1967, calling the nation to move forward for more and more victories.
Saleh's congratulation came in a speech to the nation late on Tuesday on the eve of the independence day.