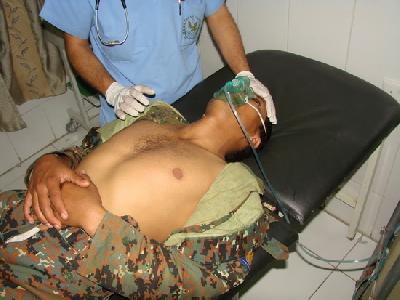 Islah militia, 1st armored division burn power generators
Almotamar.net-saba - Militias of the Islah opposition party and 1st armored division staged Sunday an unlicensed demonstration come out from the University Square.

A security source from the Interior Ministry said that the militias have thrown molotov bombs at a power station behind the Old University resulting on burning power generators.

They also attacked the anti-riot forces and wounded four soldiers and blaze a military vehicle, the source said.

The source added that the militias have also launched a similar attack against anti-riot forces at Kentaky intersection in Al-Zubairi street.

---

Saudi helicopter shot down in Mareb
An Apache helicopter of the Saudi-led coalition was shot down in Ber al-Maraziq area located between Mareb and Jawf provinces, a military official said Monday.
The official explained that the air defenses of the army and popular committees managed to target the hostile helicopter, which led to its downfall.


Aggression continues to breach ceasefire
The Saudi aggression and its hirelings continued to breach the UN-sponsored ceasefire in some provinces, a military official on Sunday.
The Saudi war jets and hirelings have bombed Haradh border outlet with missiles and artillery shells, the official said.
The hirelings in Taiz province pounded al-Serary village with different kinds of weapons.


Saudi raid kills 10 in Mocha
At least ten people were killed on Sunday in a Saudi airstrike on the coastal district of Mocha in Taiz province, a local official said.
The airstrike targeted a house, which was completely destroyed, the official said, adding the killed, including women and children, were of one family and others also were wounded in the airstrike.


Saudi warplanes wage raids on Sa'ada
The Saudi warplanes launched on Sunday two air raids on different areas in Sahr district of Sa'ada province, a military official said.
The official added the raids targeted two cold storage chambers for vegetables and fruits in Ahma-al-Talah and al-Saifi areas in Sahr district.
The official mentioned no further details about casualties.