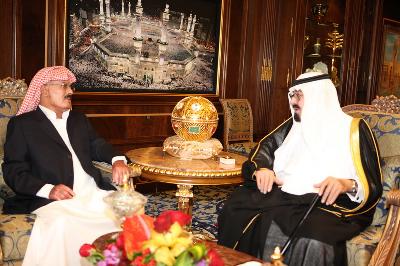 President Saleh, King Abdullah talk in Riyadh
Almotamar.net-saba - - President Ali Abdullah Saleh held in Riyadh on Monday a talk session with Saudi King Abdullah bin Abdulaziz Al Saud.

President Saleh acquainted the Saudi King with the last political developments in the Yemeni arena in the light of the president's last decree to give the Vice President a mandate to conduct a dialogue with the political parties according to the Gulf initiative, to reach an agreement on a mechanism for its implementation and sign it subsequently on the president's behalf, leading to hold an early presidential election and ensure a democratic transition of power.

President Saleh renewed his thanks to King Abdullah for his brotherly sincere attitudes, continuous follow-up to the president's health condition and the great care he and the senior state officials have received while being hospitalized in the Saudi hospitals.

King Abdullah welcomed the president's mandate decree to the Vice President, reiterating the Saudi firm stance with Yemen's security, stability and unity.


---

Army missile unites target mercenaries in Sourwah
The missile units of the army and popular force targeted on Friday gatherings of Saudi-paid mercenaries in Sourwah district of Marib province, a military official said.
Dozens of mercenaries were killed and wounded, Including Colonel Saleh Al-Kahli Al-Bukhaiti, commander of a battalion of mercenaries with a number of his companions, the official added.


Mercenaries launch artillery attacks on citizens' houses in Serwah
The Saudi-paid mercenaries launched on Friday intensively artillery and missile attacks on houses and farms of citizens in Serwah district of Mareb province.
A local official said that and artillery bombardment of the mercenaries targeted the areas of the airport, al-Haglan, Wadi Nawa and Souk Serwah, and caused great damage to the houses and farms of citizens.


49 Yemeni civilians killed in 212 Saudi aggression airstrikes in six days
At least 49 civilians were killed, Including thirteen children and six women, and 16 others wounded including a woman and child in 212 airstrikes launched by US-backed Saudi aggression warplanes on several Yemeni provinces over the past six days, officials and residents said.
In Sanaa province, the aggression warplanes launched 55 air strikes on the districts of Nehm, Hamdan, Sanhan, Belad Alroos.