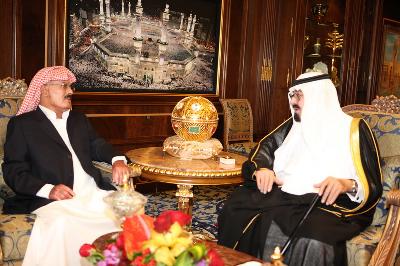 President Saleh, King Abdullah talk in Riyadh
Almotamar.net-saba - - President Ali Abdullah Saleh held in Riyadh on Monday a talk session with Saudi King Abdullah bin Abdulaziz Al Saud.

President Saleh acquainted the Saudi King with the last political developments in the Yemeni arena in the light of the president's last decree to give the Vice President a mandate to conduct a dialogue with the political parties according to the Gulf initiative, to reach an agreement on a mechanism for its implementation and sign it subsequently on the president's behalf, leading to hold an early presidential election and ensure a democratic transition of power.

President Saleh renewed his thanks to King Abdullah for his brotherly sincere attitudes, continuous follow-up to the president's health condition and the great care he and the senior state officials have received while being hospitalized in the Saudi hospitals.

King Abdullah welcomed the president's mandate decree to the Vice President, reiterating the Saudi firm stance with Yemen's security, stability and unity.


---