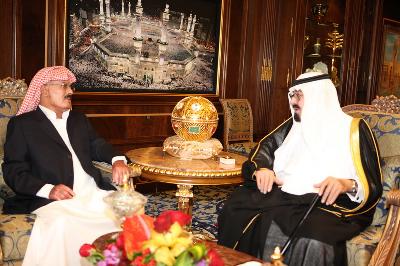 President Saleh, King Abdullah talk in Riyadh
Almotamar.net-saba - - President Ali Abdullah Saleh held in Riyadh on Monday a talk session with Saudi King Abdullah bin Abdulaziz Al Saud.

President Saleh acquainted the Saudi King with the last political developments in the Yemeni arena in the light of the president's last decree to give the Vice President a mandate to conduct a dialogue with the political parties according to the Gulf initiative, to reach an agreement on a mechanism for its implementation and sign it subsequently on the president's behalf, leading to hold an early presidential election and ensure a democratic transition of power.

President Saleh renewed his thanks to King Abdullah for his brotherly sincere attitudes, continuous follow-up to the president's health condition and the great care he and the senior state officials have received while being hospitalized in the Saudi hospitals.

King Abdullah welcomed the president's mandate decree to the Vice President, reiterating the Saudi firm stance with Yemen's security, stability and unity.


---

Court executes man for rape, murder girl
The court of Appeal and judicial authorities in the capital Sanaa on Monday executed Hussein Abdullah al- Saket after convicted him of raping and killing five-year-old girl Safa Mohamed Taher al-Matari.
The execution of the 22-year-old al-Saket was carried out in a public place in Tahrir Square in central Sanaa where thousands of people witnessed the scene


Saudi air strikes continues its criminal attack on Yemen
Saudi aggression warplanes continued criminal air strikes on several provinces, targeting public and private properties over the past hours, officials said on Monday.
The warplanes launched three raids on Dawar area in Mastaba directorate of Hajah provinces and four raids on Hardh and Medi directorates.


Civil Aviation denies Saudi lies, confirms Sanaa Airport is secure, safe
The General Authority for Civil Aviation and Meteorology denied false claims by the Saudi-led aggression coalition about the Sanaa international airport, in a statement.
It said the airport is safe, secure and completely prepared to receive incoming flights in according to the international aviation standards.