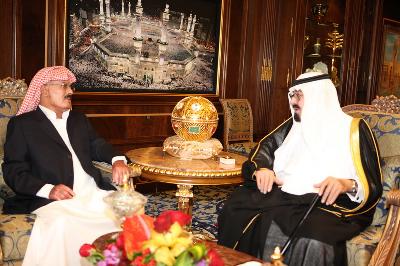 President Saleh, King Abdullah talk in Riyadh
Almotamar.net-saba - - President Ali Abdullah Saleh held in Riyadh on Monday a talk session with Saudi King Abdullah bin Abdulaziz Al Saud.

President Saleh acquainted the Saudi King with the last political developments in the Yemeni arena in the light of the president's last decree to give the Vice President a mandate to conduct a dialogue with the political parties according to the Gulf initiative, to reach an agreement on a mechanism for its implementation and sign it subsequently on the president's behalf, leading to hold an early presidential election and ensure a democratic transition of power.

President Saleh renewed his thanks to King Abdullah for his brotherly sincere attitudes, continuous follow-up to the president's health condition and the great care he and the senior state officials have received while being hospitalized in the Saudi hospitals.

King Abdullah welcomed the president's mandate decree to the Vice President, reiterating the Saudi firm stance with Yemen's security, stability and unity.


---

Police, popular forces arrest 81 suspects
A total of 81 persons have been arrested on charges of various crimes in several governorates over the past two days, a police official said on Monday.
The official said that 58 of the accused were arrested for serious crimes, while 23 charged with petty crimes, and 19 others have been referred to the public


Saudi warplanes targets home in Bani Hashish
A Saudi aggression warplane destroyed a citizen's home in Bani Hashish district of Sanaa province in an air strike overnight, an official said on Monday.
The strike flattened the home and badly damaged the nearby houses.
The Saudi aggression fighter jets also waged other raids on al-Jmima Mount, caused huge damage to public property and telecommunications towers, said the official.


President calls UN to end Saudi barbaric aggression, blockade on Yemen
President Saleh al-Sammad called the United Nations security council to stop Saudi-led barbaric aggression and blockade on Yemen, in a letter sent to the UN late on Saturday.
In the letter, the president detailed brutal and inhumane crimes committed by the Saudi-led barbaric coalition during 18 months of aggression against the